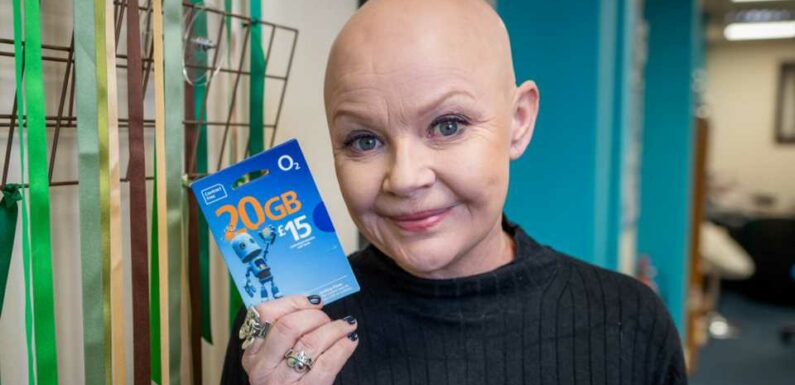 GAIL Porter has opened up about a service that would have helped her get off the streets more quickly.
The 52-year-old star was homeless, penniless and sleeping on benches after her TV career dried up.
Gail warned not take things for granted as she went from one of the most in demand presenters – hosting everything from CITV to Top of the Pops – to living on the streets.
She's recently teamed up with Virgin Media O2 and charity Good Things Foundation and said their new service would've got her off the streets quicker.
Gail explained: "This is an incredible initiative for providing free mobile data to people who need it most.
"It's a service that would have helped me to get off the streets more quickly when I was homeless. You can't underestimate the power of being connected and being able to access important services and information on your phone."
Read More on Gail Porter
Love Island for over 40s? Maybe I'll find The One, says Gail Porter
Gail Porter rushed to hospital after fracturing skull by 'fainting' in a 'fit'
Virgin Media O2 has announced the opening of the UK's 1,000th Databank Hub in partnership with digital inclusion charity, Good Things Foundation, giving free mobile data, texts and calls to those in need.
Nicola Green, from Virgin Media O2 said: "The research shows that many are worried about experiencing serious financial hardship, and even becoming homeless.
"That's why we're stepping up our support to help people in need stay connected and to get online.
"With the National Databank in more places than ever before, those who need it can get free O2 data, texts and calls to access essential websites, to study and learn from home, and to keep in touch with friends and family."
Most read in TV
Sir David Jason reveals he has daughter he didn't know about for 52 YEARS
Yorkshire Shepherdess Amanda Owen's dating new man after marriage split
Corrie slammed for horrifying acid-attack scene as fans say it goes 'too far'
ITV axes big Gordon Ramsay show after ratings flop
Gail had so little money she ended up homeless.
She said: "My mental health was just going. I was going through the divorce, no money coming in.
"So eventually I had nowhere to stay. It just went from bad to worse. Things like, what do you do? Do I drink? I've got no clue whatsoever, I don't take drugs so…"
She added: "I had loads of great friends but it was getting embarrassing, because I'm in my forties. My daughter's staying at her dads.
"I've got no money, I've got no work, I'm sleeping on people's coaches. It was like the Young Ones. I didn't think I was going to be like this at my age.
"This is why you don't take everything for granted. You must always remember how lucky you are and be extremely kind.
"So there were a few times I didn't have enough money on my phone to call anybody.
"If I found a pound I was thinking, what do I do with a pound? I'll see if I can find another one and get a mini bottle of wine from the local off license or those little ones.
Read More on The Sun
UK's best hidden gem beach that Brits say is 'on another level'
I was sick of forking out on pricey beauty products so headed to Savers
"Anything for comfort. I was freezing as well, because I was outside."
TV personality Gail Porter has partnered with Virgin Media O2 and Good Things Foundation to raise awareness of the National Databank – where the 1000th Hub has opened, providing free O2 data to people in need.. It comes as a third of Brits say they are only one pay slip away from serious hardship.

Source: Read Full Article