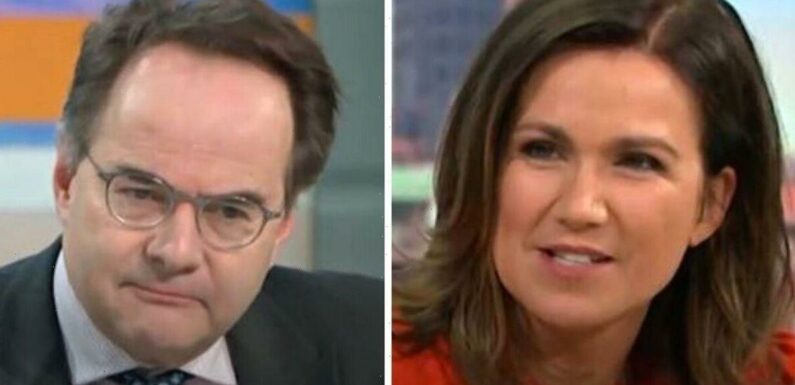 GMB: Quentin Letts comments on Rishi Sunak and Liz Truss
We use your sign-up to provide content in ways you've consented to and to improve our understanding of you. This may include adverts from us and 3rd parties based on our understanding. You can unsubscribe at any time. More info
Good Morning Britain saw journalist Quentin Letts giving his views on the latest in the political sphere as Prime Minister Rishi Sunak marks his 100th day in office, and Quentin couldn't help but throw in some bizarre comparisons to "constipated donkeys" as he discussed Sunak and Keir Starmer. However, fans tuned into ITV soon tired of his commentary, with some "switching off" due to his "smug" speech and his "interrupting".
Journalist Quentin often appears on Good Morning Britain, and he usually sparks a strong reaction from viewers.
Referring to some of the latest headlines, host Susanna Reid asked him: "Are people genuinely talking about Liz Truss coming back and bidding to be Prime Minister again?"
"No," Quentin immediately snapped. "That story is politicised baloney."
He added: "I'm surprised by the idea that Sunak won't be fighting the next general election."
"That strikes me as very ill-guided. I mean, I think he will be there and I think he'll probably do quite well.
"Going back to your thing about politicians though -"
"Them becoming presenters and journalists?" Susanna clarified.
"The thing about telly and politics, they both demand a certain sort of plastic radiance, if I can put it like that," the journalist interrupted.
He went on: "And that is what Sunak is not so great at.
"Mind you, he's up against a man who's sort of a constipated donkey – old Starmer.
"So it's going to be a bit like a sort of bottom-of-the-table shootout, if I can go to a football metaphor, with the two leaders of the next election. It is going to be strangely unexciting."
At one point during his interview, he described someone as being "slightly autistic," which also angered viewers.
"Ah…f***… Quentin Letts," @BartholomewGB shared on the social media platform.
@VillaJase added: "This Quentin Letts fella is a right pain in the arsenal. Smart comments and interrupting nonsense are fine on Twitter, on TV he just looks like confused moaning pensioner. #GMB @GMB." (sic)
@wrinklytimelord admitted: "No idea why, but Quentin Letts gets my hackles up #GMB."
Referring to the autistic comment, @jane_webber wrote: "@thequentinletts please expand on how someone is "slightly autistic" #GMB."
Responding, @Caz54A replied: "@thequentinletts I know, what a ridiculous thing to say."
@Roppa77 echoed this, tweeting: "#GMB 'Slightly Autistic' Letts is a prat!"
Quentin has worked across several of the biggest newspapers, where he has faced some backlash to remarks made in his writing.
Good Morning Britain airs weekdays from 6am on ITV.
Source: Read Full Article