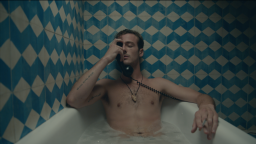 EXCLUSIVE: Gravitas Ventures has acquired worldwide rights to the drama On Our Way, the feature directorial debut of Sophie Lane Curtis, toplined by Micheál Richardson, Keith Powers, James Badge Dale and Jordana Brewster. Vanessa Redgrave, Paul Ben-Victor, Ruby Modine and Franco Nero also star. Gravitas will release the film in theaters and on-demand on May 19.
On Our Way centers a tormented young filmmaker (Richardson) struggling to accept his latest script, which reveals how he lost the love of his life (Curtis). Shuffling between past, present and fantasy, the film explores art's ability to heal the wounds that inspire it.
Related Story
Jennifer A. Goodman Thriller 'The Unseen' Starring 'Breaking Bad's RJ Mitte Acquired By Gravitas Ventures
On Our Way premiered internationally at Tallinn Black Nights and Ischia Global Film Festival where it was awarded Best Director (Curtis) and Best Actor (Richardson). Shot between New York and the South of France, this non-linear story aims to ignite the will to keep going when all hope seems lost.
The film is produced by Siena Oberman of Artemis Pictures, John Reyes Doyle and Julio Lopez Velasquez of Tomorrowland Productions, Heliya Alam, Andrea Bucko of SugarRush Pictures, and Kyle Stroud of Carte Blanche. Adam G. Simon, Joe Barbagallo of BarBHouse Productions and Alex Safdie of Commonwealth Pictures also produce.
Brady Corbet (Vox Lux), Mona Fastvold (The World to Come), Robert Bricker, Grafton Reyes Doyle, Courtney B. Turke, Jill Matlock Hall of Matlock Entertainment, Melissa Rossaki, and Keanu Mayo serve as executive producers along with Paola Paulin, Liz Cardenas, Jillian Houghton and Rocco Bovo.
Gravitas' Mackenzie Maguire negotiated the deal with Glen Reynolds of Circus Road Films on behalf of the filmmakers.
Must Read Stories
DA Drops Domestic Violence Charges 'Rick And Morty' Co-Creator Justin Roiland
Destry Allyn Spielberg's Sets Directing Debut With Genre Pic Starring Michelle Dockery
Stephanie Sperber Named President & CCO As Toon Company Expands Into Live-Action
'Smash' Musical Heading To Stage With Steven Spielberg Among Producers
Read More About:
Source: Read Full Article