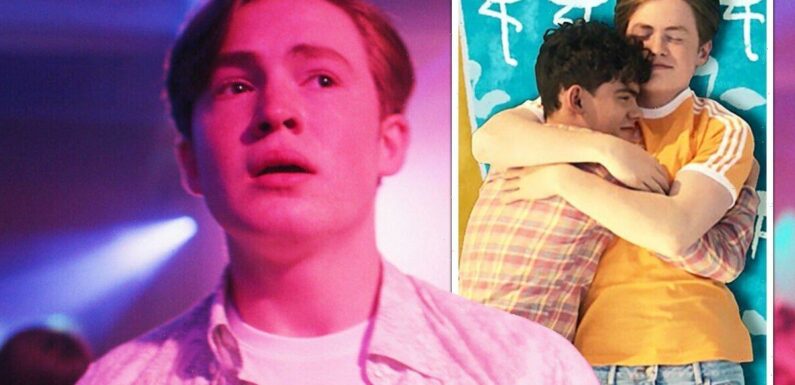 Heartstopper: Netflix releases teaser for new series
We use your sign-up to provide content in ways you've consented to and to improve our understanding of you. This may include adverts from us and 3rd parties based on our understanding. You can unsubscribe at any time. More info
Young English actor Kit Connor has kept his personal life relatively private since the whirlwind success of Netflix's LGBTQ+ high school drama, Heartstopper. However, on Monday night, he made a rare appearance on Twitter to confirm he is bisexual and criticise those he feels have forced him to address his bisexuality.
Fans have rallied around Kit after the young actor shared he was bisexual after being "forced" to come out.
On Monday, he tweeted: "Back for a minute. I'm bi.
"Congrats for forcing an 18-year-old to out himself. I think some of you missed the point of the show. Bye."
Kit didn't elaborate further on why he felt he had been pressured to address his sexuality.
However, the Heartstopper star has recently been accused of "queerbaiting" by some fans of the series.
The controversy likely stemmed from an image of Kit holding hands with co-star Maia Reficco, leading some fans to wrongly assume the actor was straight.
Since his tweet on Halloween, thousands of fans and followers have shared their support for Kit in the comments.
Lisa Ambjorn wrote: "HOW can one watch a show like Heartstopper and the take away being that you as a viewer/fan/whatever have the right to know the most private aspects of the actor's life?"
"Especially when it comes to this. All love in the world to you Kit."
Edvin Ryding said: "Feel for you Kit, sending all the love I have your way."
Labour MP Nadia Whittome replied: "Being forced to come out is being outed and it's disgusting.
"I'm so sorry you've been put through that. Sending you so much love and solidarity, Kit."
DON'T MISS:
The Good Doctor fans distraught as drama takes two-week break [UPDATE]
Prince Charles star on 'sordid' The Crown moment [INSIGHT]
Yellowstone season 5 teases Beth downfall with new adversary [TEASER]
@babyqueen said: "You should never have to explain or define yourself for anybody else's sake. We love you Kit."
Kizzy Edgell said: "I love you Kit I'm sorry this has been so disgustingly rough on you. Been treated so unfairly."
And Alice Oseman, author of the original Heartstopper novels, said: "I truly don't understand how people can watch Heartstopper and then gleefully spend their time speculating about sexualities and judging based on stereotypes.
"I hope all those people are embarrassed as F**K. Kit you are amazing."
In the series, Kit's character Nick Nelson realises he's bisexual when he strikes up a relationship with classmate Charlie Spring (Joe Locke).
For many, Nick coming out on his own terms to his mother Sarah (Olivia Colman) has been one of the TV highlights of this year.
Heartstopper has become one of Netflix's biggest new hits, becoming one of the streamer's Top 10 English series in the first two days of its release.
It has since been renewed for two more seasons, the first of which is currently in production and is expected to be released next year.
Heartstopper season 1 is available to stream on Netflix.
Source: Read Full Article