The Bachelorette has halted production due to the coronavirus, which means we're going to have to wait a beat to meet Clare Crawley's questionably young herd of boyfriends. But one face might already be familiar to ya: Matt James. AKA, this handsome guy.
Matt is already social media famous thanks to being Bachelorette star Tyler Cameron's best friend, and he's poised to be a major part of Bachelor Nation going forward. If Clare and Matt don't end up together, he'll likely make an appearance on Bachelor in Paradise, and if we're really lucky, he could be the next Bachelor. And if Matt and Clare do end up together, that's a whole other level of A-list. Basically, there's no way our dude isn't about to become famous, so let's dig a little deeper. Deep, like my love for Matt, kbye.
He's, Like…Legit a Good Person
Matt works in real estate, but he also founded ABC Food Tours, which takes kids in underserved NYC communities on tours of restaurants around the city to educate, motivate, and inspire them. "My favorite part of running ABC is working with kids!" Matt says. "They're at an age where they're super impressionable. No one is born racist or rude; these are all traits that are acquired through influence and experience. If you can positively influence these students at this age, you can potentially change the course of their lives. Also, I love seeing our students try new foods!"
Cool, BRB while I add Matt's picture to my mood board of husbands.
He and Tyler are Quarantining Together…with Hannah Brown
While everyone waits for life to return to normal, Matt is posting up in Tyler Cameron's house with The Bachelorette's Hannah Brown, and they've started creating content on TikTok under the username @thequarantinecrew. It's been…a lot!
BTW, when they're not in Florida, Matt and Tyler live together in New York City. They've actually been friends forever, and met back in college when they were on the Wake Forest University football team.
He's Already Making That Influencer #SponCon Money
Matt has 153k followers as of writing this article, and—despite not even being on The Bachelorette yet—he's already working with brands like American Express and Delta.
He Has Some Famous Friends
Aside from hanging with Gigi Hadid when she and Tyler Cameron were a Thing, Matt's Instagram is peppered with familiar faces. Here he is with some casual cooking legends:
Kay that's kinda it, but still, the only famous friend I have is…*checks notes* literally no one.
He Doesn't *Seem* to Have Any Major Ex Girlfriends?
If you dive deep enough into Matt's Instagram (and trust, I have), you can find this amazing photo:
But for the most part, his Insta is devoid of serious-looking relationships. Though there *is* also this:
That's pretty much all we know about Matt, but it's only a matter of time before Bachelor Nation uncovers every single perfect skeleton in his flawless closet, so get ready.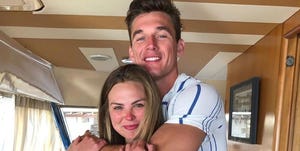 Source: Read Full Article