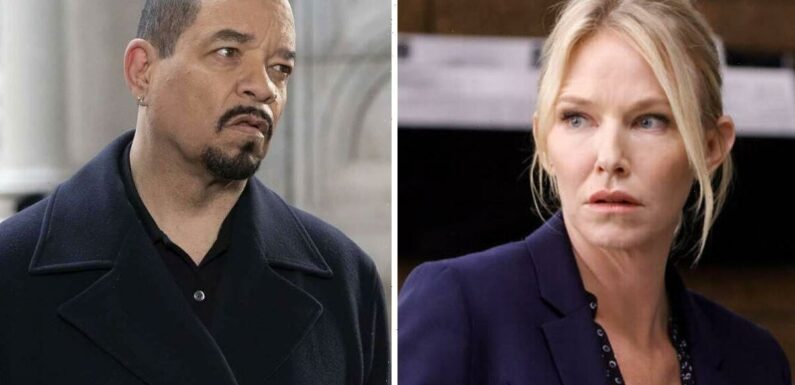 Mariska Hargitay meets artist on set of Law and Order SVU
We use your sign-up to provide content in ways you've consented to and to improve our understanding of you. This may include adverts from us and 3rd parties based on our understanding. You can unsubscribe at any time. More info
Law and Order SVU has been away from NBC for the past year so fans couldn't be more excited to see it make a comeback. What's even more thrilling is the fact the return will be marked with a three-hour crossover special where an ongoing plot will play out in SVU, Organized Crime and Law and Order. Here's all there is to know about watching Law and Order SVU season 24.
WARNING: This article contains spoilers from Law and Order SVU.
How many episodes are in Law and Order SVU season 24?
Law and Order SVU will be back for season 24 on Thursday, September 22, on NBC.
The network hasn't officially stated how many episodes are going to make up this latest series but there are some good indications.
The legal drama has almost always had at least 20 episodes per season, bar series 21 which consisted of just 16.
This was because of the coronavirus pandemic which put a halt to production companies filming around the world in 2020.
Season 20, on the other hand, had the most amount of episodes with a whopping 24.
Most recently, series 23 had 22 episodes in total so it is likely that this upcoming season will have roughly the same amount as well.
This series is going to kick-off with a three-hour special which will also see the start of spin-off Organized Crime series three and Law and Order season 22.
Each of the teams are going to have a part to play in an investigation that needs all hands on deck.
The synopsis for the episode Gimme Shelter reads: "A young girl is shot and Cosgrove teams with Det. Jalen Shaw to track down her killer.
"Benson and Stabler assist and realize it's more than a typical homicide.
"McCoy and Price seek justice against an international crime ring, but complications threaten the case."
Unfortunately, series 24 is also going to see one of SVU's beloved characters make her exit.
DON'T MISS…
Phillip Schofield steps in as row erupts at Matthew Wright royal rant [VIDEO]
We look at the cast of Law & Order Organized Crime season 3 episode 1 [CAST]
Law and Order's Ice-T admits he snubbed crossover script [EXPLAINER]
Detective Amanda Rollins (played by Kelli Giddish) has been in the legal series for the past 12 years, having joined in season 13.
It was announced earlier this year she would be departing in upcoming scenes featured in season 24.
This is sad news for fans who were thrilled to finally see Rollins and Dominick Carisi Jr (Peter Scanavino) finally get together.
They shared their first kiss in the series 22 finale and went into the subsequent season as a couple.
It has been widely reported it was Giddish' decision to leave SVU.
In a statement, she said: "I've been so fortunate to be a part of the 'Law & Order' family for the last 12 years.
"There is simply no other character on TV like Rollins. She's grown and changed, and I have as well.
"I started on this show when I was in my late 20s and I'm grateful I got to spend so many of my adult years with Rollins in my life."
Law and Order SVU season 23 premieres on Thursday, September 22, on NBC in the USA. A UK release date hasn't been announced.
Source: Read Full Article