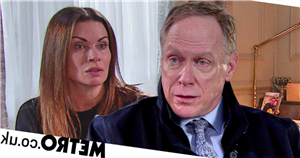 Desperate for the Underworld crown, Stephen Reid (Todd Boyce) enlists the help of his colleagues next week in Coronation Street, in an attempt to prove Carla Connor (Alison King) isn't fit to work.
We know that Carla only feels unwell due to the fact Stephen has started lacing her drinks with LSD. It's all being done because Stephen wants to rebuild his life and be the successful businessman he once used to be, he's just going about it in completely the wrong way – of course.
Next week, Stephen gathers the shareholders on the workforce and, arguing that Carla isn't fit to take the reins yet, declares they should hold a vote of no confidence.
It appears said vote doesn't go Stephen's way, as after Faye (Ellie Leach) texts Carla to let her know what's going on, the boss summons Stephen to the office and gives him a rollicking for trying to oust her from the business.
The game of cat and mouse continues as the week progresses, as Stephen laces Carla's cuppa with LSD ahead of her Nippersnapper presentation.
IS IT TIME FOR CORONATION STREET'S KILLER STEPHEN REID TO GET CAUGHT?
However, when Carla tells Stephen that he's used full-fat milk in her tea, he realises he's given her the wrong one!
As the afternoon gets underway, Stephen's vision becomes blurred and he realises he's taken the drug instead!
But does this mean Stephen will unmask himself?
Source: Read Full Article