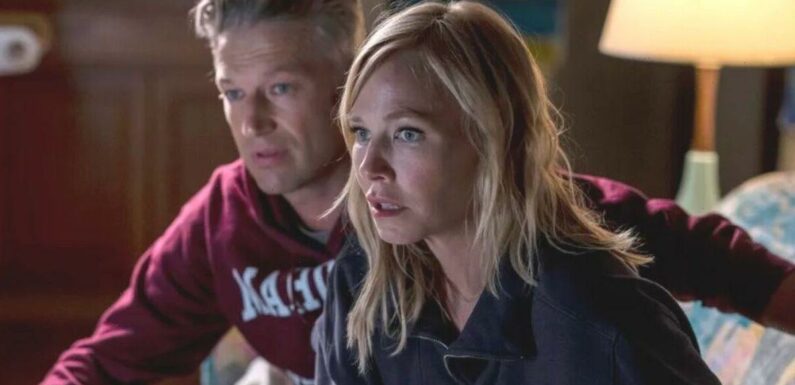 Law and Order: NBC teases crossover premiere event
We use your sign-up to provide content in ways you've consented to and to improve our understanding of you. This may include adverts from us and 3rd parties based on our understanding. You can unsubscribe at any time. More info
Law and Order SVU returned for its 24th season in September and with fans only three episodes in, many were left overcome with emotion. Detective Amanda Rollins' (played by Kelli Giddish) PTSD became evident which convinced viewers her exit would take place sooner than later.
Law and Order Special Victims Unit has remained a staple for many fans across the world after the show first premiered in 1999.
Throughout the years, the drama has introduced a number of characters, however, none has been able to pull on heartstrings as much as detective Rollins.
She first appeared in season 13 and quickly became a fan favourite for her motivation to help victims of sexual crimes.
Her troubled childhood also resonated with viewers who loved the character as she was able to help those who battled a similar trauma.
However, after episode three premiered on Thursday fans saw a different type of trauma affect the detective.
While she was at home with her family, her daughter Jesse Rollins (Charlotte Cabell) woke up screaming about a monster in the wardrobe.
Her partner Dominick Carisi, Jr (Peter Scanavino) ran in to comfort the child, while Rollins shocked viewers.
She ran in with her gun drawn to the wardrobe and swung the door open to reveal a battery-operated toy bear.
Emotional fans took to social media to share their feelings after the scene revealed Rollins was living with PTSD.
Taking to Twitter @svu_station19 wrote: "I feel bad for Rollins, I hate seeing her like this."
@Philinda_AoS added: "Rollins is not okay and it worries me."
@melloftheball commended the show: "Y'all, I love that #SVU is dealing with the mental health issues that can come from being injured on the job. [Kelli Giddish] is absolutely nailing the PTSD and dissociation that Rollins is experiencing."
@lexiesdaisy tweeted: "Oh my god…yeah Rollins isn't okay at all. She just pulled a gun out in front of her girls and almost shot a toy."
A fifth viewer @Ashluvxo shared: "oh boy. Amanda is starting to show signs of PTSD."
@rhiannon_cates added: "I just want Rollins to be happy."
The life-changing event to place during the major crossover premiere when she was shot during her undercover mission.
Viewers were also convinced the scene hinted at her exit happening sooner than expected after her departure was confirmed.
While it's yet to be revealed how she will leave, the actress stated: "I wanted to address the chatter I've seen online and let everyone know that this will, indeed, be my last season on 'Law & Order: SVU.'
"Playing Rollins has been one of the greatest joys and privileges of my life. I've been so fortunate to be a part of the 'Law & Order' family for the last 12 years.
"There is simply no other character on TV like Rollins. She's grown and changed, and I have as well.
"I started on this show when I was in my late 20s and I'm grateful I got to spend so many of my adult years with Rollins in my life," Kelli concluded.
Law and Order SVU continues on Thurdays on NBC in the US. A UK release date had yet to be released.
Source: Read Full Article