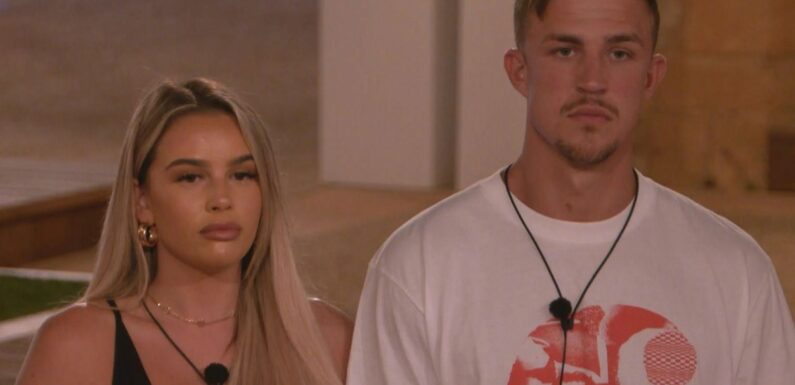 LOVE Island fans reckon they've worked out the real reason for Mitch Taylor's swipe at "fake" partner Ella B.
The Sheffield-based gas engineer was again at the centre of attention during last night's Love Island.
His unexpected confession came as Mitch doubted his connection with Ella B, before dubbing her "fake."
Mitch then claimed the glam bombshell is more bothered about being in the villa than being with him.
The pair had narrowly swerved eviction when the islanders chose Scott and Abi as the least compatible – meaning they were booted out.
Now fans think they have sussed Mitch's reasoning for his comments, this being a form of self-preservation.
read more love island
Scott and Abi are axed as Mitch starts to question Ella B ahead of the final
Love Island legends go braless in see-through outfits and cut-out dresses
One fan took to X formerly known as Twitter to write: "Mitch is calculated, he only called Ella B fake because he knows he's gunna be dumped next and doesn't want to be embarrassed by his boys."
Another put: "Mitch: I think Ella B is fake (after being in the last 3) — um did you ever consider you're the fake one hun?"
Last night, the northerner was embroiled in another spat after being accused of "bullying" ex partner Abi Moores.
The suggestions were sparked during Love Island's most explosive row ever which saw footballer Scott Van Der Sluis and Mitchel let rip.
Most read in Love Island
Scott and Abi are axed as Mitch starts to question Ella B ahead of the final
Love Island axes iconic final week challenge after nine years on show
Love Island in new bullying row after 'disgusting' scenes
Love Island brutally axes TWO islanders and they've already left
Mitch took to the stage when he was voted winner of 'mad moves' after he told ex Abi that he wanted to be with her over Ella.
The gas engineer went up and picked up his award and said: "Of course it was. Mad moves, we've all had them. Mainly me in this villa.
"But I'm proud to get my second award tonight, guys. It means a lot. Not the best award to have.
She appeared confused when she asked Mitch: "Why are you saying that?"
Mitch then replied: "I'll say what I want."
Later on, she became increasingly sad as she said: "Why are you trying to start something Mitch?
"You don't need to."
After cameras captured her with her head in her hands, she said: "It's unnecessary Mitch, coming from you."
Fans were quick to react on X – formerly known as Twitter – and demanded show bosses intervene.
One wrote: "Are the producers okay? Why are they letting Mitch bully Abi like this?!"
A second put: "It's a hard watch tbh. Mitch is a bully and bullying Abi on tv and the producers are letting it happen!"
Previously fans have dubbed the gas engineer a "walking red flag."
Read More on The Sun
British Airways staff forced to serve KFC when they FORGOT inflight food
I'm the catfish queen – trolls say my transformation should be illegal
Love Island continues at 9pm, ITV2/ ITVX, Thursday July 27.
Source: Read Full Article