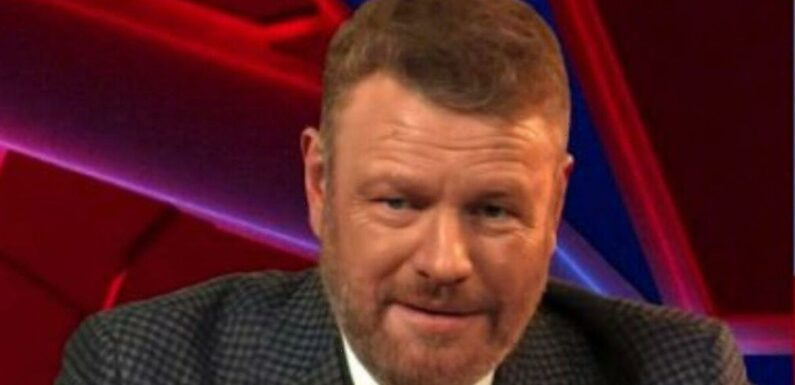 Mark Steyn speaks about proposed GB News contract
We use your sign-up to provide content in ways you've consented to and to improve our understanding of you. This may include adverts from us and 3rd parties based on our understanding. You can unsubscribe at any time. More info
GB News first launched back in June 2021 and managed to run smoothly without any breaches of Ofcom's broadcasting rules. However, Mark Steyn resigned from the broadcasting company after suffering two heart attacks and acquiring a £40,000 fine for breaching the Broadcast Code. Ofcom has since released their full findings into the investigation and claimed they found Mark Steyn's comments "materially misleading".
The breach initially came from an episode of the Mark Steyn programme which aired on April 21, 2022.
Mark resigned from the show shortly after and released a statement which said: "I remember we had a little Ofcom back and forth about 10 minutes before I went on air a couple of months back.
"And my final words about the so-called compliance officer, he was 'Ofcom's b***h'. Well, Ofcom's b***h has managed to have his revenge now.
"This is the final point I'll make on this, to the extent that the presenter and the US producers do not incorporate Ofcom regulatory input into an edition of the programme, this shall be considered a material breach of this agreement.
"So the whole thing is, I suppose I'm on the hook there for Ofcom fines. This is an important point. I don't have any say in our defence against an Ofcom complaint, that is all done by GB News."
Ofcom has since released an update on the investigation into the breach and the comments which had been made.
In a statement, they said: "We have been consistently clear that, under our rules, broadcasters are free to transmit programmes which may be considered controversial and challenging, or which question statistics or other evidence produced by governments or other official sources.
"It can clearly be in the public interest to do so. However, with this editorial freedom comes an obligation to ensure that, when portraying factual matters, audiences are not materially misled."
The statement continued: 'In this case, our investigation found that an episode of the Mark Steyn programme fell short of these standards.
"Not because it exercised its editorial freedom to challenge mainstream narratives around Covid-19 vaccination.
"But because, in doing so, it presented a materially misleading interpretation of official data without sufficient challenge or counterweight, risking harm to viewers."
They outline the programme incorrectly claimed "official UKHSA data provided definitive evidence of a causal link between receiving a third Covid-19 vaccine and higher infection, hospitalisation and death rates".
Don't miss…
Endeavour's Roger Allam on Fred Thursday's future after final series [LATEST]
Sunday Brunch viewers slam 'uncomfortable' Crufts judge inspection [WATCH]
James Jordan warns 'best skater' may not win Dancing On Ice[INSIGHT]
Mark's material was "materially misleading" because of the way it was presented to its audience, the ruling stated.
"The way the data was presented to viewers during the programme did not take account of the significant differences in age or health of people in the vaccinated and unvaccinated groups studied.
"We also took into account the definitive way in which the misleading interpretation of the data was presented, and the absence of adequate counterweight or genuine challenge.
"The programme also failed to reflect that the UKHSA reports made clear that the raw data contained within them should not be used to draw conclusions about the effectiveness of the vaccine."
They concluded their statement by reiterating the misleading claims were "broadcast as part of a factual programme on a news and current affairs".
Ofcom claimed the information could have influenced viewers to make "important decisions about their own health".
"We concluded that the programme was potentially harmful and materially misleading, in breach of Rule 2.2 of the Broadcasting Code," they said.
The statements which initially sparked the investigation received more than 3,400 complaints about the GB News presenter, despite it only being the first breach.
Source: Read Full Article