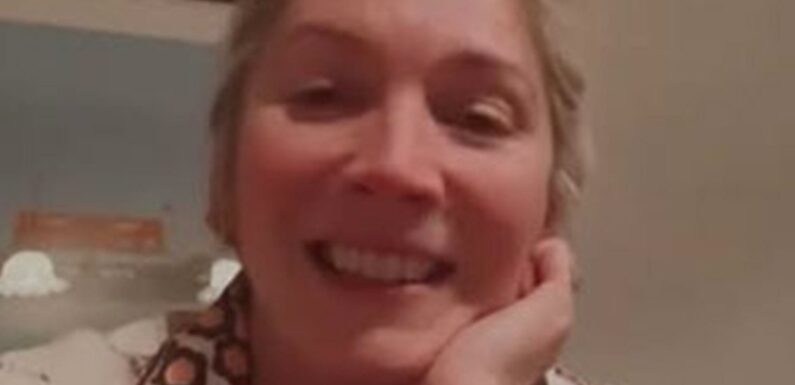 MASTERCHEF'S John Torode hit out at wife Lisa Faulkner last night in an awkward home video.
TV star Lisa, 50, was filming for her Instagram story as chef John relieved himself nearby.
When John realised his urinating could be heard in the video, he angrily questioned why his wife would film at that moment.
Lisa maintained a smile throughout and appeared to find the unfortunate situation amusing.
She said to camera: "Can you hear that?
"I started my Instagram and John was weeing and you could hear."
READ MORE ON LISA FAULKNER
John Torode and Lisa Faulkner share their delicious autumn recipes
Masterchef stopped filming because of me reveals John Torode's wife Lisa Faulkner
The unimpressed chef could then be heard asking why she'd film while he was "p*****g".
The popular couple have been married for four years but first met two decades earlier.
In a recent interview with the Sun, Lisa admitted they occasionally had small arguments but rarely fall out.
She said: "There are a few little spats of tiredness or us both wanting something to be good," she explains. "He'll say: 'Why are you looking at that?' And I'll say: 'You've done big chunks. I didn't want big chunks.' It's a bit like siblings, you have a bit of a [row] and then you're fine. It helps I do really like him. I find that's very good for a marriage – to like the other person," she laughs."
Most read in News TV
BBC bosses axe big budget talent show after just one series
Alison Hammond looks slimmer than ever & fans all say same thing about her age
Loose Women thrown into chaos as Linda Robson makes very rude hand gesture
GMB's Laura Tobin looks very different as she reveals results after skin treatment
Lisa has had such a positive impact on John that pals think she has made the Aussie chef less arrogant.
She said: "I don't know if arrogance is the right word because I find arrogance quite attractive. He is brash and he knows how good he is at certain things.
"But I think he has got less… aggressive, maybe. He's definitely softened. I went to lunch the other day and somebody said: 'Oh my gosh, you've completely turned him around. 
"He was so moody on MasterChef. He was always so grumpy and he's just lovely now.' I went: 'OK, I'll take all the credit.'"
But John does have a softer side too, and his romantic gestures are always a hit with Lisa.
She explained: "
"We look after each other. If he's out before me in the morning, he'll leave a cup with a teabag in by the kettle and a note saying: 'I love you'. I do the same – I put notes in his bag when he goes away. And he makes me the most amazing food. That's so romantic.
"It's the little things that are important – I love it when we cook for each other. Food is our thing, it's how we show that we love each other."

Source: Read Full Article