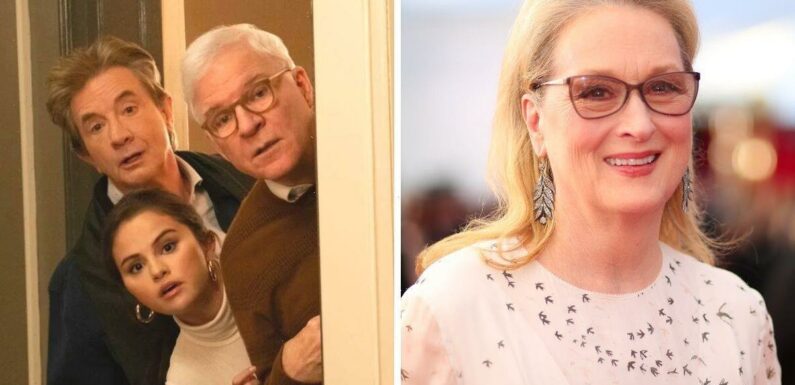 Meryl Streep questioned on her Mamma Mia dungarees
We use your sign-up to provide content in ways you've consented to and to improve our understanding of you. This may include adverts from us and 3rd parties based on our understanding. You can unsubscribe at any time. More info
After the season two finale set things up for another whodunnit, Only Murders in the Building will officially return to Disney Plus for another instalment of the mysterious drama. This time with the addition of Hollywood royalty Meryl Streep.
Only Murders in the Building follows the lives of Mabel (Selena Gomez), Charles (Steve Martin), and Oliver (Martin Short).
As they shared an interest in true crime podcasts the trio decided to work together and investigate a mysterious death in their apartment.
The death came as a shock for the residents of the affluent upper west side apartment building so the neighbours started their own podcast as they worked the case.
However, they too became suspects after the second gruesome murder of another building resident.
View this post on Instagram

A post shared by Selena Gomez (@selenagomez)
While fans were thrilled to see the show renewed for a third season, actress Streep ignited hysteria after she confirmed her appearance in the upcoming instalment.
Taking to Instagram, star Selena Gomez shared a video of the cast on set, while sitting between Steve and Martin, she confirmed: "What are we filming … season three."
She added: "Could this get any better, oh wait," before panning the camera to Paul Rudd who will also be joining the cast.
However, the surprises didn't end there as Streep popped up from behind the sofa and jokingly offered Steve a pillow.
View this post on Instagram

A post shared by Selena Gomez (@selenagomez)
Thousands of fans took to the comments with excitement and disbelief, thrilled to see the show return with the additional famous faces.
An ecstatic @jenkellys shared: "Great news!!!!!! So many of my favourite people all in one place! I can hardly wait."
@geraldine_soprano commented: "I CANNNNOT WAIT!!!! Meryl Streep!?!??? Ahhhhhhh." [Sic]
A third fan @anneamabile_ added: "WHAAAAT THE ACTUAL — NO WAAAYY, GIMME SEASON 3 NOW! I NEED IT AND IM NOT JOKING gosh this will be so huge." [Sic]
In disbelief, @delia.vanderberg commented: "Shut up !! Is this really happening??"
@bad_vibes_get_off_from_me posted: "Goshhhhhhhh!!!!!!!!!!!!!!!!!! I am screamingggggggggg.Cant wait." [sic]
As @itsstillharshithere remarked: "ONLY LEGENDS IN THE BUILDING."
Later Selena returned to Instagram with a photo of the cast captioned: "Very, very grateful lady! @onlymurdershulu @hulu @johnnyhoffman5 thank you for making this wanna be an unbelievably, absurdly happy human."
Throughout the past two seasons, Only Murders in the Building has seen an impressive string of guest stars including Tina Fay, Jane Lynch and Sting.
Season three was first confirmed in July with a statement from Hulu Originals and ABC Entertainment boss Craig Erwich, who announced: "Only Murders in the Building is the true crown jewel of our slate.
"Its appeal across generations, the intersection of humour and heart, and its truly original approach are a hallmark of and testament to Dan, John, Steve, Marty and Selena's work.
"We are grateful to be able to continue telling the stories of Charles, Oliver and Mabel to viewers that have consistently shown us they crave more of this story."
Only Murders in the Building seasons 1-2 are available to stream on Hulu in the US and on Disney+ in the UK.
Source: Read Full Article