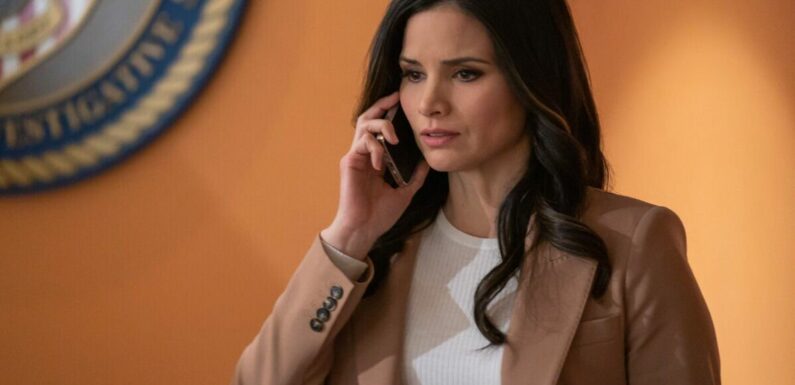 NCIS Season 20 Episode 17 Promo
Also known for roles in popular series such as Arrow and Hawaii Five-0, Katrina Law has become one of the most beloved members of the mainline NCIS team after her introduction in 2021. Outside of the CBS drama, she has also found time to work on other personal projects with her husband Keith Andreen, who recently announced the release of their next film in an exciting Instagram post.
Law will appear opposite Yellowjackets star Warren Kole in the upcoming independent short film, Mayfly.
The NCIS regular will portray an obsessive fan of a self-help author in the film, which also features up-and-coming child actress Grace Jenkins.
Directed by Law's husband and fellow actor Andreen, her fans were thrilled when he confirmed the film was one step closer to being available to audiences.
Instagram user @tntlady68 commented on a post of the film's poster with a flame emoji and said: "I can't wait! Great actors."
Get 12-months of Disney+ for the price of 10!
View Deal
When you subscribe to an annual plan, Disney slashes the price of its streaming plan – so you'll get access to Disney Plus for free for two months!
@jay_in_paris replied: "I bet this is great." And @lilyrains exclaimed: "I. Can't. Wait!!!!!"
@laurennbaily added an applause emoji and wrote: "Yesss! Keep us posted @keithandreen @katrinalaw. Hope to see this soon."
Fellow actress Christina DeRosa replied: "Congratulations I can't wait to see it."
And Law's NCIS co-star Brian Dietzen commented "Hell yes!!!" with a raised hands emoji.
The NCIS actress has also celebrated the announcement by sharing the film's poster on her Instagram Story and tagged a number of people who worked on the short.
In his post, Andreen added the film's synopsis, which reads: "A late-night intruder forces a best-selling self-help author to confront scars long thought healed."
He then confirmed: "Coming VERY SOON to festivals near you!"
A trailer for the 27-minute short film is available on the director's FilmFreeway page, which also offers a deeper look at Mayfly's story and themes.
Don't miss…
The Blacklist fans outraged as key character killed off [BACKLASH]
NCIS LA's Barrett Foa 'thrilled' with big career announcement [INSIGHT]
Hannah Waddingham 'banned' from Ted Lasso co-star's live shows [VIDEO]
A full synopsis reads: "Best-selling self-help author Aaron Driscoll may look like a successful motivational speaker on the outside, but inside, he hides a dark secret, that he thought would remain buried deep in his past.
"After a long day of talk shows, book signings, and motivational speaking, he returns home to his mansion and passes out, only to be startled awake by what initially appears to be an obsessed fan holding him at gunpoint, demanding the truth about his shameful past, and forcing him into a painful reckoning that will either kill him or be his salvation."
An official release date has not yet been confirmed, but the film is set for festival screenings later this year.
View this post on Instagram

A post shared by Keith Andreen (@keithandreen)
Mayfly was shot in June 2022 in between Law's work on the latest seasons of NCIS and has now been completed.
"Our entire team brought their A-game from start to finish," Andreen added.
"Which made this one of the most fulfilling collaborations I've ever been a part of."
NCIS season 20 continues Mondays on CBS in the USA and is available to stream on Disney+ in the UK.
Source: Read Full Article