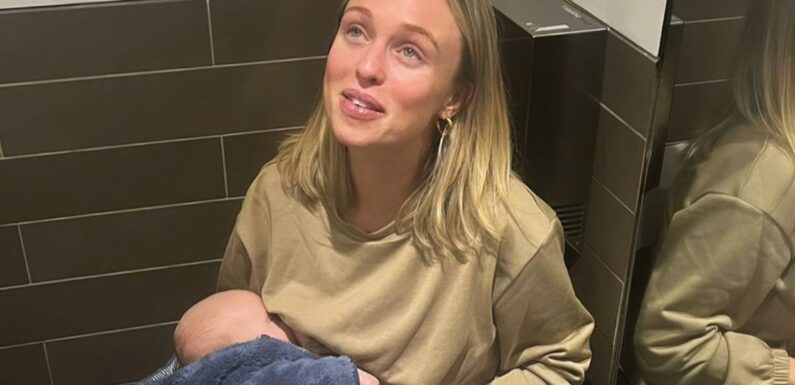 HOLLYOAKS star Jorgie Porter gave a candid snapshot into mum life as she was covered in a "poonami explosion" in a public toilet.
In November, the soap favourite, 35, revealed she had given birth to her adorable little boy, Forest.
After admitting her social media account had become "too perfect" with snaps of the tot, Jorgie gave fans a reality check with her latest image.
It saw the Theresa McQueen actress, who shares her tot with with partner Oliver Piotrowski, perched on a toilet with her little boy on her lap, feeding.
Yet the poo Emoji covered his lower half and only partially masked a toilet accident over her dress and the floor.
Jorgie could be seen surrounded by shopping bags and flashing a wry smile as a loved one came to assist.
read more jorgie porter
Inside Jorgie Porter's 'date night' with fiancé Ollie and two-month-old son
Jorgie Porter shares adorable first pics of newborn baby boy Forest
She wrote in her caption: "Thinking my page was looking a little too perfect so here's a bit of insta reality 🤣
"This is me praying to the gods for a way to get out of the toilet cubicle in one piece!
"Hangry hangry baby and a poonami explosion all over me, yes all over me!
"I had to call for reinforcements or I would still be sat there now 🤣
Most read in Soaps
EastEnders fans work out Freddie Slater is hiding secret after police blunder
Emmerdale fans distracted as beloved character 'goes missing' from soap
EastEnders spoilers: Martin Fowler takes drastic measures over pregnant Lily
Coronation Street killer Stephen Reid murders again
"Parents tell me this has happened to you too??"
Her followers were quick to empathise, with one writing: "It's happened to us all xxx"
Another put: "If you've never been covered in babies poo or vomit, then are you really a parent..It happens to the best of them..Don't fret ❤️❤️" as a third giggled: "In one end and out the other 😂😂."
One then wrote: "Haha this is so real. I saw the comment before though. Please don't feel pressured to post the struggles. You are entitled to boundaries – all the same love the reality 🙌❤️"
Another rounded off with the words: "Love this, it's the real deal but these are times u can laugh about, ur doing great mama, love how real u are ❤️"
A month later, she made her son's name public on Instagram.
Jorgie and Ollie announced last April they were expecting their first child together, which they later confirmed to be a boy.
Ollie also has an eight-year-old son from a previous relationship.
Jorgie conceived after announcing she had tragically suffered a miscarriage of quadruplets in 2021.

Source: Read Full Article