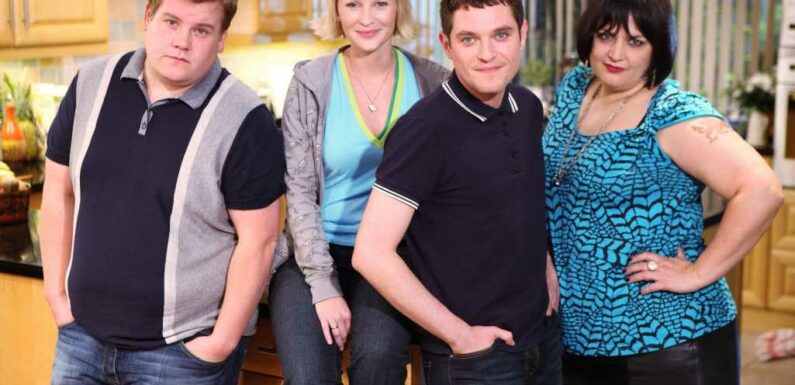 FANS of Gavin and Stacey were thrilled when the show returned for a Christmas special back in 2019.
However, with no new episodes on the cards (for now), the BBC series' loyal followers can still watch past seasons online.
Where can I watch Gavin and Stacey?
Gavin and Stacey can be watched for free on the BBC iPlayer.
On there you will find all 21 episodes, including both Christmas specials.
If you have BritBox, you can also watch the two festive editions of the show on there.
As yet, there is still no word on if we will be getting a new series any time soon.
Read more on Gavin & Stacey
Gavin & Stacey stars have surprise reunion – but all is not as it seems
Gavin and Stacey fans go wild as they spot cast reuniting on TV set
What is Gavin and Stacey about?
Comedy legends James Corden and Ruth Jones created the much-loved sitcom, which follows a long-distance romance.
The main characters Gavin and Stacey fall in love over the phone, as he's based in Essex and she's in Wales.
The series follows their long-distance romance, meeting in person, and getting to known each other's very different (and hilarious) families.
When was Gavin and Stacey first released?
The successful show ran for three series on the BBC – plus a Christmas Special – from 2007 until 2010.
Most read in TV
Bruno Tonioli 'in race' with Alan Carr to replace David Walliams on BGT
Iconic Channel 4 show axed just two series after major reboot
Alan Carr to replace David Walliams on Britain's Got Talent judges panel
Strictly Come Dancing fans gobsmacked as they discover big star was homeless
The season 3 finale, which aired on New Year's Day in 2010 saw a record 10.25million people tune in.
Then after much demand, Gavin and Stacey returned for another Christmas Special in 2019.
Who stars in Gavin and Stacey?
Gavin and Stacey had the nation in stitches and launched the stellar careers of co-creators James Corden and Ruth Jones.
The show brought with it an incredible cast, which included:
Gavin Shipman played by Mathew Horne – protagonist from Billericay, Essex.
Stacey Shipman (née West) played by Joanna Page – bubbly protagonist from Barry, Wales.
Neil "Smithy" Smith played by James Corden – Gavin's oldest and closest friend, who also lives in Billericay, Essex.
Vanessa Shanessa "Nessa" Jenkins played by Ruth Jones – Stacey's oldest and closest friend, who is also from Barry.
Michael "Mick" Shipman played by Larry Lamb – Gavin's down-to-earth father.
Pamela Andrea "Pam" Shipman (née Gryglaszewska) played by Alison Steadman – Gavin's house-proud and over-protective mother.
Bryn West played by Rob Brydon – known as "Uncle Bryn", Stacey's protective, yet naïve uncle, and Gwen's brother-in-law.
Gwen West played by Melanie Walters – Stacey's caring, widowed mother.
Jason West played by Robert Wilfort – Stacey's gay older brother, who lives in Spain.
Dawn Sutcliffe played by Julia Davis – Pam's best friend.
Pete Sutcliffe played by Adrian Scarborough – Dawn's husband, and Mick's best friend.
Dave Coaches played by Steffan Rhodri – Dave drives the local coach for day trips.
Source: Read Full Article