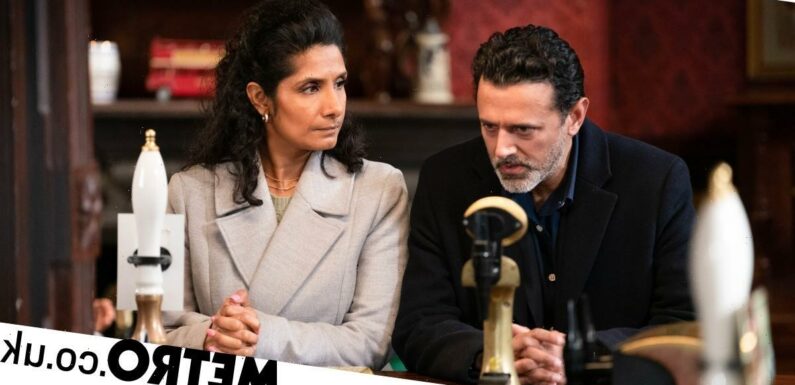 Nish Panesar (Navin Chowdhry) has been slowly tightening his grip on wife Suki (Balvinder Sopal) since his arrival in EastEnders last year.
In tonight's episode, Nish was determined to make it clear who was in charge of the Panesar family, by giving Suki a stark warning.
It all started when daughter Ash (Gurlaine Kaur Garcha) informed her dad that she was going to accept a job in Canada, which he was not very happy about.
He immediately put Suki on the case, demanding that she convince her to stay.
Suki, aware of how controlling Nish can be, wanted her daughter to spread her wings, and used some classic reverse psychology to convince her to take the job.
This only infuriated Nish more, who could see right through her tactics.
In a tense confrontation, he admitted that the only person he knew who could manipulate people into doing what they want as well as him was Suki.
Suki tried to convince him that she really had tried to persuade Ash to stay, but he had already made up his mind.
He then gave her a stark warning that this was his family, and he made the decisions over what was best for them, and that she shouldn't forget that.
With Nish's violent past, should Suki be worried about crossing him again?
Viewers will be aware that she recently accepted her true feelings for Eve Unwin (Heather Peace) after blessing her marriage to Nish.
Will they be able to keep their affair under wraps, or are they set to face Nish's wrath?
Would he kill again if it meant keeping his wife to himself?
Source: Read Full Article