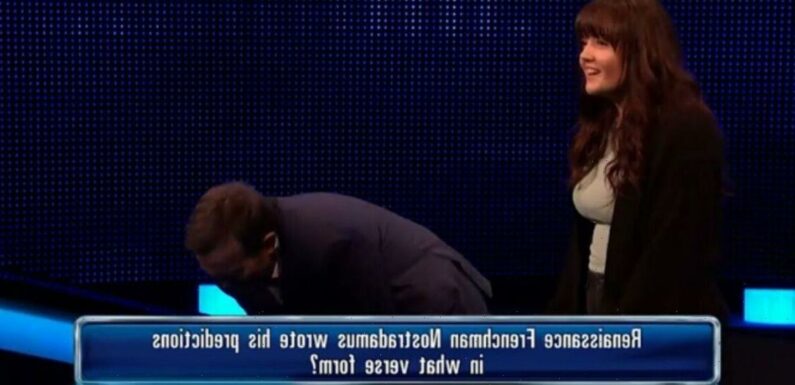 The Chase: Bradley bends over in laughter at incorrect answer
We use your sign-up to provide content in ways you've consented to and to improve our understanding of you. This may include adverts from us and 3rd parties based on our understanding. You can unsubscribe at any time. More info
Bradley Walsh was back on Tuesday with the latest instalment of The Chase. Contestants Nathan, Victoria, Rich and Pam had to work together as they each went head to head with Shaun "The Dark Destroyer" Wallace. The team seemed to be doing well, however, things took an unexpected turn when Victoria got a question wrong.
Nathan was the first person to take on the Chaser, and he got an impressive eight questions right in the cashbuilder.
Bradley told him: "That will be deadly in the final round."
As he went against the Dark Destroyer, Shaun offered him a low offer of £2,000 and a high offer of £30,000.
Nathan sailed through his round and ended up bagging £8,000 for the team.
Victoria had a tough act to follow as the 19-year-old tried her luck in the cashbuilder.
However, much to Bradley's surprise, the student managed to answer five questions correctly.
After offering her the chance to win £40,000, Victoria played it safe and decided to go with the £5,000 she'd already bagged.
The contestant steamed through her round against Shaun, but things took a turn when she got an answer wrong.
Bradley asked: "Renaissance Frenchman Nostradamus wrote his predictions in what verse form?
"A, Quatrains, B, Sonnets or C, Limericks."
After admitting she didn't know it, Bradley burst out laughing as he continued: "You've put, limericks."
"Oh no," Bradley said after composing himself. "Limericks it ain't."
Don't miss…
Emmerdale fans 'work out' Caleb's true identity as 'relative' returns [LATEST]
Emmerdale villain to return as fans 'work out' Rishi's intruder [INSIGHT]
BBC 'renews' JK Rowling drama Strike after transphobic slurs [NEWS]
Although, despite getting the answer wrong, the setback didn't affect Victoria's performance as she made it through to the final with Nathan.
Up next was Rich who answered five questions correctly before taking on the Dark Destroyer.
The player was no match for Shaun as he was caught out when they went head-to-head
The last player to take on The Chase was Pam and after making it through to the final, the trio had two minutes to answer as many questions as possible.
However, luck wasn't on their side as they only managed to answer 16 questions in total.
It was a tense final for the players as they waited to see whether they would be taking home the £19,000 jackpot.
Although, with just seconds to spare, Shaun managed to beat them, meaning they were sent packing with nothing.
The Chase airs weekdays from 5pm on ITV.
Source: Read Full Article