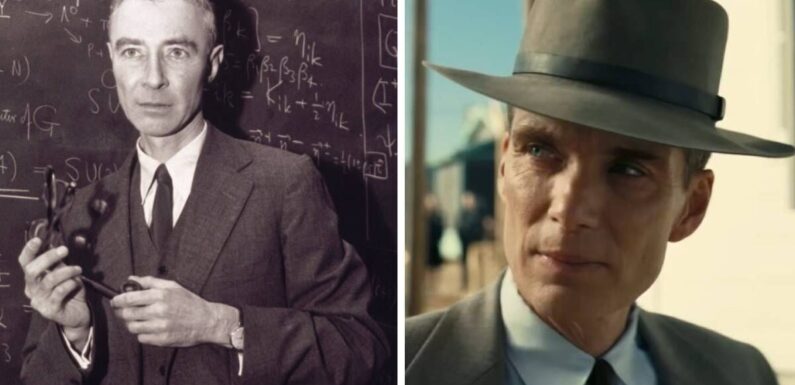 Oppenheimer: Opening Look
J. Robert Oppenheimer's grandson has discussed a key moment in the hit movie that he doesn't agree with.
This particular part of the film shows Oppenheimer (played by Cillian Murphy) injecting an apple with potassium cyanide and leaving it on the desk of his university tutor Patrick Blackett (James D'Arcy).
But before Blackett can take a bite out of the poisoned fruit, Oppenheimer decides to throw it in the bin.
Having seen the film for himself, the physicist's grandson Charles Oppenheimer, 48, has expressed his dislike for this insinuation.
He told TIME magazine: "There's no record of him trying to kill somebody. That's a really serious accusation and it's historical revision."
READ MORE: Oppenheimer star Emily Blunt explains what it was like on set
Charles added: "There's not a single enemy or friend of Robert Oppenheimer who heard that during his life and considered it to be true."
He continued to explain that the poison apple scene was actually not Nolan's fault but that of the Pulitzer Prize-winning 2006 biography American Prometheus which the film is based on.
"If you read American Prometheus carefully enough, the authors say, 'We don't really know if it happened.'
"American Prometheus got it from some references talking about a spring break trip, and all the original reporters of that story – there was only two maybe three – reported that they didn't know what Robert Oppenheimer was talking about.
"Unfortunately, American Prometheus summarizes that as Robert Oppenheimer tried to kill his teacher and then they [acknowledge that] maybe there's doubt."
Don't miss…
Oppenheimer fans point out errors in critically-acclaimed Christopher Nolan film[LATEST]
Oppenheimer viewers fuming after missing censored scenes – including nudity[FUME]
Viral clip of Prince Harry 'getting schooled' by Oppenheimer star debunked[CLIP]
We use your sign-up to provide content in ways you've consented to and to improve our understanding of you. This may include adverts from us and 3rd parties based on our understanding. You can unsubscribe at any time. More info
Charles went on to clarify that the moment in the movie is treated "vaguely" and "didn't bother" him as much as it did in the book.
The film focuses on Oppenheimer who led the Manhattan Project which led to the building of the atomic bombs that were dropped on Hiroshima and Nagasaki in 1945.
By 1941, he was taking part in secret meetings discussing how America might be able to become the first country to develop the atomic bomb.
He was then selected to lead the secret lab which became the heart of the project.
But it was this ability to keep quiet about important matters that led to his downfall.
He was approached by an old associate to pass nuclear secrets to the Soviet Union but he turned it down.
Oppenheimer didn't tell the FBI about the incident and as he had an ongoing romance with psychiatrist Jean Tatlock, a keen member of the Communist Party, this put doubts in others' minds about his loyalties.
Starring opposite Murphy in the film is stars such as Robert Downey Jr, Rami Malke, Emily Blunt and Matt Damon.
Source: Read Full Article