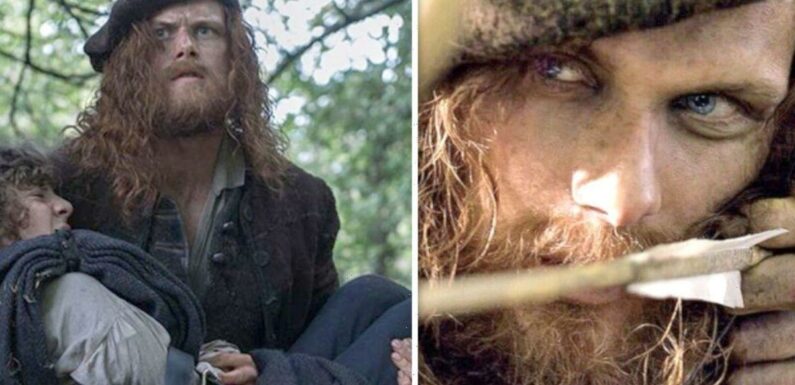 Outlander: Show is renewed for an eighth and final season
We use your sign-up to provide content in ways you've consented to and to improve our understanding of you. This may include adverts from us and 3rd parties based on our understanding. You can unsubscribe at any time. More info
WARNING: This article contains spoilers from all seasons of Outlander
Season seven of Outlander is expected to be hitting screens this summer with an extended 16-episode run to make up for the previous shorter outing. The new series will see lots of old Outlander cast members returning to the fold in something of a reunion for the series. In the meantime, some Outlander fans have been re-visiting the previous seasons and are curious about Jamie Fraser (played by Sam Heughan) and his multiple identities.
Why was Jamie Fraser called The Dun Bonnet?
Season three of Outlander covered a huge period in the lives of Jamie and Claire Fraser (Caitriona Balfe), namely their 20-year separation.
During this time apart, Jamie had many adventures and underwent a number of changes after fighting in the Battle of Culloden.
In the direct aftermath of battle, Jamie was tended to by his sister Jenny Murray (Laura Donnelly) while he hid out in a cave near Lallybroch.
Jamie lived in the cave for seven years as he evaded the Redcoats, who were looking to round up any remaining Jacobite traitors and throw them in prison for their part in the uprising.
During this time, he grew a big beard to disguise his true identity and wore a hat, soon becoming known by the moniker Dun Bonnet which meant 'coloured hat'.
Jamie eventually gave himself up to the English militia when he feared for his family's lives with soldiers continuing to search for him.
The name seems to have come about as Jamie tried to hide his true identity, which could lead to his capture.
As the Dun Bonnet, Jamie became a hermit-like figure due to his solitary existence in the cave and was a man of few words.
Interestingly, the cave used for filming has subsequently become famous after Jamie hid in there with tourists seeking it out.
The place in Inverness is called Bonaid Odhair Cave, also known as Dun Bonnet's Cave, and has an intriguing history behind it.
Jamie's Dun Bonnet storyline is actually based on a real-life figure with Outlander's author Diana Gabaldon's drawing on history for her books.
A real-life James Fraser, who was a clan chief, hid in the cave following the 1745 Jacobite Rebellion, according to Visit Inverness Loch Ness.
Much like Outlander, this man hid from the British Army for seven years in the cave which was located in the Foyers neighbourhood.
The website states the local people would talk about Dun Bonnet when referring to the fugitive in a bid to conceal who he was from any soldiers on the hunt for him.
Many bloggers have sought out the filming location for the cave in Outlander, which is thought to be quite tricky to reach.
Speaking about taking on the Dun Bonnet, actor Heughan previously said he didn't enjoy playing this part of Jamie's life.
He told Romper back in 2017: "I hated Dunbonnet," going on to add: "The hair and the beard was so rough."
Some of Jamie's other aliases include Mac Dubh, the name he had when he was in prison and translated from Gaelic to 'the son of the black one' – referencing his father Brian Fraser's (Andrew Whipp) dark hair.
There was also the name Malcolm Alexander which Jamie went by as a printer of seditious pamphlets in Edinburgh.
Other names include Alexander MacKenzie, Red Jamie/Seumas Ruadh and Jamie McTavish, the last one of these he used to introduce himself to Claire at their first meeting because she was English and potentially a spy.
Outlander season 7 will air later this year and seasons 1 to 6 are streaming on Lionsgate+ now
Source: Read Full Article