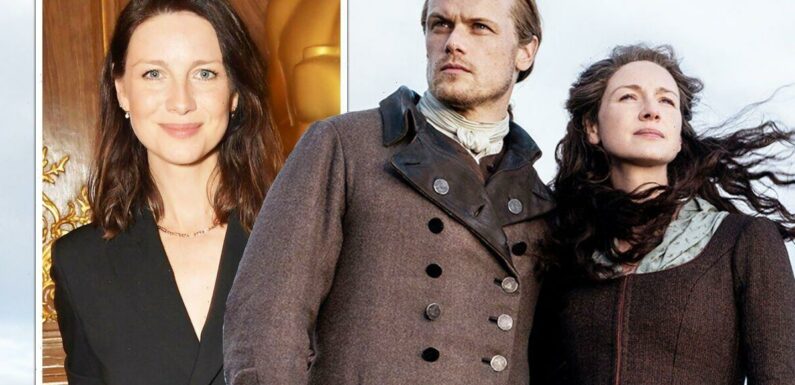 Outlander: Sam Heughan teases season seven
We use your sign-up to provide content in ways you've consented to and to improve our understanding of you. This may include adverts from us and 3rd parties based on our understanding. You can unsubscribe at any time. More info
Sam Heughan and Caitriona Balfe are currently still in Scotland filming for the upcoming seventh instalment of the hit Starz drama. Sadly, 'Droughtlander' will continue for a little while longer but, in the meantime, Outlander's leading man has paid the Zoe Ball Show on BBC Radio 2 a visit with an exciting update.
Sam has been singing the praises of Irish actress Caitriona, who has portrayed Claire Fraser alongside his Jamie since Outlander began back in 2017.
Both performers have been leading the series for six seasons, and are set to return for a bumper instalment sometime next year.
When asked where the seventh outing will pick up, Sam teased an epic premiere following this year's cliffhanger, which saw the central couple separated by hundreds of miles.
First of all, however, he made sure to give enormous credit to Caitriona, who filmed much of last season pregnant with her first child.
"At the end of season six… well, it was a shorter season, due to Covid," he explained to Zoe.
"And also, to my wonderful co-star Caitriona Balfe, she was pregnant."
"She pretty much shot up until she almost gave birth. She was incredible."
Due to the truncated length of this year's season, Starz has assured fans they have double the Outlander to look forward to when the popular historical romance makes its return to screens.
"We cut it short, so this season is Outlander XL," Sam continued. "It's 16 episodes and we pick up where we left off.
"Claire has been put in prison and Jamie is, thankfully, still alive and he's out to rescue her."
Sam was also on the show to promote his new memoir, Waypoints, which sheds light on some of the most defining moments of his life and career thus far.
Remembering her favourite parts of the new book, Zoe recalled: "I loved the story about your Caitriona and you, the audition and the magic that was there!"
DON'T MISS:
Big Bang Theory's Jim Parsons exposes deleted Sheldon moment [INSIGHT]
Dan Wootton sparks row in tirade against BBC's Boris gaffe [OPINION]
NCIS LA's Sam Hanna fears death of son Aiden [SPOILERS]
"The chemistry as they call it!" Sam replied. "It was very physical.
"The scene was direct from the book of Outlander. It was a very physical scene and I remember, by the end of it, we were literally tearing pieces out of each other.
"We were in this bear hug, no doubt I was sweating all over her. But it was great, she's fantastic."
Known as one of the steamiest and most enduring screen romances in recent years, the Frasers will eventually reunite in order to defend their home from the impending American Revolutionary War.
With his time-travelling wife's knowledge of the future in mind, Jamie will have to decide where his loyalties lie during one of the most tumultuous periods of US history.
The Outlander star also relayed the exciting news of Graham McTavish's return this season as Jamie's uncle Dougal MacKenzie.
His return was announced earlier this month alongside fellow returning cast members Steven Cree, Nell Hudson and Lotte Verbeek.
Plus, newcomers Chris Fulton, Diarmaid Murtagh, Gloria Obianyo and Rod Hallett were also added, as well as Andrew Whipp portraying Jamie's father Brian.
Outlander seasons 1-6 are available to stream on Starz in the USA and Lionsgate+ via Amazon Prime Video in the UK.
Source: Read Full Article