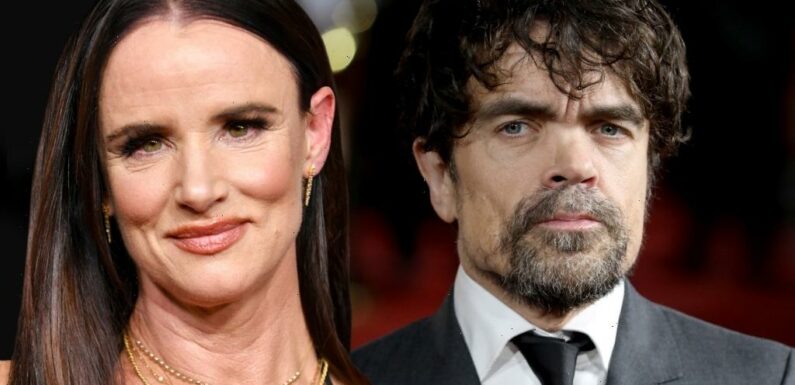 EXCLUSIVE: Tubi has begun principal photography on dark western thriller The Thicket, based on Joe R. Lansdale's novel of the same name, starring and produced by Game of Thrones alum Peter Dinklage. Production is underway in Calgary, Canada.
A longtime passion project for Dinklage, The Thicket also stars Juliette Lewis (Yellowjackets), Esmé Creed-Miles (Hanna), Levon Hawke (The Crowded Room), Leslie Grace (In The Heights), Gbenga Akinnagbe (The Old Man), Macon Blair (I Care A Lot), James Hetfield (Metallica), Ned Dennehy (Peaky Blinders), Andrew Schulz (Infamous), and Arliss Howard (Mank).
Related Story
Berlin Review: Rebecca Miller's 'She Came To Me' With Anne Hathaway, Peter Dinklage & Marisa Tomei
Set at the turn-of-the-century, The Thicket follows an innocent young man, Jack (Hawke), who goes on an epic quest to rescue his sister Lula (Creed-Miles) after she has been kidnapped by the violent killer Cut Throat Bill (Lewis) and her gang. To save her, Jack enlists the help of a crafty bounty hunter named Reginald Jones (Dinklage), a grave-digging alcoholic son of an ex-slave (Akinnagbe), and a street-smart prostitute (Grace). The gang tracks Cut Throat Bill into the deadly no-man's land known as The Big Thicket — a place where blood and chaos reign.
Playwright Christopher Kelly will pen the adaptation, and Elliott Lester (Sleepwalker) directs, with Guillermo Garza (Don't Tell a Soul) serving as DP and Ray Suen (Childish Gambino, Lorde) composing the score.
This has been a longtime passion project for Dinklage who has been attached to the feature adaptation for a decade. In February 2020, he was set to lead a different cast for The Thicket, from the same producers, which was in pre-production. Like many projects gearing for production at that time, the movie was likely impacted by Covid, which reached pandemic levels just a couple of weeks later.
Lansdale's novel, The Thicket, was selected by the Library Journal as one of the best historical fiction books the year it was published, in 2013.
"As Tubi deepens its commitment to a wide range of genres, we are incredibly excited to begin production on The Thicket, which has been a passion project for so many involved," said Adam Lewinson, Chief Content Officer, Tubi. "This elevated western thriller led by Peter Dinklage and an exceptionally talented team of artists delivers on genre expectations while adding so much more to make the journey into The Thicket unique and mesmerizing."
"I'm so very excited to bring Joe Lansdale's riveting story to the screen," said Dinklage. "A journey into the heart of darkness to find love and return it to its rightful place."
The Thicket is produced by Tubi Films, Dinklage and David Ginsberg of Estuary Films, as well as Chad Oakes and Mike Frislev of Nomadic Pictures, Gianni Nunnari of Hollywood Gang, and Andre L III of MiLu Entertainment. Caddy Vanasirikul and Brian O'Shea are also producing via The Exchange, which holds international distribution rights, with Tubi holding rights in the U.S. and Canada.
Deadline's Nellie Andreeva contributed to this report.
Must Read Stories
Early Look: 'John Wick: Chapter 4' Loading Up Franchise Record Opening Between $60M-$70M
'Lord Of The Rings' Musical Headed For Immersive Open-Air Performance In UK
'Krapopolis' Renewed For Season 3 Ahead Of Premiere As Dan Harmon Toon Moves To 2023-24
'The Whale' Star Brendan Fraser On Why His Oscar-Nominated Role Was Worth The Wait: Q&A
Read More About:
Source: Read Full Article