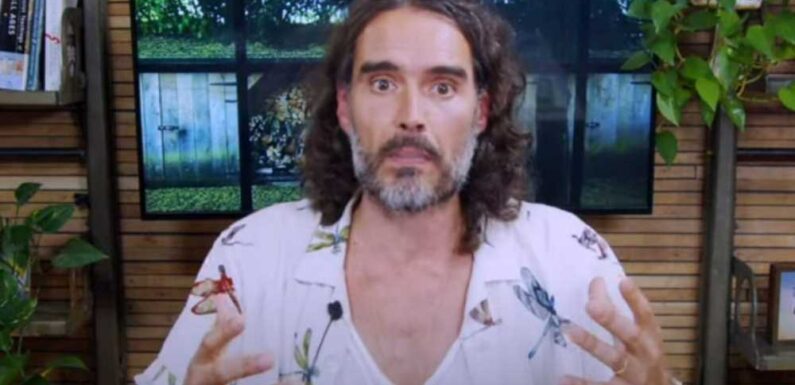 RUSSELL Brand has been accused of rape, sexual assault and abuse by four women, including one aged just 16.
The explosive claims – which the former film star has denied – include that Brand raped a woman against a wall at his LA apartment.
In a bombshell expose by The Times this afternoon, the four alleged victims claimed that Brand attacked them between 2006 and 2013 at the height of his fame.
At that time, he was a presenter for BBC Radio 2 and Channel 4 as well as bagging starring roles in Hollywood films.
Their claims range from rape to sexual assault, to emotional and physical abuse.
The first woman claimed that the comedian raped her up against a wall at his home in Los Angeles.
READ MORE ON RUSSELL BRAND
Russell Brand shares video denying 'serious allegations' against him
Inside the life of Kirsty Gallacher's sister and Russell Brand's wife Laura
Named as Nadia (not her real name), she said that she and Brand had previously had consensual sex but told her to "bring a friend" next time.
It comes as…
Brand accused of rape and sex assaults by four women
One claims she was sexually assaulted by Brand aged just 16
Alleged victims claim they were attacked between 2006 and 2013
Brand's wife deletes Instagram
Star denies 'strong allegations' against him
Alleged victim claims Brand threatened legal action if she spoke out
Detailed look at claims to air on Channel 4 at 9pm
According Nadia, when she arrived, Brand greeted her naked and told her the "friend" was already in the bedroom waiting for them.
Most read in Celebrity
BRAND BACKED
Brand's sister-in-law Kirsty Gallacher supports star as he hits back at claims
'BROTHER IN ROCK'
Mystery as The Screaming Jets bassist Paul Woseen dies aged 56
SAY CHEESE
Kanye's wife Bianca flashes smile in sheer catsuit and scoffs kebabs on bench
IT'S OVER
Hollywood star Hugh Jackman and wife in shock marriage split after 27 years
She said: "I tried to get away from him and I slipped away from the wall. And then I went to another wall that had a painting on it. A huge painting.
"And my bag got actually stuck underneath that, and it's still on my arm. And at this point he's grabbing at my underwear, pulling it to the side."
She alleged that Brand then pushed her against the wall and raped her without a condom.
Nadia claimed Brand apologised to her when she texted him to say "When a girl [says] no it means no" after she had been treated at a rape crisis center, saying he was "very sorry" and would "make it up to her with love and kindness".
A second alleged that he forced her to perform oral sex until she choked while she was just 16 and that she had to punch him in the stomach to make him stop.
Brand would have been 31 at the time.
The girl, given the pseudonym Alice, also claimed he referred to her as "the child" during a three-month-long abusive relationship.
She claimed he asked her to save his name in her phone as "Carly" and sent a car to pick her up from school and ferry her to his home, even claiming that the taxi driver begged her not to go inside.
Alice told reporters of their first "date": "I remember wearing a red wiggle dress and big platform shoes and had my hair blown out and was wearing makeup.
"But I didn't look like a woman by any means. I was a child that had got dressed up for dinner."
She also claimed he asked her to confirm her age and said: "I don't give a f*** if you're 12 . . . I need to know where I stand legally."
In the wake of he revealing to him that she was a virgin, Alice claimed that Brand became "preoccupied" with her being innocent and pure before they had sex.
Yet another sickening allegation is that he coached her through what to say to her parents and made her read Lolita, a novel by Russian author Vladimir Nabokov in which the main character kidnaps and sexually abuses a 12-year-old girl.
Alice added: "Russell engaged in the behaviours of a groomer, looking back, but I didn't even know what that was then, or what that looked like."
Discussing the alleged sexual assault, she claimed: "I was sat up in the bed up against the headboard, and he forced his penis down my throat and I couldn't breathe.
"It was just choking me and I couldn't breathe, and I was pushing him away and he wasn't backing off at all.
"I ended up having to punch him really hard in the stomach to get him off.
"I was crying and he said, 'Oh I only wanted to see your mascara run anyway.'"
She also alleged that he drooled into her mouth after the attack and, on another occasion, removed a condom during sex without her knowledge or consent.
The third alleged victim, known as Phoebe, who said that she worked with Brand, claimed he sexually assaulted her before threatening legal action if she spoke out.
In her account, she spoke of Brand's eyes "turning black like the devil" as he allegedly pinned her to the bed and tried to have sex with her.
And the fourth woman accused him of sexually assaulting her as well as being both emotionally and physically abusive.
According to the piece, the women do not know each other and felt compelled to speak up due to Brand's rise as an online influencer.
Beyond the direct allegations from the four women, two former crew members who worked with Brand on Big Brother's EFourum claimed that their felt as if they were working as a "pimp" for the star as he got them to approach young female audience members for him to meet after the show.
A detailed look at the claims is set to be aired on Channel 4 this evening, with a special episode of Dispatches at 9pm.
Brand received treatment for sex addiction in the US in 2005, but The Times report claimed that "more sinister behaviour" was an "open secret" among TV bosses.
Overnight, Brand denied all the allegations against him, slamming them as "aggressive attacks" before they were published.
The actor posted a video to YouTube in which he said he "absolutely refutes" the claims and that his previous relationships were "always consensual".
While he admitted to being "promiscuous" during the height of his fame, he firmly denied any criminal aspect to his behaviour.
Kirsty Gallacher, Brand's sister-in-law, appeared to back him as she shared the two-minute clip on her own social media.
She posted a link to the post on her Instagram story, accompanied by a red loveheart, though this has since been deleted.
The comedian, 48, also received support from controversial internet personality Andrew Tate, who slammed the claims against him as a "matrix attack" and "crazy".
READ MORE SUN STORIES
Brand accused of rape & sexual assaults by 4 women including one at 16
Dad appalled by 'disgusting' present his daughter brought home from school
However, Brand's wife Laura Gallacher is yet to publicly comment on the allegations and has seemingly deleted her Instagram.
The pair married in Oxfordshire in 2017 and share two children, while Laura was recently pregnant with their third.
The claims against Russell Brand
Woman 1: Claims Brand raped her in his Los Angeles Home
Woman 2: Claims Brand forced her to perform oral sex when she was just 16.
Woman 3: Claims Brand sexually assault her in LA and threatened legal action if she spoke out.
Woman 4: Claims Brand sexually assaulted her and was physically and emotionally abusive
Russell Brand's video transcript in full
Hello there, you awakening wonders.
Now this isn't the usual type of video we make on this channel where we critique, attack and undermine the news in all its corruption because in this story I am the news.
I have received two extremely disturbing letters – well a letter and an email.
One from a mainstream media TV company, one from a newspaper, listing a litany of extremely egregious and aggressive attacks as well as some pretty stupid stuff – like my community festival should be stopped, that I shouldn't be able to attack mainstream media narratives on this channel.
But amidst this litany of astonishing, rather baroque, attacks are some very serious allegations that I absolutely refute. These allegations pertain to the time when I was working in the mainstream – when I was in the newspapers all the time, when I was in the movies, and as I have written about extensively in my books I was very very promiscuous
Now during that time of promiscuity, the relationships I had were absolutely always consensual. I was always transparent about that then, almost too transparent. And I'm being transparent about it now as well. 
And to see that transparency metastasized into something criminal that I absolutely deny makes me question is there another agenda at play?
Particularly when we have seen coordinated media attacks before – like with Joe Rogan when he dared to take a medicine that the mainstream media didn't approve of and we saw a spate of headlines from media outlets across the world using the same language.
I'm aware that you guys have been saying in the comments for a while 'Watch out Russell, they are coming for you, you are getting too close to the truth, Russell Brand did not kill himself'.
I know that a year ago there was a spate of articles 'Russell Brand is a conspiracy theorist, Russell Brand's right wing'.
I'm aware of news media making phone calls, sending letters to people I know for ages and ages.
It's been clear to me or at least it feels to me like there's a serious and concerted agenda to control these kind of spaces and these kind of voices and I mean my voice along with your voice.
I don't mind them using my books and my stand up to talk about my promiscuous consensual conduct in the past. What I seriously refute are these very very serious criminal allegations. 
Also it's worth mentioning that there are witnesses whose evidence directly contradicts the narratives that these two mainstream media outlets are trying to construct apparently in what seems to me to be a coordinated attack
Now I don't want to get into this any further because of the serious nature of the allegations, but I feel like I'm being attacked and plainly they are working very closely together
We are obviously going to look into this matter because it's very, very serious. In the meantime I want you to stay close, stay awake but more important than any of that if you can, please, stay free.
Source: Read Full Article