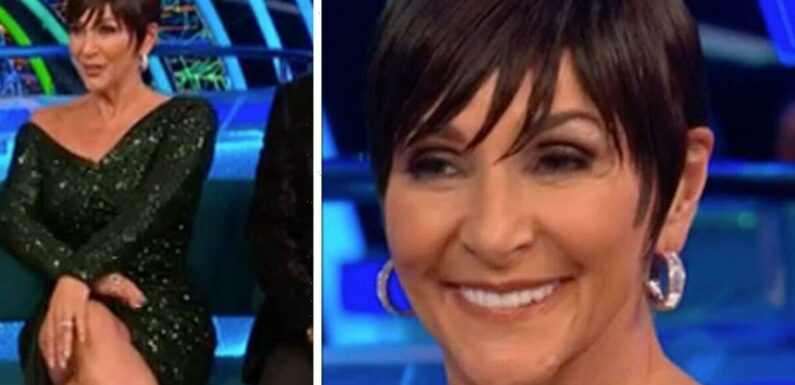 Strictly: Tony apologises to Shirley Ballas for saying 'go home'
We use your sign-up to provide content in ways you've consented to and to improve our understanding of you. This may include adverts from us and 3rd parties based on our understanding. You can unsubscribe at any time. More info
As the Strictly Come Dancing Halloween weekend came to a close, the judges swapped out of their costumes and into something a little more glamorous. Shirley Ballas had been dressed a Gomez Addams on Saturday evening but switched into a glitzy green gown for the Sunday results show.
To get into the character of Gomez, Shirley's dark curly locks had been swept up into a short 'do.
It seems as though the head judge decided not to take her wig off for the results show.
BBC viewers were left distracted by Shirley's new hair style, with many to Twitter to compare her to another TV icon.
Gemma Archer posted: "Shirley is really channeling June Brown with that hairdo. #Strictly."
Tony added: "What the Liza Minelli is going on with Shirley #Strictly."
@jfield03 shared: "Shirley looking like Dot Cotton. #Strictly."
"Shirley seems to be getting wig inspiration (wigspiration?) after working with Motsi #strictly," @Trishie_D tweeted.
Jayne Haworth asked: "Why does Shirley look like Dot Cotton?! #strictly."
Viewer Saffron explained the hairstyle, noting: "Shirley having to keep her Gomez hair cause they film on the same day! #Strictly #StrictlyResults #Halloween #StrictlyComeDancing.."
While viewers were unable to take their eyes off Shirley, it was sadly time for James Bye to leave the competition.
The EastEnders star faced Fleur East and Vito Coppola in the dreaded dance-off and the judges unanimously chose to save Fleur.
Speaking of his exit, James said: "I've said this from the very beginning, all I can do is go out there and do my very best.
"I am dancing against Fleur East, I went and did my best but she is phenomenal.
"I've had the best time on this show and I have a friend for life [in Amy], all I can do is thank the family, and I have a new family now.
"It's a competition but you don't feel like that backstage, you honestly feel like everyone has each other's backs and everyone is just willing everyone to do their best!"
His professional dance partner Amy Dowden added: ""You came on here to show your boys they can throw themselves into any challenge in life, and you are the best role model they could ever have as their daddy! I am so proud of you!"
Strictly Come Dancing viewers were saddened to see James leave with some insisting his costume let him down.
"I think James was given a raw deal with that ridiculous Bee thing #Strictly," Clare Russell penned.
@FlopsyPickle added: "That song choice was just so bizarre, no idea what it had to do with Halloween either. Think James was unlucky there especially being against Fleur who is a much better dancer #StrictlyComeDancing #strictly #strictly2022 #StrictlySpoiler."
Strictly Come Dancing continues Saturday on BBC One at 7pm.
Source: Read Full Article