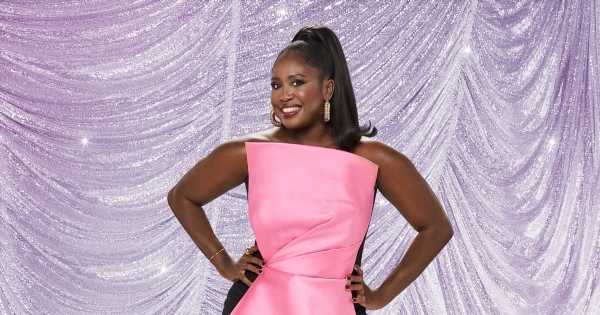 Strictly Come Dancing judge Motsi Mabuse has sweetly discussed dancing with her husband, Evgenij Voznyuk, as the hit show returns to our screens.
Ahead of her first judging stint of the series on Saturday night, Motsi, 42, has opened up on all of her favourite things about the hit BBC show.
She also opened up on which one dance she would do if she was only able to do one for the rest of her life – and it is all to do with her husband, who she renewed her vows to earlier this year.
Here's what Motsi had to say…
Strictly is back for its 21st series! How does it feel to return to the judging panel for such a monumental series?
It feels amazing, and I'm super excited to meet everyone and to see how this season will develop.
We've asked all the pros what they were doing when they were 21, what were you doing when you were 21? And what was life like for you?
I had been in Europe for three years and was dancing, minding my own business. Just dancing, my life was dancing. I was dancing in Germany and preparing for a championship. Nothing else, eat, dance and sleep, that's it.

Every year there's so much excitement when Strictly comes back on our screens. What keeps audiences coming back for more?
The audiences love the dances and they love the show, it's a beautiful, emotional show, full of glitz and glamour and we all get to share it together. It's just such a special time of the year when Strictly starts.
What's the biggest joy from your job as a Strictly Judge and what's the biggest challenge?
The biggest joy is being part of such a professional and wonderful team that is huge and everybody's giving 110% and that that to me is quite inspiring. I think the biggest challenge for me is always the dance off because I bond with all the contestants and sending somebody home is never easy.
If you could only dance one kind of dance style for the rest of your life, what would it be and why?
Probably the Rumba because that means I get to dance with my husband all my life.
Do you have one standout dance and or celebrity dancer from last years' Strictly?
I think the Salsa from Hamza and Jowita will remain unforgettable.
If you could only pick one favourite performance from all your series so far, what would it be?
It would be the week one Samba from Kelvin Fletcher and Oti because he wasn't meant to be on the show. Jamie Laing had broken his leg and then Oti got Kelvin and no one could have planned anything like that, and he comes on the floor and they just burned the floor. It was absolutely amazing!
Strictly returned to Blackpool last year after some time away, how was that and does it make you excited to return this year?
It was fantastic being back in Blackpool because I also felt like everybody had their game on and I just can't wait to be back in in the tower ballroom for this new series.
We have 19 brilliant pros for this series, how would you sum up their contribution towards making the show what it is?
Well, the show wouldn't be what it is without the pro dancers, it's quite simple. It wouldn't be what it is without the dancers, They're such a big part of the show, they are the other half of a couple, so they are very, very important.
Is there a song that will never fail to get you on the dance floor at parties or weddings?
You Are The First, The Last, My Everything by Barry White
And finally, is there anything you're particularly excited about for this seriess?
I'm particularly excited about all the stories we're going to hear, I believe in the power of personality, there are brand new celebrities so I just want to see their personalities on the floor.
Strictly Come Dancing continues on Saturday 23 September at 6.15pm on BBC One and BBC iPlayer.
Follow OK! on Threads here: https://www.threads.net/@ok_mag
Source: Read Full Article