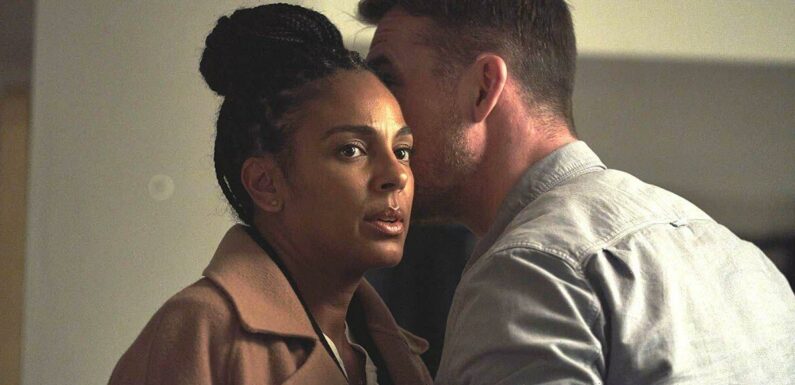 Marsha Thomason explaining the 'fiasco' they had when shooting the bay
We use your sign-up to provide content in ways you've consented to and to improve our understanding of you. This may include adverts from us and 3rd parties based on our understanding. You can unsubscribe at any time. More info
The Bay is back with season four on ITV and this season, a family faces overwhelming loss. Jenn Townsend (played by Marsha Thomason) must gain the trust of the Metcalf family to help the MIU uncover the truth. Express.co.uk has all you need to know about how many episodes there are.
How many episodes are in The Bay season 4?
In the opening episode, DS Jenn Townsend is working late when an emergency call comes in.
She races to the scene to find horror unfolding for the Metcalfs.
Back at home, Jenn faces troubles of her own as, along with Chris Fischer (Barry Sloane), she tries to navigate a house full of teenagers and a blended family.
Each episode will air weekly on ITV at 9pm, and there are six episodes in total.
Once each episode has aired it will be available to stream on the ITV Hub, for anyone who misses it live.
With this in mind, the episode schedule is as follows:
Episode one – March 8
Episode two – March 15
Episode three – March 22
Episode four – March 29
Episode five – April 5
Episode six – April 12
A synopsis for each episode has already been given and as the season continues, the Morecambe community rallies around the grieving Metcalf family.
Jenn and the team find evidence that things were not all that they seemed in the Metcalf household.
Meanwhile, Jenn's own home life is causing sleepless nights and disagreements with Chris.
She is also worried about her career as the rumblings of cutbacks leave her concerned about her future in Morecambe.
Don't miss…
Emmerdale fans 'work out' Caleb's true identity as 'relative' returns [DISCUSSION]
The Bay's Marsha Thomason details 'fiasco' on set filming series 4 [INTERVIEW]
The Bay season 4 episode 1 welcomes Happy Valley star [EXPLAINER]
Actress Thomason opened up about the new storyline and how there were some delicate relationships to manage.
She said: "There are four children in the family. Two of them are teenagers, but two of them are still quite young, so Jenn has to tread carefully.
"What's interesting about the case this year is that there is a grieving family and the dad hasn't really been very hands-on with them ever so this is the first time he's ever had to step up and take care of them on his own whilst dealing with this grief.
"Whilst he is trying to keep his business afloat and everything that comes with that.
"Jenn has more to do with the older kids, that feels like comfortable territory for her.
"Then there are the two younger kids. You've got little Ella who has Downs Syndrome and it is just devastating to watch her processing the grief and trying to understand what's happened to her mum.
"Karen takes charge of the two younger children and it's really beautiful to watch.
"Erin is so great with Will Oldfield who plays Jonas. They just break your heart.
"It's just as well I don't have too much work as an actor with them, honestly, because you just watch them perform and it breaks you. I'd never get through a scene."
The Bay airs on ITV from Wednesday, March 8 at 9pm.
Source: Read Full Article