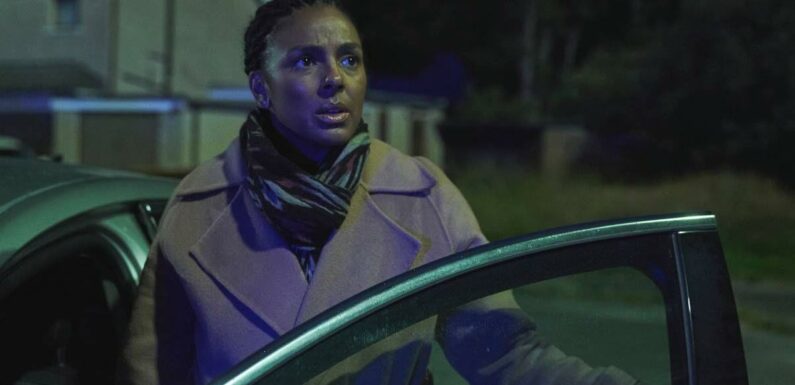 The Bay: Metcalf family devastated by fire
We use your sign-up to provide content in ways you've consented to and to improve our understanding of you. This may include adverts from us and 3rd parties based on our understanding. You can unsubscribe at any time. More info
The Bay has always been able to tug at viewers' heartstrings and season four is no different. Despite getting a new leading lady in DS Jenn Townsend (played by Marsha Thomason), the ITV drama is still as relentless as ever in making an emotional impact. According to Thomason though, these scenes are not difficult to shoot.
WARNING: This article contains spoilers from The Bay.
This time around, fans have seen how a family is ripped apart when their mother Beth Metcalf (played by Victoria Elliott) is killed in a house fire.
Her husband Dean Metcalf (Joe Armstrong) watched in horror as his wife was banging on the window, pleading for help.
The flames were already too high for anyone to help her, leaving everyone shocked and helpless.
It has been Jenn's job to assist the family in any way she can, including giving emotional support and words of encouragement.
When talking about filming these heartbreaking moments, actress Thomason told press, including Express.co.uk, she didn't find it challenging.
She explained: "No it wasn't hard because if you're an empathetic human, you can just put yourself in their shoes.
"That's being an actor, that's being a FLO [Family Liaison Officer], that's being a human as far as I'm concerned, you just put yourself in somebody else's shoes.
"They're going through the absolute worst thing, it's horrendous just stop for a minute and imagine if that was happening to you."
Thomason added: "So, no it wasn't difficult and the reason I'm an actor is because I enjoy exploring people's emotions and their different experiences so for me, it was just a real gift.
"It makes you sad but then you shake it off because thank goodness, that isn't really happening to you."
Last year, the case revolved around the murder of a young amateur boxer with Jenn's focus on his mum Mariam (Rina Mahoney).
While both are grieving the loss of a loved one, Jenn has approached the victims very differently.
Don't miss…
Antiques Roadshow guest hides behind iconic painting after valuation[EXPLAINER]
Coronation Street star Hayley Tamaddon appears in Unforgotten [CAST]
Grace's Richie Campbell teases 'dark' new series with 'edge'[SPOILER]
"Last year with Mariam, it was very softly Jenn's approach, whereas this year, with Dean, he is just not being honest and he is not present and Jenn is incredibly frustrated", she said.
"So she kind of meets him where he's at and raises her voice and she's combating with him which is really interesting to watch.
"It was great to play but watching these two episodes, it's very different, it's a very different Jenn we're seeing with this family from last year."
While some fans have already binge-watched the whole of season four on ITVX, many are waiting for the series to air weekly.
Episode two is going to come out on Wednesday, March 15, on ITVX, and it sounds like Jenn is going to have a lot to contend with.
The synopsis for episode two reads: "Jenn and the team find key evidence that all was not well in the Metcalfs' home, while Jenn's own domestic life is causing sleepless nights and disagreements with Chris.
"Elsewhere in the MIU, the team begins to notice that something is amiss with Manning, and an old informant of Clarkie's gives an unexpected lead."
The Bay season 4 continues every Wednesday at 9pm on ITV.
Source: Read Full Article