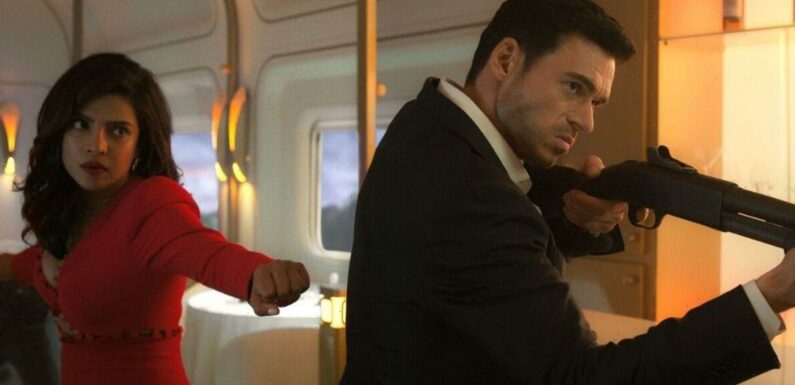 Citadel official trailer
We use your sign-up to provide content in ways you've consented to and to improve our understanding of you. This may include adverts from us and 3rd parties based on our understanding. You can unsubscribe at any time. More info
The thrilling trailer for the new spy drama Citadel starring Richard Madden and Priyanka Chopra Jonas has just landed. It teases a thrilling series that is James Bond meets The Bourne Identity. Also starring Stanley Tucci and Lesley Manville, a short clip offers a glimpse at the exciting characters viewers can expect to see.
Richard and Priyanka play Mason Kane and Nadia Sinh respectively.
They were previously spies for an independent global spy agency called Citadel.
Eight years before viewers meet them the agency fell, and they had their memories wiped as they narrowly escaped with their lives.
They've remained hidden ever since, building new lives under new identities, unaware of their pasts.
That is until now, when Mason is tracked down by his former Citadel colleague, Bernard Orlick (Tucci) who desperately needs his help.
He then seeks out his former partner, Nadia, and the two spies embark on a mission that takes them around the world.
But reawakening their memories also means reawakening their buried feelings for each other which complicates things even further.
The extremely stylish trailer smoulders as Nadia walks across screen wearing a red suit.
Mason questions her asking: "Tell me you've never felt like you should be somewhere else, doing something else. Tell me you've never seen my face before."
Fans see lots of glamorous cutaways of the pair before Mason says: "I was on the train. There was an explosion," while on screen a grenade pin is pulled.
He continues: "I couldn't remember anything. Except you. You are a spy Like me."
The trailer then hints at the dark humour in the show.
DON'T MISS:
Salma Hayek shares daring post-Oscars striptease [INSIGHT]
Rebel Wilson unveils weight loss as she re-wears old gown to Oscars [INSIGHT]
Oscar nominee Tems slams critics over view-blocking dress [OPINION]
Nadia tells Mason she will scream if he touches her just as he throws a knife in her direction.
When she is shocked by this, a bemused Mason responds: "I thought you were going to catch it."
They then come under attack, before she eventually acknowledges knowing him.
"I have seen you before. In a dream," she says.
Fans also get a look at Tucci as their boss who says: "You need to remember the past, to save the future."
Also featured in the brief flip is a very glamorous Lesley Manville playing a bone-chilling villain.
The series is executive produced by the Russo Brothers who are best know for their work in the MCU.
The first season of Citadel consists of six episodes with two episodes premiering April 28 on Prime Video, and one episode rolling out weekly through May 26.
Source: Read Full Article