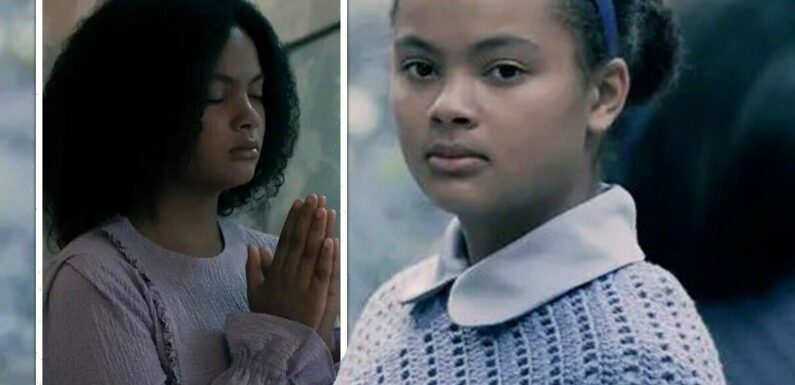 The Handmaid's Tale season five trailer from Hulu
We use your sign-up to provide content in ways you've consented to and to improve our understanding of you. This may include adverts from us and 3rd parties based on our understanding. You can unsubscribe at any time. More info
The latest season of The Handmaid's Tale is heading towards what will undoubtedly be an emotional rollercoaster of a finale next Wednesday. As June Osborne (played by Elisabeth Moss) prepares to make another strike against Gilead, viewers watching on Hulu have been shellshocked by a huge turning point for June's daughter, Hannah (Jordana Blake).
Fans were reduced to tears by the latest episode of The Handmaid's Tale when they realised Hannah has been writing her own name in a hidden book.
Not only does it confirm June's daughter has been mirroring her mother by going against Gilead's laws against women's writing, but it's also clear she remembers her real name is Hannah, not Agnes.
It could also suggest Hannah has been defiantly planning her own escape under the watchful eye of Gilead this whole time.
Hannah's loyalties have been unclear throughout the season, as she initially appeared to have been taken under the wing of Serena Joy Waterford (Yvonne Strahovski).
READ MORE: The Repair Shop's Will Kirk a 'great support' to co-star
While some fans believed she had been brainwashed by Gilead's oppressive regime, the latest episode seems to suggest this may not be the case.
If Hannah remembers her real name given to her by her real parents, June and Luke Bankole (OT Fagbenle), it may be easier to bring her over to the resistance's cause than they initially thought.
This reveal was understandably one of the most resonant moments of the new season so far, and many fans have taken to social media to share their emotional reactions to the scene.
Twitter user @bcy_xo exclaimed: "Hannah writing her name brought me to tears, June would be so proud!"
@ThenAngelSaid wrote: "Omg! She wrote her name! Hannah seems to be very much like June.
"She's probably been planning her escape for years. She better make it back to June and Luke!! If not, what is this all for??"
@sinemblaine tweeted: "SHE WROTE HANNAH! She wrote it even though she knew they would cut off her finger if she was caught."
Meanwhile, Redditor iamsunshine78 commented: "It was the most emotional and surprising moment of the entire series for me."
DON'T MISS:
Fate: The Winx Saga stars 'heartbroken' after cancellation [REACTION]
NCIS Los Angeles fans disappointed by missing cast members [LATEST]
Virgin River boss teases season 5 exposes Preacher's past [INSIGHT]
"She is NOT Agnes, she is Hannah and she KNOWS that. She truly is June Osborne's daughter and Holly Maddox's granddaughter. Hope Gilead is ready."
DenaInWy exclaimed: "OMG. I was thrilled at the significance of her WRITING, but your comment just reminded me that she remembers she is HANNAH. Mind. Blown. How did I miss that part?"
And Jolly-Ad-3922 said: "I think the scene's duality is about her writing her real name and to show that she's even writing at all despite it being forbidden.
"Also she has her mom's revolutionary energy," they added, which could suggest there's much more fighting spirit from Hannah to come.
With The Handmaid's Tale set to come to an end with its sixth season, Hannah could form an integral part of June's plan to take down Gilead once and for all.
Even if she fails to escape, she could be vital for the resistance by working to take down the system from the inside.
Then again, with a series based on the original novel's follow-up The Testaments on its way, Hannah and June's mission could be destined to fail despite their latest acts of rebellion.
The Handmaid's Tale season 5 concludes Wednesday, November 8 on Hulu in the USA and is available on Amazon Prime Video in the UK.
Source: Read Full Article