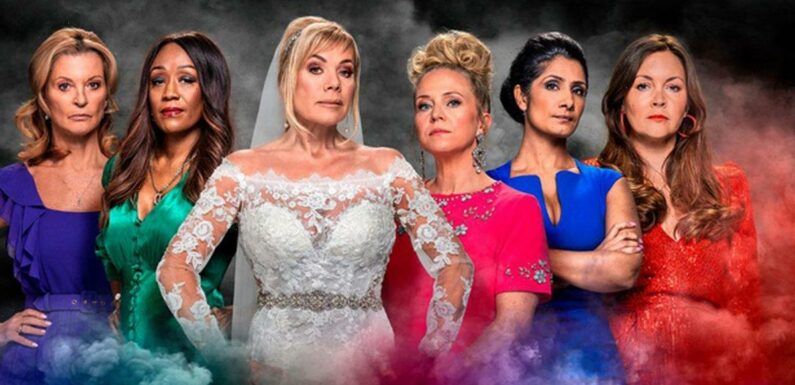 EastEnders has sent fans into a frenzy after Monday night's episode (February 20) ended with a flash-forward to Christmas 2023, where six of Walford's much-loved matriarchs stood around a dead body in the Queen Vic – but who is the murder victim?
For the first time in history, the BBC soap gave a glimpse to the future and featured a scene set to air in 10 months time.
The foreboding footage shows Denise, Sharon, Linda, Kathy, Suki and Stacey appear stunned as they gather around the mystery dead man, with one of them tipped to be the killer.
The Six, as they have been nicknamed, look shocked by what has happened, and some of them are covered in blood or scratches, while Kathy's dress is ripped and Denise is holding a broken champagne bottle.
The tantalising teaser has sparked fan theories about who the murder victim could be based on the outfit they were wearing.
It's hinted the character could be a groom or a wedding guest, as they were donning a suit and cufflinks.
Viewers know that Kat Slater and Phil Mitchell are scheduled to marry at Christmas this year, while fans have been thrown by the fact Sharon is wearing a wedding dress in the flash-forward.
In one crucial moment in the clip shown on Monday night, Sharon checks the pulse of the dead man and lifts his arm – revealing a cufflink.
Avid watchers recall Phil wearing the 'same' cufflink in a scene that aired this year, with many speculating he could be killed off the show – while others wonder if he will lend someone the cufflinks.
Taking to Twitter, one viewer wrote: "It's Phil's cufflink he wore it new years I think. But as it's a wedding it could be the "something borrowed."
While another added: "We've seen Phil wear the cufflinks, so it's Phil or he loans them out. Sharon in a wedding dress – Phil could've got back with her and kept the wedding date when he was supposed to marry Kat, or maybe differences settled and it's a double wedding with Sharon and Keanu?"
There have been a number of theories floating around social media as fans scramble to figure out who is dead on the floor – including that the body could belong to villain Dean Wicks.
This comes as Linda Carter was left struggling when she learned her mother-in-law Shirley Carter was back in contact with her son Dean.
Viewers will recall Dean raped Linda in 2014, resulting in his exit from the soap two years later and since then there has been no contact.
Want the latest TV news straight to your inbox? Sign up to our daily TV newsletter HERE
Prior to the flashforward clip, Linda confided in Kathy about the picture of Dean and how it "brought it all back" in reference to the trauma around her rape ordeal.
But Kathy defiantly told her that she and her friends would build a protective wall around her if Dean tried to return to Walford, and many think The Six could end up killing Dean to save Linda.
"Linda's wall of friends protecting her. Her knights in shining armour. Her split lip. The most significant reaction was Linda. It all points to Dean for me," predicted a viewer.
While it has not been confirmed which male character is lying dead on the floor, other names that have been making the rounds include Jack Branning, Ravi Gulati, Nish Panesar, Keanu Taylor, and Ryan Malloy.
Who do you think dies in the EastEnders flash-forward episode? Vote in our poll HERE to have your say.
Let us know which character you voted for and why in the comments section below.
The Daily Star will also be discussing the topic with you below in the comments and you can join in! All you have to do is sign up, submit your comment, register your details and then you can take part.
Source: Read Full Article