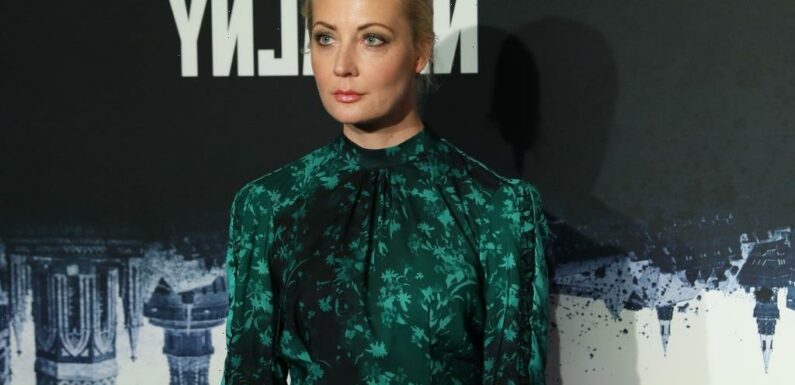 Russian opposition leader Alexei Navalny, subject of the Oscar-nominated documentary that bears his name, remains imprisoned outside Moscow, and thus unable to attend the Academy Awards tonight. But he will be represented at the ceremony by his closest family members.
Deadline has learned his wife Yulia Navalnaya, who also occupies a prominent place in the film directed by Daniel Roher, will attend the Oscars along with the couple's children, daughter Dasha and son Zahar. Navalny, from CNN Films, is considered one of the favorites to win the Oscar for Best Documentary Feature.
Related Story
On 'Top Gun: Maverick' Front, Tom Cruise Not Coming To Oscars, But Lady Gaga Sure Is
Roher's film documents how Navalny emerged as a serious rival to Vladimir Putin, attracting significant support from the Russia public for his campaign against Kremlin corruption and open criticism of Putin. In August 2020 Navalny made a campaign tour of Siberia in support of allies of his political movement and on the flight back to Moscow became deathly ill. Russian doctors claimed he suffered from a "metabolic disorder" or other illness, but doctors in Germany – where Navalny was later treated – determined he had been poisoned by the nerve agent Novichok.
Navalny, which premiered at the 2022 Sundance Film Festival, shows how journalist Christo Grosev, working closely with Navalny and his associates, was able to trace the poisoning plot back to Kremlin apparatchiks. In one pivotal scene in the film, Navalny himself got on the phone with one of the alleged poisoners and – by impersonating a government official – got the man to reveal incriminating details of the plot.
Russia recently added the Bulgarian-born Grosev to a "most wanted" list, meaning he is subject to arrest if he steps foot in the country.
Navalny reportedly was transferred within the past year to a maximum-security prison in the town of Melekhovo in the Vladimir region of Russia, about a hundred miles east of Moscow. The documentary shows how he recuperated from his poisoning in Germany, then made the fateful decision to return to Russia. Immediately on his arrival in January 2021 he was arrested and later convicted of violating parole on an earlier charge. He was later sentenced to an additional nine years in prison on alleged fraud and contempt charges.
Yulia Navalnaya trained as an economist and became prominent in Russia as her husband's political career blossomed. She has sometimes been referred to as the First Lady of the Russian Opposition. Without her efforts, which included publicly pressuring Russian doctors to release her husband for treatment in Europe after his poisoning, her husband might never have been granted passage out of Russia.
Roher recently told Deadline that Navalny "is still in the gulag, he's still in prison. And his personal situation has been downgraded to the most horrible solitary confinement condition."
The director says his subject hasn't seen the Oscar-nominated documentary that tells his story.
"For me, that's a very bitter part of this," Roher told Deadline in January. "It's very sad that he hasn't gotten to see the film. One thing I always think of with Navalny is how enthusiastic he was about being a film subject. He's a very curious man and he's very, very curious about the filmmaking process… I certainly hope I'll get to show it to him one day."
Must Read Stories
How To Watch Online & On TV; Lady Gaga In, Tom Cruise Out; Politics; Deakins; More
'Scream VI' Getting Loud As Sequel Cuts Path To Franchise-Record $44M+ Opening
Cold Open Skewers Oscars; Jenna Ortega In 'Parent Trap', 'Exorcist' Parodies
Pelosi Panel; 'Flamin' Hot,' 'Dungeons And Dragons' Reviews; Deadline Studio; More
Read More About:
Source: Read Full Article