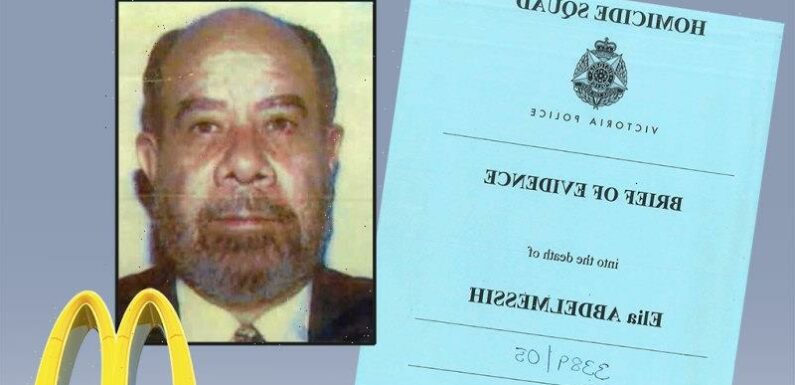 By Richard Baker
Eliah Abdelmessih was murdered in his Kew East home in September 2005.
Eliah Abdelmessih spent his final months seeking sex and seemingly frustrated at being unable to find enough of it.
This was one of the main threads in the police brief of evidence prepared for Victorian Coroner Paresa Spanos who was tasked with explaining Abdelmessih's brutal slaying with a statue of the Virgin Mary in his East Kew home in September 2005.
Coroner Spanos has granted The Age and Sydney Morning Herald access to witness statements and investigation reports from the police brief of evidence. These have been used to help build a profile of the 69-year-old Egyptian-born widower who is the focus of episode two of The Confession podcast.
The police brief of evidence provided to The Age and Sydney Morning Herald by Coroner Paresa Spanos.
The police files present Abdelmessih, whose wife Rita died in 2004, as a lonely man. The couple had been unable to have children despite several attempts to conceive through IVF. The people closest to him were his god-daughter Susan Ayad and her husband Seif Ayad, who lived on the other side of Melbourne.
Abdelmessih would begin each day just after 6am with breakfast at McDonald's in Kew and would return a few hours later for another meal. It was a routine he always followed.
Witness statements gathered by the homicide squad reveal Abdelmessih habitually sought out young female workers at McDonald's and a nearby Safeway supermarket, showering them with praise, serenading them with songs and requesting that they come to his house.
But his attention was rarely welcomed or well received. A male manager at McDonald's told police Abdelmessih could become verbally aggressive. While a nurse at the aged care home where Rita Abdelmessih was cared for stated that he was rude and not liked by staff.
Susan and Seif Ayad were the closest people to Eliah Abdelmessih, but lived on the other side of Melbourne. In 2006, the year after the man's grisly death, they faced the media to call for information about his murder.
A neighbour of Abdelmessih told police he saw a woman he thought was a prostitute leaving the old man's house months before his death. Another neighbour noticed the collection of pornographic videos in his shed.
Abdelmessih's search for female company led him to an agency in Box Hill that promised introductions to potential Asian brides and the lonely hearts classifieds in local newspapers.
In 2009, with police unable to find Abdelmessih's killer or locate a match for the female DNA samples found at the crime scene, it was left to Coroner Spanos to explain the manner of his death.
In finding that Abdelmessih died of head injuries inflicted by an unknown female, possibly assisted by one or more assailants, Spanos wrote with empathy.
"His English was poor, he dressed inappropriately and his poor hygiene standards were apparent," she wrote.
"During the day, he frequented the shopping precinct in High Street, Kew, and was known to behave inappropriately, in particular to young women … Mr Abdelmessih seemed bitter and angry with his life, craving human contact but at the same time repelling people either by his behaviour or presentation."
Abdelmessih left his estate to the Coptic Church and a priest back in Egypt.
The Morning Edition newsletter is our guide to the day's most important and interesting stories, analysis and insights. Sign up here.
Most Viewed in National
Source: Read Full Article