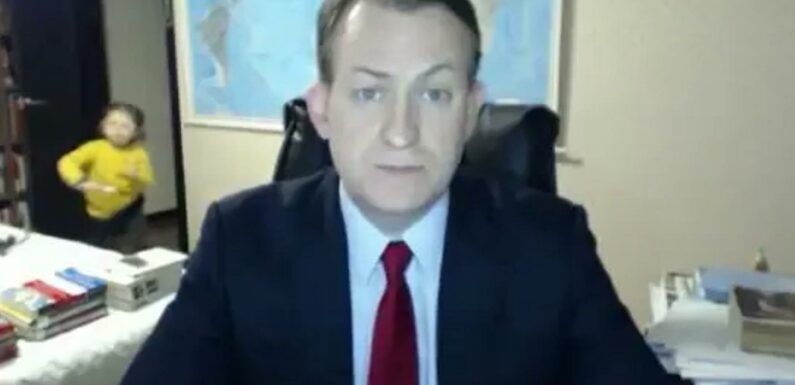 THE ADORABLE kids who stormed in on their dad's live interview on BBC News are now unrecognisable six years after the viral moment.
The hilarious segment that went gangbusters in 2017 has now been trumped by a family photo update that has left viewers warm-hearted.
At the time, Professor Robert Kelly was appearing via video link on BBC News to offer insights on South Korean politics.
The interview quickly took a surprising turn when his daughter Marion, then four, bursted into the office with her baby brother James in his walker.
She swung her arms happily as she walked over to her dad, who spotted her on his screen and attempted to push her out of the way.
Meanwhile, the broadcaster continued to ask his next question while pointing out: "I think one of your children has just walked in."
READ MORE ON SOUTH KOREA
World's tallest playable arcade game powered by flash Genesis SUV
Everything we know about BTS singer Jung Kook
Seconds later, a woman comes bounding into the room and grabs the children.
Marion was heard shouting: "Oww, mummy."
The funny clip has more than 52 million views on YouTube.
It was later revealed that Kelly was actually wearing odd jeans, which is why he did not get up and remove the children himself.
Most read in The Sun
Strictly's Giovanni Pernice & Jowita Przystal call it quits after romance
Watch emotional moment groom cries after Dysart Dynamo survives horror fall
Dreamboys boss dead after being jailed for trying to kill ex who kissed star
Katie Price reveals most shocking tattoo yet – with THONG inked on bum
However, six years on, the father-of-two shared a new family photo on Twitter.
Kelly wrote: "Some BBC Dad content since the 6th anniversary of the original video was last Friday. 
"Marion had a singing performance this past weekend, so we got some nice family pictures.
"Thanks again to all of you who follow me because of the video.
"My family and I flattered by your kindness." 
The picture showed the proud parents hugging Marion, 10, and James, 6, following their daughter's musical performance.
The children looked totally unrecognisable to when they were youngsters.
Marion is seen wearing a pink sparkly dress and is all grown up as she smiled for the camera.
And James looked smart in a white shirt and sweater vest, also appearing much older from his former-pram days.
The post has already racked up 40,000 likes, in which fans flocked to share fond memories of the viral moment.
"The moment was pure gold… I loved the way the little girl sauntered into his office," a Twitter user said.
"I love your story because it gave everyone a chance to laugh at the craziness of family life," one added.
"I watched the video again the other day and laughed till I cried," a second remarked.
"I was a mum on maternity leave when BBC Dad hit… I saw it after a middle of the night feed, and it was one of the funniest things I've ever seen and now our babies are all so big and it is still one of the greatest viral moments of all time," a fourth commented.
After the interview became famous, Marion and James even became the stars of an animated show.
Read More on The Sun
The Spanish hotspot which is 20C and has 88p beers
Nando's has made a major change to menus – and fans won't be happy
In the cartoon, Marion became Mina, James became Jack and their father is a UN official.
The maker of the series later developed the Mina character who solves crimes after she follows her father to North Africa on the trail of a gold thief.

Source: Read Full Article