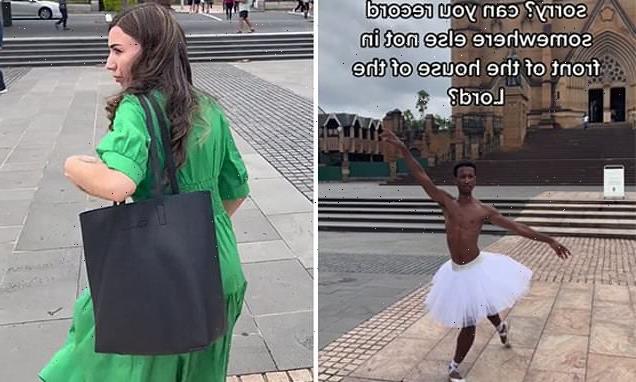 Moment angry woman confronts a male ballerina for performing in front of a church: 'This is an abomination'
Kadeem Hosein performed a dance at St Marys Cathedral 

A woman confronted Mr Hosein while he was being filmed

She took issue with his performance outside a church
A male ballerina has been confronted by an angry woman who slammed him for performing in front of a church.
Dancer Kadeem Hosein was performing shirtless in a tutu outside St Mary's Cathedral in Sydney when he was approached by a woman who called it an 'abomination.'
In a video captured of the incident, the woman asked: 'Can you record somewhere else, not in front of the house of the Lord?'
Mr Hosein, who was focused on his movements, asks the woman to repeat herself.
'Can you record someone else not in front of the house of the Lord?' she says again.
'Or you could just wait five minutes and I'll be finished?' Mr Hosein responded.
She fired back, saying: 'No. This is an abomination.'
Male dancer Kadeem Hosein (pictured) performed outside St Marys Cathedral in Sydney when he was confronted by a woman
'You're in a public space. I can record you anywhere in a public space,' the cameraman says.
'That's a church,' the woman says as she points at the cathedral before walking away.
'Did God not create ballet?' Mr Hosein asks as she leaves.
The ballet dancer uploaded the fiery clip to his TikTok and Instagram accounts.
Several viewers praised Mr Hosein for not backing down from the woman's demands.
'What a horrible person. I'm sorry you had to endure that.'
'Thank the heavens for beautiful dancing,' added a third.
'The Lord would welcome your dancing in front of the cathedral,' commented another.
The woman took issue with the appropriateness of Mr Hosein's dance outside a church
Source: Read Full Article