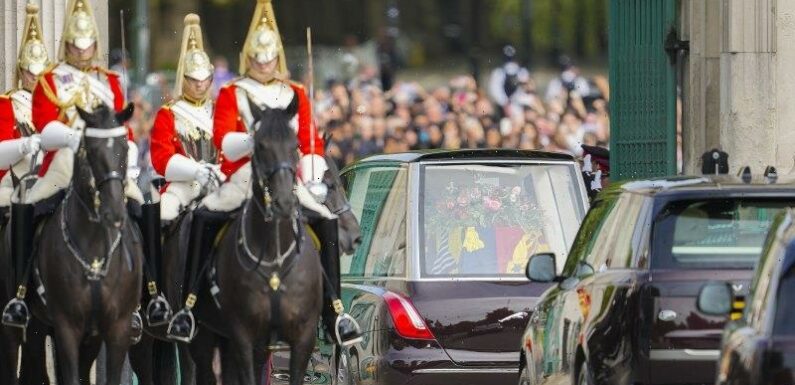 Key posts
Biden's latest Taiwan comments anger China
Millions bid farewell to Queen Elizabeth II
This morning's headlines at a glance
Biden's latest Taiwan comments anger China
Yesterday, we told you that United States President Joe Biden has made his most explicit comments yet on Taiwan by stating that US forces would defend the self-governed island in the event of a Chinese invasion.
China's foreign ministry has since responded. Spokeswoman Mao Ning told a regular briefing in Beijing that Biden's comments send a "seriously wrong signal".
United States President Joe Biden.Credit:Bloomberg
Beijing is "strongly dissatisfied and resolutely opposed" to Biden's comments and has lodged a formal complaint, she added, warning that China reserves the right to take all necessary measures to counter separatism.
However, Taiwan's foreign ministry expressed its thanks to Biden for reaffirming the "US government's rock-solid security commitment to Taiwan".
Taiwan will continue to strengthen its self-defence capabilities and deepen its close security partnership bwith the US, the Taiwan ministry said in a statement.
Reuters
Millions bid farewell to Queen Elizabeth II
Queen Elizabeth II, the longest-reigning monarch in British history, has been farewelled in a historic service at Westminster Abbey as an estimated two million people lined London's streets to thank their beloved sovereign, who reigned for longer than most can remember.
Her son, King Charles III, and his wife, Camilla, Queen Consort, members of many European royal families and more than 100 world leaders, presidents and prime ministers paid their respects at the state funeral – the first in Britain since that of Sir Winston Churchill in 1965. It began after an emotional procession of the senior royals following the coffin from Westminster Hall.
The body of the Queen had lain in state for 4½ days, a period that closed just hours before the start of the service. The queue, where hundreds of thousands waited through cold nights and long days for just a few minutes to view her casket, was declared shut just after 10.30pm on Sunday London time.
In his sermon, the Archbishop of Canterbury, Justin Welby, described the Queen as having touched "a multitude of lives" and having been a "joyful" figure for many.
More on the service here.
This morning's headlines at a glance
Good morning and thanks for your company.
It's Tuesday, September 20. I'm Broede Carmody and I'll be anchoring our live coverage for the first half of the day.
Here's what you need to know before we get started.
The longest-reigning monarch in British history, Queen Elizabeth II, has been farewelled during a historic service at Westminster Abbey. Europe corespondent Rob Harris writes that an estimated two million people lined the streets of London to pay their respects to the late sovereign.
In other news, a Russian missile has reportedly blasted a crater close to a Ukrainian nuclear power plant. Ukrainian authorities have labelled the act "nuclear terrorism". And Joe Biden's latest comments on Taiwan have angered China.
Closer to home, and Rachel Clun writes that the European Union has indicated it's ready to sign a trade deal with Australia now that the federal government's climate laws are in line with the bloc's environmental demands.
And both NSW and South Australia are scrapping masks on public transport. However, other states like Victoria are continuing to mandate mask-wearing.
Most Viewed in National
Source: Read Full Article