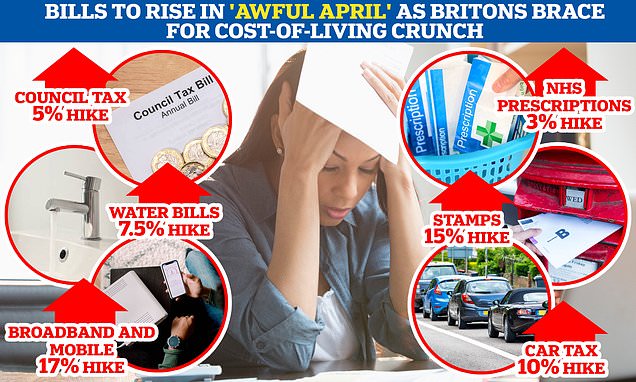 Get ready for 'Awful April': Britons brace for onslaught of surging bills including council tax, broadband, water and prescriptions TOMORROW in most brutal cost-of-living crunch since the 1950s
Typical family will be £680 worse off a year as a result, according to research
 Price hikes come as families are already grappling with cost-of-living crisis
Britons are bracing for 'Awful April' when an onslaught of bills are set to rise including their broadband, mobile, water and council tax.
Households are facing price hikes which could leave the average family hundreds of pounds a year worse off.
The increase in unavoidable bills comes as consumers are already grappling with the cost of living crisis in the form of soaring inflation and food prices.
About 2.5 million households missed or defaulted on 'must pay' domestic outgoings, loans or credit card payments in March, according to consumer group Which?
Household finances app Nous.co has calculated that a typical family will be £682.70 a year worse off as a result of the increases.
Revealed: How bill rises in 'Awful April' could affect you 
Which? consumer expert Emily Seymour said: 'Our research shows that as the cost of living crisis continues to bite, millions of households are missing essential payments – such as mortgage, rent and credit card bills – every month.
'As this new wave of price hikes take effect, now more than ever it's critical that the Government and essential businesses – such as telecoms firms and energy companies – do everything they can to support consumers and provide clear information on what support is available.'
Here MailOnline charts the rising bills from tomorrow, scroll down to find out how price hikes might affect you.
Council tax 
+ 5 per cent (£100 more) 
The majority of local authorities are pushing up council tax by 5 per cent, which will take the typical figure for a Band D property rise by £100, putting the total bill over £2,000 for the first time.
The biggest annual percentage rise will be in London, where bills for an average band D property will increase by 6.2 per cent. But the capital's average bill of £1,789 remains cheaper than other areas.
Households in metropolitan areas outside the capital will see bills rise by 5.1 per cent to an average of £2,059, while largely rural parts of the country will see an increase of 5 per cent to just below £2,140.
Figures from the Department for Levelling Up, Housing and Communities show that the average charge for a Band D property will be £2,065 for 2023-24
The Conservative-led County Councils Network, which represents local authorities providing services to nearly half of the population in England, said the combination of a 4.8 per cent increase in direct local government funding and council tax flexibilities in 2023-24 is not enough to cover rising costs and growing demand.
It added these pressures mean county councils will collectively have to make savings of £1billion, double the amount of a 'typical' year, and use £350million of reserves to meet their legal requirement to set a balanced budget.
Some groups may be able to apply for a discount, including students, people who live alone (or only with under-18s), people living with a severe mental impairment (SMI), those on low income or benefits and those on pension credits. 
To apply for discounts you must go through the Government website.
Water bills 
+ 7.5 per cent (£31 more)  
Water bills will see the biggest increase for about 20 years, with the annual cost for an average household hitting £448. 
The 7.5 per cent rise means customers will pay on average £31 more.
However, the amounts actually paid by households will vary significantly depending on their water company, their property type and whether they have a water meter. 
Consumer groups say the increases will hit customers hard as soaring food and energy prices push up the average annual household bill by another £500 from April.
Water bills will surge at the fastest rate in almost 20 years, with some firms imposing a rise of more than 10 per cent
Southern Water, which was fined a record £90million for dumping sewage into the seas off the south coast, will increase bills by around 10.8 per cent. On average, the annual bill will go up by £43 to £439.
The second highest increase is for Anglian with bills up by an average of 10.5 per cent – £47 – to £492.
Thames Water, which has sparked controversy for polluting rivers and failing to tackle leaks, is set to increase bills by 9.3 per cent. The average will rise by £39 to £456.
The highest bills in England and Wales come from Wessex Water, which covers much of the south coast. Bills are going up by 9 per cent – £42 – to £504.
South West Water, which covers Cornwall and Devon, would charge a higher £527 but customers benefit from an annual £50 discount funded by the Government. 
NHS prescriptions 
+ 30p
The price of an NHS prescription is rising by 30p, from £9.35 to £9.65. 
At the same time, the cost of prescription pre-payment certificates – which cover multiple NHS prescriptions for a set price – will also go up. 
The price of an NHS prescription is rising by 30p, from £9.35 to £9.65
A three-month PPC is going up from £30.25 to £31.25, and a 12-month PPC will increase from £108.10 to £111.60. 
The cost of wigs and fabric supports will rise as well, while the recently introduced PPC for hormone replacement therapy will cost £19.30. 
Broadband 
+ around 14 per cent 
Most broadband and mobile phone companies will be raising charges by about 14 per cent, however some customers of Virgin Media face punishing increases of 17.3 per cent and, in extreme cases, 25 per cent.
The rises are coming in despite pleas from the telecoms watchdog Ofcom and consumer groups for firms to abandon them due to the cost of living squeeze.
Ofcom has responded by launching an inquiry into big mid-contract price rises.
Stamps
+ up to 16 per cent (15p more for first class) 
Stamp prices are to rise by up to 16 per cent
Stamp prices are to rise by up to 16 per cent, as Royal Mail announced it putting up the price of a first class stamp from 95p to £1.10 from April 3.
Meanwhile, second class stamps will rise by 7p, from 68p to 75p.
The cost of posting large letters is also increasing, with the first class option going from £1.45 to £1.60, and second class costing an extra 10, up from £1.05.
Royal Mail said the increase was due to a '25 per cent drop in letter volumes since the pandemic, increasing costs and the highest inflation rates for a generation'.
Car tax 
+ 10.1 per cent 
In a blow to drivers, car tax, otherwise known as Vehicle Excise Duty, will increase by 10.1 per cent from April 1, in line with inflation.
The figure payable depends on when the vehicle was registered and its emissions.
The price increase was announced by Chancellor Jeremy Hunt in the budget earlier this month.
Source: Read Full Article