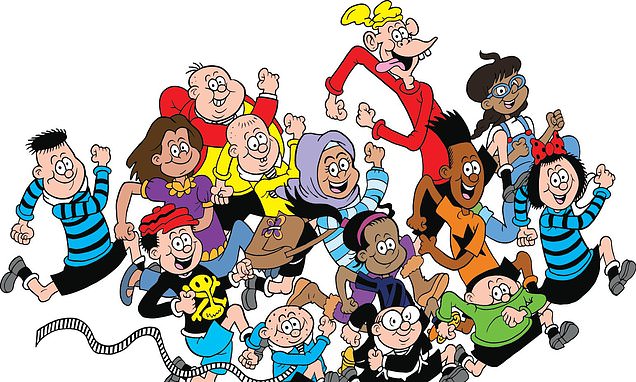 Menaces! Censors who rewrote Roald Dahl now take on the Beano with hijab-wearing artist and wheelchair-using scientist among gaggle of girls joining the Bash Street Kids (after Fatty and Spotty were also given 'less pejorative' names)
After remaining largely untouched for 70 years, Beano has been transformed 

Inclusive Minds, who recently rewrote Roald Dahl's 'offensive' books, helped out

Comes after Bash Street Kids Fatty and Spotty were renamed Freddy and Scotty 
The Beano has been transformed to make the comic more appealing to young readers with the help of the publishing censors who came under fire for rewriting Roald Dahl's books to remove offensive material.
After remaining mostly untouched for almost seven decades, the Bash Street Kids have quietly been joined by five new pupils – Harsha, Mandi, Khadija, Mahira and Stevie Starr, in an effort to be more inclusive and illustrate the demographics of modern Britain.
As The Beano prepares to celebrate its 85th birthday, the UK's longest-running comic has undergone a major transformation with the assistance of Inclusive Minds – a collective working to make children's literature more inclusive and accessible.
The consultancy was slammed by Brits earlier this year after 'offensive' language was removed from Dahl's beloved children's books. 
Considerable edits have been made to descriptions of the characters' physical appearances – the new editions no longer use the word 'fat', which has been cut from every book, and the Oompa Loompas are now gender neutral.
The Beano's Bash Street Kids have been transformed. Pictured is the original class with their new classmates
In 2021, The Beano said it would stop using the nickname 'Fatty' for its character Frederick Brown
In the last few years, Beano characters Fatty and Spotty have been changed to Freddy and Scotty in a bid to stop children with acne, freckles or weight issues being bullied by classmates.
READ MORE: Augustus Gloop can't be 'fat', the (gender neutral) Oompa-Loompas aren't 'small' and even the BFG's gone PC: 'Woke' publishing censors REWRITE Roald Dahl's classic books for new editions that remove all language snowflakes might find 'offensive' 
Despite the name change, Fatty will not be slimmed down because The Beano want to show that children are 'all different shapes and sizes'. His fact file reads: 'Frederick Brown's nickname was Fatty until 2021 when our readers told us we should change it – so we did!'
Mike Stirling, creative director of The Beano, whose first edition in 1938 featured a controversial caricature of a black child, said he had no concerns about being labelled as 'woke' by the older generation.
'We have never seen that as a pejorative term,' the 49-year-old told The Times. 'It's awareness and being awake to things. What would be easy to do would be to sleepwalk and keep The Beano the way it had always been done for ever.
'When we make a new character, [Inclusive Minds] connect us with an ambassador who advises us. That allows us to get the details right in terms of clothes they are wearing and cultural celebrations their family might get involved in.'
Mr Stirling said that the Bash Street Kids 'had to change' because they were 'completely anachronistic'. He explained that the group were previously ten children – nine of which were boys, one was a girl and all of them were white.
The new intake features Mandira 'Mandi' Sharma whose anxieties are portrayed to highlight mental health issues and the hijab-wearing artist Khadija Raad.
Other additions include Rubi von Screwtop – a female ginger-haired scientist who uses a wheelchair, and Jemima Jones – a black ghost hunter. 10-year-old Mahira Salim has dreams of becoming the first ever Pakistani Premier League football star.
'Spotty' was also renamed in 2021 amid fears that its name was upsetting modern readers 
Mr Stirling, who is a lifelong Beano reader, admitted that they don't want to remove characters that 'our readers' granddad or granny knew and loved' which is why they have kept them in but brought in new characters alongside them.
READ MORE: Iconic children's book illustrator Quentin Blake who collaborated on beloved Roald Dahl books says that 'if the sensitive had their way we wouldn't have the Twits' 
He added that they don't get 'too battered and beaten' by older people criticising the comic because 'as long as the kids like it, it's golden'.
In 2017, main character Dennis The Menace had a major makeover to become more politically correct. His catapult was replaced by and his pea-shooter was given a high-tech makeover. His sidekick Gnasher even had his trademark fangs swapped for rows of perfect small white teeth. 
Older content in the comics is carefully analysed before it is reprinted to make sure nothing offensive is being published.
For example, a Lord Snooty comic from 1953 which covers the main character being 'gifted' an African servant with an offensive name, now comes with a warning that the content reflects the attitudes of their time.
The move by Beano comes after famous children's book illustrator Quentin Blake who collaborated on much-loved Roald Dahl books said this week that 'if the sensitive had their way we wouldn't have the Twits'.
Blake spoke this week just after the Roald Dahl museum and Story Centre, in Great Missenden, Buckinghamshire, put up an apology panel at its entrance declaring that the racism and antisemitism of the author were 'undeniable and indelible'.
Extensive changes have also  been made to the works of Roald Dahl, including the Oompa Loompas in Charlie and the Chocolate Factory being made gender-neutral
In the recent flurry of 'cancelled' pieces of work, Dahl's novels have been changed by publishers to be more 'woke'.
Blake, who illustrated the books, said he was shocked by this, adding: 'If the work is wrong, it's wrong. If it's crude and insensitive, we need to know that.'
But he said that children laugh at 'rude descriptions' of characters such as Miss Trunchbull from Matilda or The Twits.
'That's what they like! If the sensitive had had their way, he'd never have written The Twits at all,' he told the Telegraph.
Source: Read Full Article