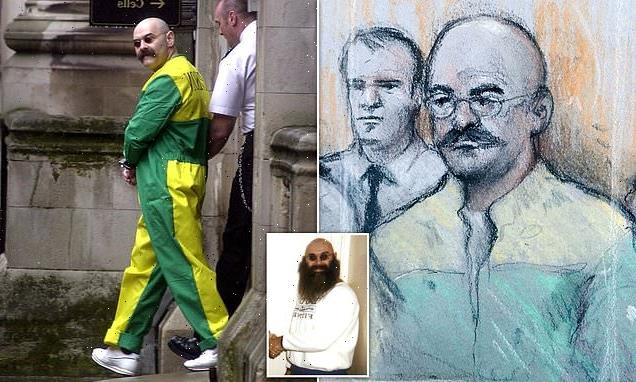 Notorious prisoner Charles Bronson will make latest bid for freedom at live parole hearing today: 'Britain's most violent prisoner' fights for release after spending most of the last 50 years behind bars
Charles Bronson's parole hearing will be held in public today and Wednesday  
READ MORE: Bronson 'will have his privileges removed' for using a phone inside 
Notorious prisoner Charles Bronson will make his latest bid for freedom at a public parole hearing starting today.
The Parole Board review of one of the UK's longest serving inmates to decide whether he should remain behind bars begins today, making him the second inmate in UK legal history to have his case heard in public.
Dubbed 'Britain's most violent prisoner', Bronson – who changed his surname to Salvador in 2014 after the artist Salvador Dali, has been in prison for much of the last 50 years, often spending time in solitary confinement or specialist units.
But he will argue that, at 70, he is a reformed character, a 'born-again artist' who — in his own characteristically theatrical words — is more likely to be found carrying a 'sawn-off paintbrush' than a 'sawn-off shotgun' now that he is in his dotage. 
Bronson was sent to jail for armed robbery in 1974 but has spent nearly half a century locked up because of violence committed inside prison. 
The last picture of Bronson in prison, with his son George Bamby-Salvador, a paparazzi photographer 
Bronson has changed his name to Salvador as a nod to his favourite artist Salvador Dalie
Bronson has held 11 hostages in nine different sieges – with victims including governors, doctors, staff and, on one occasion, his own solicitor. 
He was sentenced in 2000 to a discretionary life term with a minimum of four years for taking an art teacher at HMP Hull hostage for 44 hours and threatening to kill him with a makeshift spear. 
Since then, the Parole Board has repeatedly refused to direct his release.
In a Channel 4 documentary which aired last week, he said he can 'smell and taste freedom' ahead of the parole hearing, and claimed to want to retire to a caravan on the Devon coast where he would make money selling his paintings. 
During the programme, he is seen video calling his son George Bamby from his maximum security cell, reportedly at HMP Woodhill in Milton Keynes, Buckinghamshire.
The Mail has discovered that the videos were covertly recorded during lockdown when all in-person visits to prisons were cancelled and Bronson — who knew by then that he would be getting a public parole hearing — was given temporary permission to make the calls. 
Charles Bronson leaving the High Court in London, May 3, 2001, is now bidding for parole
Bronson in a previous court sketch by the artist Elizabeth Cook 
Discussing the prospect of his parole review, Bronson insisted he had reformed, talked about how he has turned to art while behind bars and hopes to be released so he can enjoy 'what's left' of his life.
READ MORE: 'What the f*** am I still in prison for?': Charles Bronson speaks to his son in video call ahead of parole hearing
'I've got a horrible, nasty, vicious, violent past (but) I've never killed anyone, I've never harmed a woman, never harmed a child,' he said.
'I'm focused, I'm settled, I can actually smell and taste freedom like I've never, ever done in (my) life. I'm now anti-crime, anti-violent.
'What the f*** am I still in prison for?'
Among those praying that he'll finally get out is Bronson's 70-year-old first wife, Irene Dunroe. She still refers fondly to her ex-husband — whose real name is Michael Peterson — as Mick.
Speaking exclusively to the Mail this week at her home in Wirral, Cheshire, she said: 'I strongly believe he should be released. Mick is no threat to anybody any longer and he deserves to be free.' 
The pair, who married in 1972, divorced in 1975 and have a 50-year-old son, Michael, speak on the phone regularly.  
Bronson, she says, wants to live 'down south' and get two dogs named Ronnie and Reggie — after the Kray twins with whom he was friends while inside — and take them for walks on the beach.
The pair, who are close but do not intend to get back together, have made other plans.
'If Mick does get out,' she says, laughing, 'we are going to run the London Marathon. He will be dressed in a robber's outfit and I will have a police uniform on and be handcuffed to him. I jog every morning for 70 minutes.'
The criminal attacked and kidnapped prison art teacher Phil Danielson in 1999 and was sentenced to life in 2000
Even members of his own family think it is unlikely he will be out any time soon. 
'He's got absolutely no chance of getting parole at the moment,' said one relative, who has asked not to be named. 
'You don't get released out of a Category A prison. He's not even been downgraded to an open prison. You have to work your way down the system.'  
Bronson was the first prisoner to formally ask for a public hearing after rules changed last year in a bid to remove the secrecy around the parole process.
Members of the public and the press will be able to observe the proceedings – which continue on Wednesday – via a live stream.
But the third and final day of the hearing will take place behind closed doors on Friday.
How Charles Bronson became Britain's most notorious prisoner: The 'gentle and mild-mannered' child who turned to life of crime, was convicted of armed robbery, married three times and has spent half a century behind bars 
By Dan Sales for MailOnline
The man dubbed 'Britain's most dangerous prisoner' was originally known as Michael Gordon Peterson and was born in Luton, Bedfordshire, in 1952.
In fact Charles Bronson's aunt once claimed he had wanted to protect others, insisting he was: 'Gentle and mild-mannered, never a bully; he would defend the weak.'
But from a young age Bronson indulged in petty crime, joining a gang of four robbers at the age of 13.
He is known to have worked a two-week stint in Tesco but was sacked for attacking his manager. 
Then he was given a number of suspended sentences and reprimands for low-level offences until he was first sent to jail for armed robbery in 1974 for seven years aged 22.
In an interview in 2021 he revealed the best piece of advice he had ever been given – which goes some way to explain his subsequent life of violence.
Bronson admitted: 'That's got to be my dad who told me, "Whenever there's a bit of trouble, son, always get the first punch in".
Charles Bronson, armed robber, who has been called Britain's most dangerous prisoner
Brinson memorably described the notorious Kray twins as 'the best two guys I've ever met'
'Done me proud that has. Yeah, get the first one in and hope for the best – I've lived by that, it's got me through some crazy times.'
And while in Walton Gaol, he randomly attacked two prisoners and was sent to Hull the following year.
In the next few years, Bronson continued to attack other inmates, adding months to his sentence and being switched between prisons.
At HMP Wandsworth, he tried to poison another prisoner, leading to him being sent to Parkhurst psychiatric facility where he befriended the infamous Kray twins. 
 The parole board confirmed that Charles Bronson's hearing is set for March 6 and March 8, and said that reviews are undertaken thoroughly and with extreme care
Bronson, pictured on his way to a parole hearing at the Old Bailey in 2004, was first locked up for armed robbery in 1974
He even described the pair, who ruled the East End of London with their gang during the 1950s and 1960s, as 'the best two guys I've ever met'.
Again, he continued to attack other prisoners, threaten police officers, took people hostage and even attempted suicide as he was moved from prison to prison.
In 1982, he performed a rooftop protest at Broadmoor, removing tiles from the top of the building. He took part in a number of protests over the years, causing hundreds of thousands of pounds worth of damage.
He was released in 1987, and began boxing in the East End of London, changing his name to Charles Bronson after the actor.
Phil Danielson, who Bronson took hostage, has said the incident permanently affected his life 
After just 69 days of freedom, he was once again jailed for armed robbery for seven years in 1988. 
In 1989, he created a spear out of a broken bottle and a broom handle and ran riot in the nude. 
Three years later, he was released – this time lasting 53 days outside jail. He was arrested for conspiracy to rob.
In 1993, he took a librarian hostage and asked police to get him a cup of tea, a helicopter, and an inflatable doll.
Three years later, he took two Iraqi prisoners hostage in Belmarsh, demanding a plane, sub-machine guns and ice cream from police negotiators before releasing them.
He was handed a life sentence in 1999 for taking Phil Danielson hostage and trashing the prison in a 44-hour long siege.  
In 2001, he married Fatema Saira Rehman, and converted to Islam, demanding to be known as Charles Ali Ahmed. After they divorced four years later, he renounced the religion.
In 2014, he changed his name to Charles Salvador, after Salvador Dali.  
Bronson and Paula Williamson met in 2016, and Bronson later proposed to her in 2017 by serenading her a version of the Frank Sinatra classic My Way, from a prison pay phone
Bronson and Paula Williamson met in 2016, and Bronson later proposed to her in 2017 by serenading her a version of the Frank Sinatra classic My Way, from a prison pay phone.
They married in November 2017, and walked down the aisle to the Death March. They had their marriage annulled in June 2019.
She was found dead at her home in Sneyd Green on July that year in her bedroom after taking drink and drugs.
In total, Bronson has taken hostages in ten prison sieges and attacked at least 20 prison officers. 
A public Parole Board hearing for him is due to take place this month.
It runs the real possibility he could be freed for the first time in decades.
The chance is a prospect he appears to savour, telling a Channel Four documentary: 'I'm focused, I'm settled, I can actually smell and taste freedom like I've never, ever done in my life.
'I'm now anti-crime, anti-violent. What the f**k am I still in prison for?'
Ms Williamson and Bronson married in November 2017, and walked down the aisle to the Death March
Source: Read Full Article