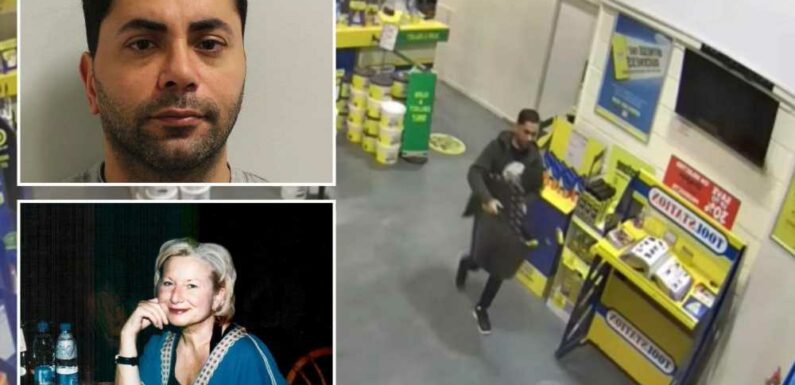 THIS is the chilling moment a man was caught on CCTV buying a body disposal kit before murdering a pensioner in a plot to plunder her money.
Serkan Kaygusuz, 42, began a "parasitic" three year relationship with Norma Girolami, 70, after chatting her up in the hot tub at a local swimming pool.
The Turk fleeced Ms Girolami out of £284,000, and meticulously planned her murder when she refused to give her any more.
While planning his murderous plot he made a series of "sinister searches" online for garden tools, caustic soda, hydrochloric acid, "deed for property transfer" and "will and testament", a court heard.
He was also seen buying rope, a "soft ball full mesh mouth plug with adjustable belt" which can be used to restrain a person, handcuffs, gloves, plastic overalls, tape and a spading fork tool.
Prosecutor Jocelyn Ledward ​​told jurors: "They can only have had one purpose when acquired by the defendant – to restrain and kill Norma Girolami, to conceal her remains by burying them, and ensuring the defendant did not get dirty and acquire any forensic traces in the process."
MORE ON COURTS
Woman in court charged with attempted murder after 2 children and baby stabbed
Ex-soldier laughs outside court after blaming undiagnosed PTSD on biting cops
On August 19 2021, Ms Girolami travelled from her home in Highgate, north London, for a day out at Leigh-on-Sea, in Essex.
Upon her return, the defendant went to her flat and killed her.
He wrapped her body in a bed sheet and, using items he brought with him, he wrapped Norma in large black plastic waste sacks from 'Homes for Islington' before securing the bags with black duct tape.
Following her disappearance, Kaygusuz pretended to her friends that she was alive and well while systematically draining her bank accounts and applying for loans of £60,000 in her name.
Most read in The Sun
Katie Price shows off results of 'biggest ever' boob job & huge tattoos
Putin warns of 'GLOBAL WAR' & makes veiled nuke threat in deranged speech
Jude Law becomes a dad for seventh time as he is spotted with newborn baby
You're no longer a missing person… you've been found,Nicola's family say
Some 15 months after she went missing, Ms Girolami's remains were found hidden "in plain sight" in a grave in St James's Churchyard in Barnet.
A post-mortem examination found she had suffered blunt force injuries to the chest, rib fractures and bruising consistent with "third party assault" although the cause of death was "unascertained".
Giving evidence in the trial, Ms Giromali's close friend Linda Crystallis described her as a gregarious, fun-loving, and kind but overly generous woman, who had suffered in abusive relationships in the past.
She told jurors: "Serkan had taken six-figure sums from her and I asked her if she could stop giving him money and she said that she could not.
"I asked her if she was afraid of him and she said yes because he wanted that money and she was frightened if she said no. I imagined she was frightened of him being violent."
As the net closed on Kaygusuz, he changed his name to Sean Kaya and began looking to go to Canada for a new life.
The defendant, who declined to give evidence, admitted taking her money and items of jewellery which were recovered from his girlfriend's home.
He also pleaded guilty to perverting the course of justice by concealing and burying her body but denied murder.
His lawyer queried whether Ms Girolami could have died of natural causes and her fractured ribs have been caused by an attempt to carry out chest compressions.
Read More on The Sun
You're texting on your iPhone wrong – three hacks to instantly type faster
We paid £800 for a cute pug – it grew up to be something completely different
A jury at the Old Bailey deliberated for less than half an hour before finding divorcee Kaygusuz, of Crouch End, north London, guilty of her murder.
The jury was not told the defendant – described by police as vain, greedy and arrogant – had a previous conviction of voyeurism for taking photographs of women at a swimming pool.
Source: Read Full Article