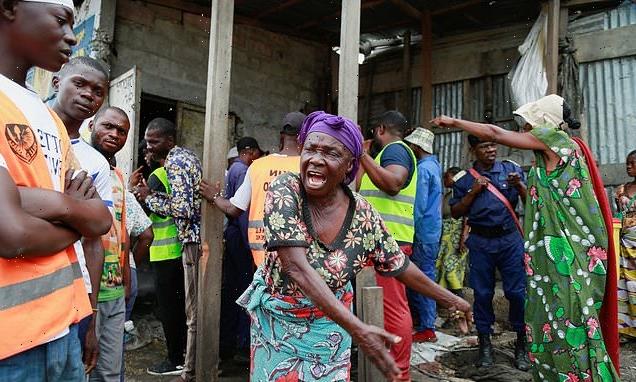 Market traders are BULLDOZED by police to make sure streets are clean and tidy ahead of a visit by the Pope to DR Congo
Pope Francis is due to arrive in the Congolese capital Kinshasa on January 31
The pontiff is making a four-day visit to the country recovering from a civil war
Government officials have ordered a clean up of the area towards the city centre 
Police have demolished makeshift trader stalls in the Cogolese capital Kinshasa ahead of a four-day visit by Pope Francis. 
Officer armed with with crowbars and a bulldozer set about clearing the streets near the city centre ahead of the pope's arrival on January 31. 
Officials say Kinshasa, a vast impoverished city of 17 million people, is getting a facelift not just to honour the pope but to make its streets and pavements more tidy and orderly even after he's gone home. But evicted small traders protest that their livelihoods are being destroyed in the process.
'The clean-up we are doing just now is not only because the Pope is coming,' George Ya Lala, Kinshasa city coordinator for the campaign said, adding the operation would continue even after the Pope went home.
Congolese officials have begun tearing down makeshift huts along one of Kinshasa's main streets ahead of Pope Francis' four-day visit later this month
Street vendors expressed outrage as their livelihoods were destroyed by officials
Asked for comment on the evictions of traders, the Apostolic Nunciature, Vatican's diplomatic representation in Kinshasa, told Reuters in a text message that it was not aware of the clean-up operations and had no part in them.
It said the Vatican had only requested that preparations for Francis's visit be done 'in the most sober way. We obviously want the reception sites to be able to accommodate the greatest number of faithful in a secure way and for roads to be secure.'
Standing to one side with a swollen face after he fell while scuffling with police in an unsuccessful effort to save his wares, telephone accessories seller David Mbemba, 19, said he had lost around 100,500 Congolese francs ($50) worth of goods.
Other sellers like Jean Mbuyu said they had lost everything because they had no prior warning of the clean-up.
Ya Lala disputed this, saying traders had been warned several times to relocate before the police moved in, leaving a chaotic trail of wreckage as they smashed stall after stall, with crowds of traders, family and friends watching in dismay.
The shacks were located along a route to be used by Pope Francis following his arrival in Congo on January 31
The Lumumba Boulevard in Kinshasa was home to thousands of 'pirate market shops' 
The street stalls sold food, clothing, hardware and basic household goods 
The livelihoods of many families in Congo depend on the so-called informal sector of the economy – street stalls, kiosks and hawkers selling a cornucopia of items including food and other basic household goods.
'I am a widow. I have to pay my rent, school fees of my children…I will now starve to death,' said Marth Kayunga, a vendor in the informal market on one of the side streets off Lumumba Boulevard targeted by the sanitary police brigade.
'We knew this operation was to clean up Lumumba Boulevard ahead of the Pope's visit that we are all waiting for,' said Jesus, a hardware shop owner who gave only his first name.
'We are surprised the police are coming into the smaller streets because they told us they were just going to remove debris from the main avenue. It's not fair,' he said, adding that his shop was also torn down.
A spokesperson for the police said only that they were working under the directives of Kinshasa's regional governor and city authorities
Gentiny Ngobila Mbaka, the Kinshasa Governor, pictured centre, arrived to see the clear out surrounded by a group of heavily armed bodyguards
A spokesperson for the police said only that they were working under the directives of Kinshasa's regional governor and city authorities such as Ya Lala, who was with the police on the ground directing the operation.
Lumumba Boulevard is the main thoroughfare leading to the airport, where a gala welcome will be staged for Pope Francis. Authorities had warned that development works would be carried out on sites where the Pope will be received.
But Catholic Church priest Father Victor Ntambwe said authorities could have planned better and longer for the occasion.
'Did we have to wait for the Pope's visit to do something like this? I'm not sure that we needed to wait for the Pope's arrival to start clearing the avenues and chase away street sellers,' Ntambwe said.
Source: Read Full Article