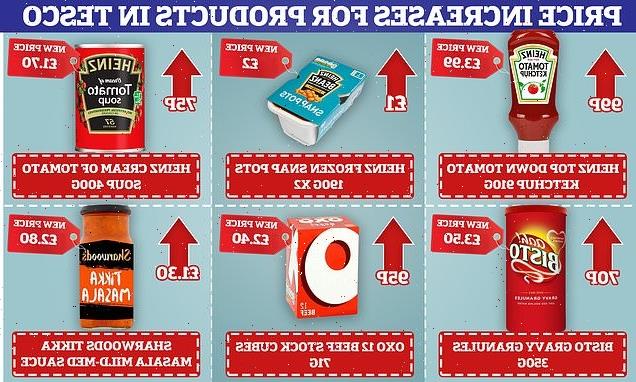 Beanz Meanz (more expensive) Heinz: Cost of beans at Lidl, Sainsbury's, Asda, Tesco and Aldi soars to £3.99 – as Mr Kipling cakes, Bisto gravy and Sharwood's curry sauce all go up in price
The price of some items in the UK's supermarkets has doubled in less than a year

Suppliers have blamed rising energy and production costs for the price hikes

One supermarket boss suggested though that some suppliers are profiteering
The cost of baked beans at major supermarkets has soared as shoppers continue to feel the pinch of the cost of living crisis.
Heinz has hiked the prices of its household name items, forcing major grocers such as Lidl, Sainsbury's, Asda, Tesco and Aldi to do the same.
The supplier has blamed increased production costs for the rise, which means a 4x415g pack of its baked beans now costs £3.99 across the UK.
Other everyday food items, such as Mr Kipling cakes, Bisto gravy and Sharwood's curry sauce have all increased as well, with some nearly doubling in price in less than a year.
The cost of well known brands have risen in recent months, with some almost doubling in price
The price of a 4x415g pack of Heinz Beanz (pictured) has risen to £3.99 at all major supermarkets
An analysis by MailOnline of prices on Tesco's website has revealed some items have gone up in price by more than a £1 in the space of several months.
These include two packs of 190g Heinz Frozen Snap Pots, which doubled in price from £1 to £2 between July last year and this January, and Sharwood's Tikka Masala Mild-Med Sauce, which rose from £1.50 to £2.80 in the same time period.
Kraft Heinz has seen prices increase in its other popular items at the supermarket – a 910g bottle of Heinz Tomato Ketchup now costs £3.99, up 50p in the space of a month, while its Cream Of Tomato Soup has jumped from 95p in July to £1.90 this month.
The supplier confirmed it had increased its prices to retailers as a 'last resort', with a spokesperson for the firm telling The Grocer it is 'absorbing costs wherever we can'.
The publication reported that it faced increased production costs on multiple fronts, including buying ingredients such as tomatoes and energy costs for producing its own tins and cooking food.
This has seen four-packs of its Heinz Beanz rising in price to £3.99 at all major retailers, including discount chains such as Aldi and Lidl. 
It is not the only supplier to see price increases – Premier Foods, which produces Sharwood's sauces, Oxo, Bisto Gravy and Mr Kipling cakes, has also seen prices go up.
A 350g pack of Bisto Gravy Ganules has risen from £2.80 in July to £3.50 in January at Tesco, while 12 Oxo Beef Stock Cubes now cost £2.40, up from £1.45 in July.
Meanwhile, A six-pack of Mr Kipling Cherry Bakewells has risen from £1.90 in July to £2.35 this month according to the supermarket's website. An eight-pack of Mr Kipling 8 Angel Slices has gone up from £2.85 that month to £3.45 in January.
A spokesperson for Premier Foods said: 'The retail price of our products is at the discretion of retailers and can vary between stores.
'We regularly review our pricing and promotional offers, and we are committed to ensuring consumers enjoy great value for money from our brands. 
'Like many other food businesses, we've seen significant increases in the cost of raw materials, energy, packaging and labour. 
'We always look at ways to offset as much cost pressure as we can through internal cost saving measures, and only increase prices when we absolutely have to.'
Items such as Bisto's Gravy Granules have also risen in price with a 350g pack going up from from £2.80 in July to £3.50 in January
Mr Kipling cakes have jumped in price too,with Angel Slices in Tesco rising from £2.85 in July to £3.45 in January.
The rising prices have hit shoppers hard in recent months, as the cost of near record inflation and soaring household energy bills takes its toll on people's wallets.
This month, the Mail revealed how fresh food prices had rocketed by 15 per cent – as retailers warned there was no sign the boom was going to slow down any time soon. 
On Sunday, the firm's CEO John Allan said it was 'entirely possible' food makers were put up prices to take advantage of inflation.
He added Tesco was trying 'very hard' to challenge price increases it believed were needless. 
Tesco chief issues warning over food rip-offs amid fears companies could be using inflation to hide price rises 
'We have a team who… work out whether or not these cost increases are legitimate,' he told the BBC.
He said Tesco's buying teams were dealing with the problem 'every day of the week' – although he noted that most increases were legitimate. 
'There have been some dramatic increases in commodity costs, energy costs and labour costs,' Mr Allan said, adding that cheaper own-label alternatives to brands were available at most supermarkets.
A Tesco spokesperson said today: 'With household budgets under increasing pressure we are absolutely committed to helping our customers, by keeping a laser focus on the cost of the weekly shop
'So whether it's price matching Aldi on the basics, locking the price of more than a thousand household staples until Easter 2023, or offering exclusive deals and rewards through thousands of Clubcard Prices – we're more committed than ever to providing our customers with great value.'
Andrew Opie, Director of Food & Sustainability at the British Retail Consortium, said: 'Retailers know how much pressure household budgets are under and are doing everything they can to limit inflation across all their products. 
'The global price of many food commodities has risen, along with energy costs, supply chain costs and tax rises, leading to higher prices for many staples.'
'Despite these challenges, retailers are determined to support their consumers with the cost of living, such as by expanding value ranges, keeping the price of essentials down, and introducing discounts for vulnerable groups.'
Aldi, Asda, Lidl and Sainsbury's have all be contacted for comment. 
Source: Read Full Article