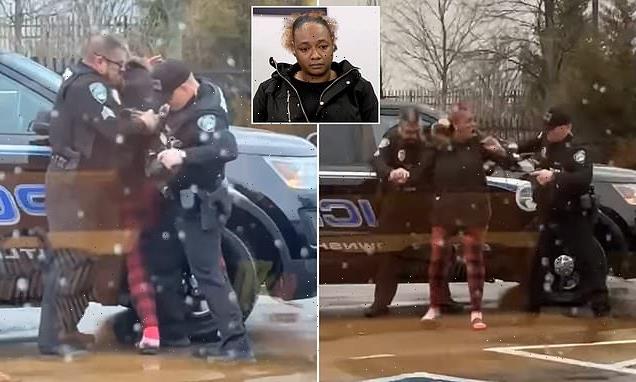 Disturbing moment Ohio cop repeatedly punches woman in the face during an arrest after she got in a heated argument with a McDonald's employee over her Big Mac not having extra cheese
Butler Township police were seen in video punching a woman in the face as she was being detained on January 16
The officers were called to the scene after Latinka Hancock got into an argument with McDonald's employees over the lack of extra cheese on her Big Mac
The police department is now investigating the incident
They have put the sergeant on administrative leave 
Disturbing footage posted online documents the moment an Ohio cop punches a woman multiple times in her face as she is being detained.
The video, which was originally posted Tuesday night by Dayton 24/7 Now, shows a Butler Township police officer pummeling Latinka Hancock on January 16 and apparently putting her in a chokehold.
Hancock was reportedly sent to the hospital in the aftermath, where she was diagnosed with a head injury. 
The incident apparently came after Hancock got into a heated argument with McDonald's employees because she ordered a Big Mac with extra cheese but was handed a regular Big Mac.
Authorities released body camera footage showing Hancock apparently cooperating with authorities before they punched her. 
The department will now continue to investigate the police officer's actions, who is now on administrative leave as her attorneys call for him to be fired.
Video posted online shows the moment an Ohio police officer punched a woman in the head multiple times 
A one-minute video of the altercation shows cops dragging Hancock by her arms as she tries to wrestle herself free.
She then appears to get into an argument with the officers at the scene, waving her hand around as she speaks to them.
At that point, the officer on the left could be seen apparently pointing a stun gun at her as he and his partner move in closer to surround Hancock.
The officer on the right appears to try to hold her arm and shoulder down before he starts brutally pummeling Hancock in the face at least four times until she falls forward on the hood of a police cruiser.
The Butler Township Police Department posted Tuesday night that it is investigating the incident.
'We are aware of the video recorded by a bystander that is circulating on Facebook concerning an incident that occurred on January 16, 2023, involving two of our officers,' it posted.
'This incident is currently under investigation in accordance with departmental policies and procedures, as is the case whenever force is used in an arrest,' it continued.
By Wednesday afternoon, the police department released body camera footage showing cops talking to Hancock prior to the fight.
They say she was at first cooperating with law enforcement, WDTN reports, but then refused to provide her name and was arrested for resisting arrest. 
The sergeant involved has since been put on paid administrative leave.
The video begins with officers apparently dragging Latinka Hancock toward their police cruiser on January 16
They eventually surround her with the officer on the left apparently pointing a stun gun at the woman while the officer on the right holds her down before he starts punching her in the face
Authorities say the sergeant has since been placed on administrative leave as the Butler Township Police continue to investigate
In an emotional press conference Wednesday night, Latinka shared her story publicly for the first time as she broke down in tears.
She said she ordered the Big Mac with extra cheese from the drive-thru on Martin Luther King Junior Day when she noticed that there was not extra cheese on it, even though she had paid the 30 extra cents.
Hancock then went into the store to get it corrected, and the manager agreed, she said. But when the manager asked the line cook to add cheese to the burger, Hancock said she was told she would have to pay another 30 cents.
She said she then argued, showing the line cook the receipt detailing how she already paid for the extra cheese when the line cook got angry and asked her to leave.
Hancock then said she decided to wait for her burger in the parking lot, which is where the police confronted her.
'All as I wanted that woman to do is follow the instructions that I didn't give her, that her manager gave,' Hancock said Wednesday night, explaining: 'I want either the sandwich or my money.
'Did I know that I was going to be attacked? No,' she said, explaining that she only stayed to allow the cops to 'help us figure it out.
'I almost lost my life off it,' she claimed, as she started to cry.
Hancock said she remembered thinking: 'I'm not going to be George Floyd, you're not going to get me on the ground.' 
Hancock shook and broke down in tears as she recounted her experience Wednesday night
Her attorney, Michael Wright, is calling on the police department to fire the officer involved
 Her attorneys with Wright and Schulte say they will now conduct their own investigation as they called for the officers to be fired.
Attorney Michael Wright noted that the police 'didn't do anything or address any of this until the video went viral.'
He said he is calling for more videos detailing the incident, including those from inside the McDonald's, as well as the dispatch information.
'Nothing about this was reasonable,' he said. 'This was uncalled for.' 
Source: Read Full Article