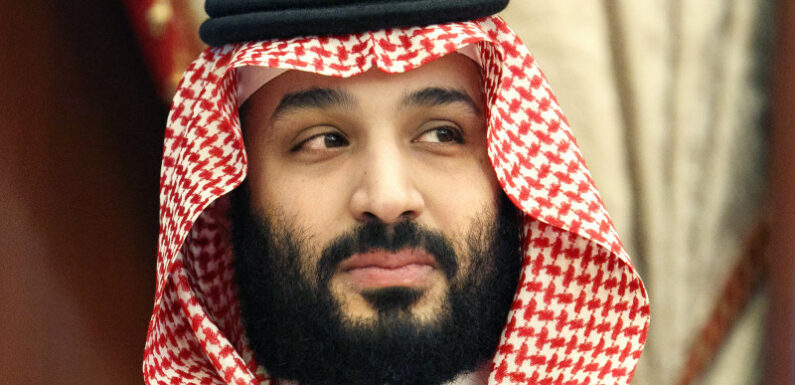 Save articles for later
Add articles to your saved list and come back to them any time.
There is a brutal logic to international summits. No amount of loyal ministers or whispering aides can protect world leaders from the judgment of their peers. Like a pack of dogs, they know exactly how strong or how weak each other are – and what they're capable of.
Calculations about who's up and who's down are currently being drawn up ahead of next month's G20 summit in Delhi. The losers are obvious. Vladimir Putin, who used to sneer across the room at his foes during such meetings, is now not even able to attend.
Crown Prince Mohammed bin Salman.Credit: AP
But arguably the biggest winner is one who would have been most unexpected as little as a few years ago: Crown Prince Mohammed bin Salman – or MBS, for short.
The picture was so different at the G20 gathering in Buenos Aires in 2018. Jamal Khashoggi, the Saudi dissident and Washington Post columnist, had been horrifically murdered at the Saudi consulate in Istanbul, months earlier. Weeks before the summit, the CIA had briefed with "high confidence" that MBS had ordered the killing, which saw Khashoggi dismembered by a bone saw.
Mocked even by Donald Trump as "the worst cover up ever," the Crown Prince stood awkwardly at the edge of the G20 "family photo". The 20 most powerful politicians in the world largely ignored the de facto Saudi leader as soon as the shoot was over. There was little of MBS's trademark millennial swagger.
As the pandemic began it wasn't just the Crown Prince that seemed to be in trouble. The whole of Saudi Arabia was in a funk. Nothing seemed to capture this better than the unfinished Jeddah Tower looming half-finished and skeletal over the Kingdom's second city.
Xi Jinping with Saudi Crown Prince and Prime Minister Mohammed bin Salman in Riyadh in December.Credit: AP
The much-hyped project was meant to be the world's tallest structure – crucially 180 metres bigger than the rival United Arab Emirates' Burj al-Khalifa in Dubai. Yet as construction of the Jeddah Tower ground to a halt, it came to symbolise the apparent dysfunction at the heart of Saudi society.
Every economic trend line was bad. The oil price crash from over $US130 a barrel in 2014 to a pandemic low of just over $US20 had bitten deep into the petro state's finances. As a result, national debt had soared from practically nothing in the early 2010s to over a third of GDP by the middle of 2020.
There were mutterings that MBS's position in the Saudi hierarchy may be at risk unless he turned the ship around.
His political capital was running low. It was clear to everyone that the war MBS had launched in Yemen had gone disastrously. Many Princes were horrified that he had placed over 200 of the wealthiest people in the Kingdom under house arrest in the Ritz Carlton in 2017, with his men beating many of them.
Mohammad bin Salman is now the most important decision-maker in Saudi Arabia.Credit: AP
What's more, the murder of Khashoggi, it could be argued, had greater consequences for the Kingdom with one impulsive murder in Istanbul than had followed the 9/11 terrorist attacks
The Crown Prince had been accused by US Senators of being a "wrecking ball" and a "full gangster".
He was labelled a "pariah" by President Biden in his election campaign.
In Europe, Germany, Norway and Denmark had all frozen arms sales to Saudi.
In this photo released by Saudi Press Agency, Saudi Crown Prince Mohammed bin Salman (right) greets President Joe Biden with a fist bump after his arrival in Jeddah, Saudi Arabia, last July.Credit: AP
And beyond the West, a calamitous phone call with Vladimir Putin had triggered an oil price war that had wrecked the national budget.
For MBS, things seemed bleak.
Making friends
This has all been turned on its head. Rather than being isolated, MBS is at the centre of the world.
After labelling him a pariah, Biden was reduced to giving the Crown Prince a much-mocked fist bump in 2022 as the US president tried to convince him to lower oil prices and join American sanctions on Russia. In a show of strength, MBS refused.
Internationally, he has been chalking off diplomat feats.
Saudi Arabia and the UAE took credit for helping to negotiate the release of US basketball player Brittney Griner after she was detained in Russia.
MBS hosted Xi Jinping in Riyadh last December to strengthen ties between Saudi Arabia and China.
He brought Chinese diplomats to the Middle East earlier this year to successfully mediate a restoration of relations between Riyadh and Tehran.
He hosted Volodymyr Zelensky for the Arab League summit in May, before holding a summit in Jeddah earlier this month that brought together senior security officials of 42 states – including across the West, China, India and Ukraine but not Russia – to discuss the Ukraine conflict.
And last week, in a move that will alarm Western leaders, MBS oversaw Saudi Arabia's entry into the BRICS group of nations, an increasingly powerful bloc.
Forget calling MBS a pariah. He has become the centre of the diplomatic world.
He is not done. A pact for the Middle East is being discussed that has been called the "mega deal". This would see Saudi Arabia, the country to which a quarter of the world's population direct their prayers in Mecca and the strongest leader of the Sunni world, normalise relations with the state of Israel.
Saudi Crown Prince Mohammed bin Salman greets Ukraine's President Volodymyr Zelensky during the Arab summit.Credit: AP
This is the same Kingdom that launched the 1973 oil embargo on the West for supporting Jerusalem in the Yom Kippur War.
A deal would, in one fell swoop, cement Israel's legitimacy in the region. The remaining Sunni Arab boycott would hardly be viable and would likely fall away – the UAE, Bahrain, Sudan and Morocco have already decided to normalise relations through Trump's so-called Abraham Accords.
President Biden is of course keen to strike a set piece Middle Eastern deal of his own. The question is, at what price?
What can the Crown Prince, who grew up playing the strategy game Age Of Empires, extract from Washington to make it worthwhile?
Saudi Arabia's Crown Prince Mohammed bin Salman meets with Secretary of State Antony Blinken in Jeddah, Saudi Arabia.Credit: AP
Behind closed doors MBS is making his demands known: a full security guarantee, as close as possible to NATO's Article 5, from the United States; a US-supervised nuclear energy program; and possibly even a Saudi role guaranteeing the Islamic holy sites on the Temple Mount.
Jake Sullivan, the US national security adviser whom the frail President relies upon ever more closely to conceive and execute foreign policy, has travelled to Saudi Arabia to hold detailed talks.
What does Washington want? More distance between Riyadh and Beijing, and guarantees Saudi will keep pricing its oil sales in dollars.
Sullivan said last week there were "still ways to travel" before a deal could be struck, tamping down expectations of an imminent agreement. Yet with the 2024 US election coming into view, time is running out for Biden to take credit.
Power, it seems, is in MBS's hands.
Indispensable influence
Three mega-trends have got the world's leaders courting the man who only yesterday was scorned and ignored on the international stage.
The first is the Ukraine war. Nobody has done better out of the sanctions and counter sanctions between Russia and the West than the Gulf states. Surging oil and gas prices have swelled the Saudi coffers.
The second mega-trend is growing US-China competition. As the world increasingly divides into American or Chinese spheres of influence, the middle powers like Saudi Arabia, India and Indonesia are being aggressively courted by either side. MBS has cleverly courted both sides without committing to either, giving him the power to talk to Biden and Xi on his own terms, as well as Vladimir Putin.
The third mega-trend is the energy transition, which is now finally taking off.
Often misunderstood, the drive to net zero is counterintuitively good for Saudi Arabia – at least for now. As renewables get cheaper, an increasing number of cost inefficient oil wells will either be sealed, run out or stop being prospected.
As a result, a small number of nationally owned oil companies in countries where it is still cost efficient to drill will control an ever greater share of the market.
The International Energy Agency has projected that the global share of oil that comes from OPEC producers will rise from a third today to about half by 2050, while BP estimates that the group could account for as much as two-thirds of global oil supply in the future.
People hold posters of slain Saudi journalist Jamal Khashoggi, near the Saudi Arabia consulate in Istanbu in 2020.Credit: AP
All this is combining to create a surge in power for one man: Mohammed bin Salman.
Yet it is not simply a fair wind at this back that has propelled MBS to the front of the international stage. The young Crown Prince, just 37, has also been working furiously to advance Saudi Arabia's – and his own – interests.
Known to work 18-hour days, and frantic to leave his mark, MBS has launched a three-pronged strategy to make his Kingdom unignorable: brand, buy and build. The branding strategy is most often associated with "sportswashing": efforts to tie the Saudi name to much loved teams or pursuits in the hopes that the goodwill will rub off.
Despite other Gulf states pioneering the idea, the Saudi branding offensive is unparalleled in scale. Acquiring Newcastle United in 2021 was just the beginning. Since then Riyadh has quadrupled the amount it spends on sports to £4.9bn.
Football is at the centre of this spending spree. Over the last 18 months Saudi Arabia has begun to entice world stars to its Pro League: from Cristiano Ronaldo, who is now on a reported salary of more than $75m a year at club Al Nassr, to Neymar, who was sold by Qatar-owned PSG for a reported €90m.
But ambitions are not limited to football. The establishment of the breakaway LIV Golf tour shocked the sport. A deal to merge with the established PGA Golf Tour was even more alarming for many players. Boxing and tennis are now the Saudis' targets.
Spending spree
Then, there is the Kingdom's buying spree. Saudi Arabia's sovereign wealth fund has spent huge sums investing in Western businesses, not only to establish deep and influential ties with major economies, but also to reap the rewards from these companies.
In the corporate world, as with the diplomatic world, there has been a volte face when it comes to business ties to the Gulf state.
After Khashoggi's assassination the chief executives of JP Morgan, Ford, Uber, Blackrock and Blackstone snubbed the country's flagship "Davos in the Desert" conference. Yet many of those same CEOs were at the same event last year. The scale of the riches on offer are simply too large to ignore.
The third leg of MBS's strategy is to build. His ambitions in this regard are so gargantuan as to be dismissed as science fiction.
The Crown Prince doesn't just want to build The Line, a nine million person carless city housed in a single building stretching 170 kilometres long through the desert. He also wants to construct OXAGON, a half-floating industrial complex 33 times the size of New York City attached to it. Together they are part of NEOM – a utopian, Mars colony-style kingdom within a kingdom that MBS is trying to build in the desert using the best architects money can buy.
Still, that's not all. MBS also wants to rebuild Riyadh around the Mukaab: a latticed giant cube skyscraper – holding skyscrapers within a skyscraper – made of giant disks.
From immense marinas to gargantuan sky resorts, ground has been broken on countless "smaller" megaprojects across the country.
For MBS, they are all part of the plan that he and his allies – mostly ambitious young princes – hatched as he rose to the top: Vision 2030.
Their ambition is to get the country diversified away from oil in preparation for a future without fossil fuels. Work has started on electric car factories in Jeddah and deals have been signed for green hydrogen electrolyzers powered by solar in the desert.
The question the world is asking is – if it sounds like science fiction, is that because it is?
MBS has another manufacturing target in his sights: fighter jets.
Very soon London will have to decide whether to admit Saudi Arabia into the crown jewels of British defence, the Tempest fighter jet project. Britain is jointly developing the plane with Italy, Sweden and Japan. Now, the Saudis want to join. Admission would mean parcelling out some development of the jet to Saudi Arabia. The Kingdom is desperately technologically behind.
Yet senior officials say that – despite Japanese objections – Britain is going to have to find some way of bringing the Saudis into the tent.
The Kingdom's surging influence – financially and diplomatically – means it is the one with power over us.
From a London perspective, MBS is a suboptimal leader for Saudi Arabia. Out of countless Anglophile princes, he is the son of the least Westernised of recent Saudi Kings. MBS was long uncomfortable speaking English and is known to talk unhappily of the West's power over Saudi Arabia.
MBS will soon visit London in what will be his first trip to Britain since the murder of Khashoggi.
Rishi Sunak will be keen to talk about potential trade deals and investment in Britain.
But no doubt MBS will have his asks too.
The Foreign Office knows that the Crown Prince has come to see history as like a cross between a video game and the Saudi court – confrontation, money and manipulation. And he knows what he wants.
Race against time
How long will the Saudi surge last? Are we talking a super decade, or more? Nobody knows for sure. Like an infernal wheel, the logic of decarbonization is set to see Saudi wealth rise and fall, with only one brief moment where its accounts can stabilise.
Society is febrile. The Kingdom is both more dictatorial than ever and more liberal. It is letting women drive and has allowed cinemas to open, even as the number of executions climbs.
Its atmosphere, according to some seasoned observers, has a hint of the frenzy forward that the last Shah wanted for Iran. Everywhere there are voices saying to slow down and wait.
But MBS is in a hurry. He is obsessed with Alexander the Great, who had amassed one of the largest empires in history by the age of 30. His friends, not without a hint of admiration, call him "Iskander". There is no megadeal or megaproject he isn't tempted by.
But how long can he pay for them? Or how many of them will come to be gigantic ruins of a failed civilisation? There is a saying in the Middle East – seize opportunities for they pass like clouds.
Telegraph, London
Get a note directly from our foreign correspondents on what's making headlines around the world. Sign up for the weekly What in the World newsletter here.
Most Viewed in World
From our partners
Source: Read Full Article