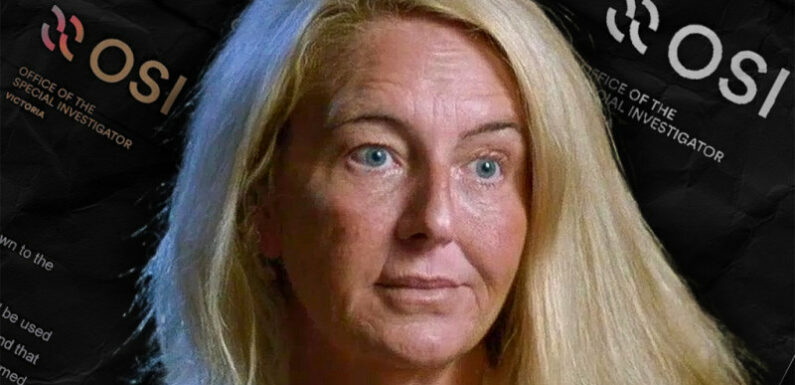 Nicola Gobbo is attempting to negotiate an immunity deal that could result in the barrister-turned-informer avoiding criminal prosecution for her involvement in the Lawyer X scandal in exchange for providing evidence against more than a dozen current and former police officers.
A series of sworn statements taken by the Office of the Special Investigator, obtained by The Age and The Sydney Morning Herald, detail the evidence Gobbo claims she can provide in exchange for an undertaking of "indemnity" or "immunity" from future criminal charges or punishment.
Nicola Gobbo is negotiating a potential immunity deal.
Gobbo represented a number of underworld figures in the early 2000s, including Carl Williams and Tony Mokbel. At the same time she was acting as a police informer, providing information on her criminal associates, including her clients.
In the statements, Gobbo admits her actions in some instances were "immoral", "illegal" and a "perversion of justice". She also acknowledges participating in a "giant conspiracy" with Victoria Police to cover up her work as an informer by destroying or modifying documents and violating legal privilege.
The identities of the police officers Gobbo has named were redacted in the documents but include former members of the elite Purana anti-gangland taskforce as well as her handlers in the Source Development Unit.
Former High Court justice Geoffrey Nettle, who has been appointed as the special investigator.
The OSI, which is headed by former High Court justice Geoffrey Nettle, is investigating whether Gobbo, members of Victoria Police or any other person should face criminal charges for their involvement in the two-decade long saga that has cast doubt on the convictions of dozens of her former clients.
A deal that protected Gobbo from prosecution could be controversial given her prominent role in the so-called Lawyer X scandal.
Nettle declined to comment on Tuesday citing ongoing investigations.
Gobbo provided two lengthy sworn statements to the OSI outlining her knowledge of potential criminal activity during her time as a police informer and confirmation she is willing to testify in exchange for potential future consideration.
The documents, known as a "Can Say" statement, are commonly used by investigators and prosecutors to detail information that suspected co-conspirators can provide as witnesses without exposing them to self-incrimination. The drafting of a "Can Say" statement begins the formal process for negotiating agreement for a witness' co-operation.
In exchange for their eventual testimony, the cooperating witness can be granted immunity from prosecution, receive an undertaking that no criminal charges will ever be laid, or receive reduced sentences in the event they agree to plead guilty to an offence.
"I am making this statement of my own free will on the understanding that it will be used for the purpose of an indemnity/undertaking application on my behalf. I understand that there is no guarantee as to the success of that application," Gobbo says in her sworn statement.
"The contents of this statement constitute the evidence which I would be prepared to give in the event that I am called as a witness in any further proceedings in relation to this matter."
The OSI and Office of Public Prosecutions, which would likely have to approve any formal agreement with Gobbo, declined to comment on whether a deal had been concluded. Gobbo's barrister Rishi Nathwani declined to comment on behalf of his client.
In the "Can Say" statements, Gobbo both denies being aware her conduct was potentially illegal and admits committing crimes.
"If Victoria Police were the only people that knew I was the source, in my mind, if I appeared for [a client] in some sort of plea, and nobody knew apart from Victoria Police, and they did not say anything, then it was morally wrong, but I did not believe that it was legally wrong," she wrote.
Elsewhere in the statement she referred to her conduct as "unheard of, and a perversion of the course of justice".
In justifying her actions, Gobbo claimed Victoria Police were the "alpha males calling the shots" and that in retrospect she was "emotionally manipulated and groomed by police and at the time was young and naive and desperately sought the approval of older male figures".
"Through all of my discussions with the police my view was that if I was doing anything wrong, they would stop it. They gave me the impression that they had received legal advice and were happy to continue using me in my role as a source," she wrote.
The Court of Appeal has already quashed the convictions of Faruk Orman and Zlate "Steve" Cvetanovski after it was determined the conduct of Victoria Police and Gobbo had contaminated their prosecutions. Tony Mokbel has also had his convictions quashed in some cases, but remains behind bars awaiting appeal on other matters.
The OSI has been operating for nearly 16 months without any criminal charges being recommended to the Director of Public Prosecutions stemming from its investigations.
In December, Nettle made a public statement about issues with the OSI's work, blaming the lack of cooperation and resistance from unnamed "persons" and "organisations".
"OSI does not have statutory power in relation to the investigation of possible criminal offences to compel persons to answer questions, or to compel the production of records, or to override unspecified or generic Crown claims of privilege," Nettle wrote.
"To a large extent, therefore, OSI's rate of progress depends on the propensity (or lack of it) of persons to disclose what they know of matters the subject of inquiry and to reveal records in their possession relating to such matters."
The Morning Edition newsletter is our guide to the day's most important and interesting stories, analysis and insights. Sign up here.
Most Viewed in National
From our partners
Source: Read Full Article