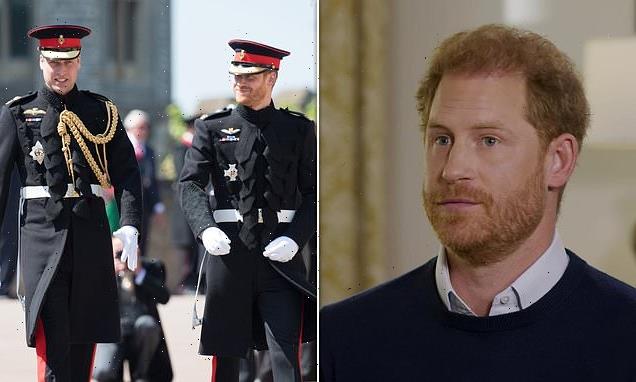 Prince Harry was 'very guarded' and made ITV sit down chat into 'political interview' by 'squirming to avoid playing ball' when quizzed about William, body language expert reveals
Harry sat down with ITV's Tom Bradby as part of a publicity blitz for Spare
He claims William invoked mother's during argument over his Oprah interview
Body language expert Judi James says Harry showed 'evasiveness' over William
She says Harry tried to show 'signal of bravado' when speaking about his mother
HARRY INTERVIEW LIVE: Follow MailOnline's liveblog for all the latest updates 
Prince Harry was 'very guarded' and turned his ITV sit down into a 'political interview' because he was 'squirming to avoid playing ball' when asked about William, a body language expert has said.
The Duke of Sussex, 38, has sat down with ITV's Tom Bradby as part of a publicity blitz for his new bombshell memoir Spare.
In the book, Harry claims his brother William invoked their mother's memory during an argument over his interview with Oprah.
The duke wrote that William got heated as they spoke after the funeral of their grandfather Prince Philip in 2021.
Prince Harry and Prince William pictured attending the former's wedding at St George's Chapel, Windsor Castle 
Harry claims he was trying to address bullying allegations made against Meghan, before alleging that William was 'really steaming' and grasped at him as he tried to walk away.
Body language expert Judi James told MailOnline Harry showed 'evasiveness' and 'discomfort' when discussing the rift with his brother.
She added: 'Tom Bradbury uses a first person role-play technique when quizzing Harry about William. He adopts the role, body language and the words of William, acting out potential bewilderment and a sense that Harry has betrayed him. 
'It's a powerful technique that can be aimed at prodding the interviewee to reply in kind or to produce a more realistic response. Role-play like this might look a bit overkill but in an emotional situation it can often trigger reactions that normal questioning can't.
'Harry becomes very guarded here though, making it sound like a political interview. He performs a cut-off ritual, bringing one hand up to his nose. This can often show a desire to want to cover or conceal the mouth or part of the face, which in turn can look evasive.'
Ms James continues: 'When Tom says in role as William 'How could you do this to me?' Harry squirms to avoid playing ball. His eyes move to the right and also upward. Avoidance of eye contact like this can also hint at discomfort or evasiveness. 
'When Tom presses it further, asking about 'invading the privacy of your nearest and dearest' Harry touches his nose and sniffs, hiding what looks like an angry or pained grimace. His answers become less direct and more political as he says William might say a lot of things rather than make more specific speculations.
Speaking about his mother's death, Harry recalled how he was 'unable to show any emotion' in public after her fatal car crash in 1997, and that he had only shed tears when she was buried.
The Duke of Sussex, 38, has sat down with ITV's Tom Bradby as part of a publicity blitz for his new bombshell memoir Spare
Prince Harry pictured with his brother Prince William and father Prince Charles at the funeral of Princess Diana
He also spoke of feeling 'some guilt' as he greeted crowds who gathered to pay their respects to his mother outside Kensington Palace
Ms James described how Harry tried to show a 'signal of bravado', but was likely masking grief.
She said: ' Harry's body language when he talks about his mother's death and his reactions and feelings at the time suggest a disassociation, as though it is still too raw and painful to fully immerse himself in the narrative.
'He starts by using an incongruent signal. His eyes move to the side and he performs a very weak smile that is applied like a signal of bravado. This is often a sign that someone is masking, i.e. concealing their pain or their grief. 
'His eyes then roll upward in a cut-off ritual and here we get to glimpse the pain as his mouth stretches in a horizontal grimace that reveals his lower teeth, like a wince of physical pain.
'But then he seems to adopt an outsider's view, almost as though he is a commentator on his own documentary. His left hand moves in a conductor's gesture to suggest control as he switches away from the first person as though talking about someone else. 
'The two people most loved by her were unable to show any emotion' sounds as though he is looking in at these two tragic boys rather than immersing himself and identifying with his young self and, again, the suggestion is that it is still too raw for him to deal with.
Prince Harry sat down tonight for her first primetime interview to promote his memoir, Spare 
The Duke of Sussex speaks often about his mother in his new memoir Spare, which is released in the UK on January 10 
'Everyone thought and felt like they knew our mum, and the two closest people to her, the two most loved people by her, were unable to show any emotion in that moment,' he tells presenter Tom Bradby.
Harry also reveals how his father sat him down on a bed before breaking the news.
He says Prince Charles called him 'my dear son' before telling him his mother was unlikely to survive head injuries sustained in the crash in Paris in the early hours of August 31, 1997.
The prince paints the picture of an emotionally distant father, saying that Charles was 'not good at expressing his emotions'.
In a passage read out on ITV, Harry says: 'What I do remember with stunning clarity is that I did not cry. Not a tear. My father did not hug me.'
In the book, the Duke recalls asking to go and visit his mother while she was in the hospital.
However, he says his father explained she 'hasn't recovered any more', before saying he stayed in his room on his own until the following morning.
He recalled that he and his brother William were forbidden from watching the TV so they didn't see news of the car crash.
Source: Read Full Article