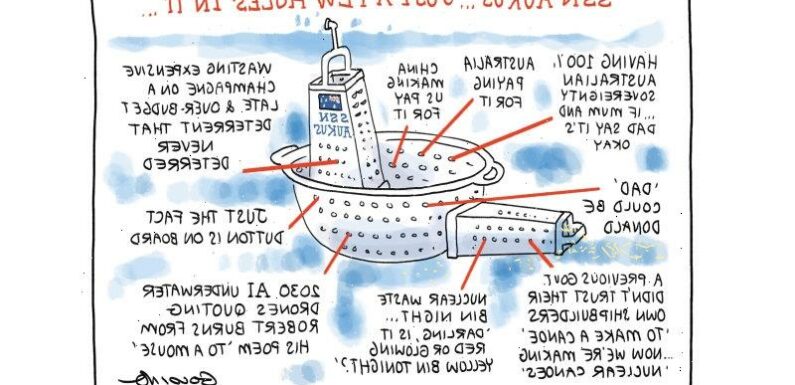 Credit:Illustration: Matt Golding
To submit a letter to The Age, email [email protected] Please include your home address and telephone number. No attachments, please include your letter in the body of the email. See here for our rules and tips on getting your letter published.
Defence bill: How can we pay for submarines?

Given the bipartisanship between Labor and the Coalition on spending $368 billion on nuclear submarines, will they be able to agree on how to pay for them? They could consider forgoing the stage 3 tax cuts and supporting changes to superannuation tax, and more broadly addressing tax reform in regards to negative gearing, super profits on mining, inheritances, fuel rebates, and so on. Or will it be that cuts have to be made elsewhere?
It was also interesting to hear Joe Hockey on Radio National raising the opportunity cost of not purchasing the subs. It's a pity the Coalition did not, and still does not, consider the cost of not acting in regard to climate change.
Rod Eldridge, Derrinallum
Who's left footing the bill?
So Treasurer Jim Chalmers has ruled out scrapping the stage 3 tax cuts to pay for our new submarines. Instead there will be cuts to spending on essential services. Once again, the wealthiest Australians will be shielded from hostile actors by those taxpayers least able to defend themselves.
Jack Wajntraub, South Melbourne
NDIS proposal lacks credibility
Peter Dutton has proposed cutting the National Disability Insurance Scheme to help fund the AUKUS submarine acquisition. Maybe he'd have more credibility and respect had he proposed the government abandon the extravagant stage 3 tax cuts put in place by his party. What advantage does he expect to gain by suggesting that the worst off in our community should make a disproportionately large contribution to defence spending?
Brandon Mack, Deepdene
Times changing
In 2015 the Northern Territory government signed a deal giving a Chinese entity called Landbridge long-term control of the Port of Darwin for $500 million. Now Australia is spending more than $350 billion building submarines in part to defend against "China's growing assertiveness". A lot changes in eight years.
John Murray, Hawthorn East
How to value a deterrent?
In spite of the myriad opinions as to whether the government's commitment to the AUKUS nuclear submarine deal is justified, I contend that it's impossible for anyone to say with certainty that it is … or isn't. As with any deterrent, if the potential harm doesn't manifest itself, then the proponents will say "I told you it would work and therefore it was worth it" while opponents will say "I told you there wasn't a problem so it was a waste of money". In this there are echoes of the arguments by both the proponents and opponents of the use of lockdowns during the pandemic.
Kevin Bailey, Croydon
Drones won't cut it
Buy drones instead of submarines? (Letters, 14/3). The expression "speak softly but carry a big stick" says it all. In May 1940 Britain came very close to being defeated by Hitler after the defeat in Norway, closely followed by the Dunkirk evacuation. There had been some soft talking but the stick was too small, thanks to the British budget cuts of the '30s. The big stick now is a fleet of submarines that cannot be detected, that can remain on station for months with no need to refuel and, most importantly, with the capability to deliver the biggest blow against which there is no defence. And we hope that they never have to be used – but they do have to be there.
Unfortunate it is, but rogue world leaders keep popping up and have to be reckoned with. So yes, we have to pay the price of the big stick.
Derrick Brown, Kew
Selling it off for subs
Peter Dutton is right; to pay for the super subs (not the AFL sort) we need to cut back on costs. Let's start with the NDIS, and then education, pensions and other welfare can be cut back. Or maybe we could sell off Tassie? I understand China needs a small island.
James Lane, Hampton East
THE FORUM
Radioactive risk
This sub deal introduces new and significant safety risks that Australia has never had to deal with before. These include the risk of possible future accidents in our ports and waters. The nuclear regulator ARPANSA considers that emergency management arrangements in Australia "are not fit for purpose for a future with nuclear powered submarines".
Pacific nations, Indonesia and others in our region have deep concerns about AUKUS.
On the basis of Australia's experience and expertise with radioactive waste there is little cause for confidence about the future management of long-lived high-level radioactive waste from AUKUS submarines.
At a minimum the Albanese government must sign the UN Treaty on the Prohibition of Nuclear Weapons to give the Australian public and our region a clear commitment that this non-transparent nuclear subs deal is not a precursor to us acquiring or facilitating nuclear weapons.
Dave Sweeney, nuclear free campaigner, Australian Conservation Foundation
Nuclear options
The only way the nuclear submarines will improve Australia's defence is if they are armed with nuclear armed weapons and thus act as a deterrent. Otherwise any conventional armed cruise missile strikes on China open Australia up to a response, potentially even a nuclear one. It's worth noting that the US is not obliged to respond should Sydney or Melbourne be nuked.
While Australia has stated it won't pursue its own nuclear weapons, what is less clear is whether it would be open to nuclear weapons sharing as practised in NATO. The US stations nuclear weapons in a number of European countries and can authorise these countries to use these nuclear weapons.
US Navy submarines such as the Virginia class that Australia is acquiring do not carry nuclear armed cruise missiles or torpedoes. However the US Navy is trying to reinstate a nuclear armed cruise missile program and hopes to have such a program in service by 2035.
It could well be the Australian government is banking on this and a nuclear sharing program to bypass the Nuclear Non-Proliferation Treaty. This would involve US stationing nuclear weapons in Australia and doling them out to Australian submarines as needed.
Denis Kosta, Perth, Tas
Fiction becoming reality
The 1959 film On the Beach, filmed in Melbourne, with Hollywood stars, is worth recalling to balance the jubilant backslapping over the new AUKUS craft. The film centres on an American submarine entering Port Phillip Bay as the crew seek a momentary refuge from the realisation that the world above their underwater domain has been destroyed by a nuclear war. It seems increasingly likely that the fictional story will turn into a reality with US submarines patrolling the Pacific Ocean increasingly in the next few years and securing bases in Australia. Australia is paying billions of dollars to be a junior partner of the US and the scale of the economic commitment demonstrates the Americans are in control.
Des Files, Brunswick
Trade secrets
We sell copious quantities of iron ore to China, with which it builds up its military might. Then we spend a whopping $368 billion buying nuclear powered submarines to counter this. We chastise China on its human rights record yet it is our largest and most important trading partner. I'm confused. With friends like this who needs enemies?
Ed Veber, Malvern East
Delivering on the deal
Kudos to the Albanese government for investing so heavily in the AUKUS arrangements, particularly in regard to the future acquisition of nuclear powered submarines. History will treat Scott Morrison kindly for having the courage to radically alter the direction of defence policy. Morrison had to tear up the deal with the French made by the Turnbull government resulting in the French president calling our then prime minister a liar. Thank goodness Morrison put the national interest ahead of his own reputation.
Peter Curtis, Werribee South
Money better spent
Australia's decision to spend $368 billion on submarines has plumbed the depths of foolishness. In the face of a crisis in Indigenous health, social conditions and deaths in custody; a diabolical aged care system that no one seems capable of fixing; and a crisis in housing that increases unabated, what do our politicians focus on? They buy submarines. Why? One reason is because they will "create thousands of jobs". Well, building houses creates jobs, improving conditions in Indigenous communities provides jobs, more medical staff for Indigenous health and aged care provides jobs. In fact, just about anywhere you spend money will create some employment.
Why not spend our money where it will make a difference? Some Australians are fighting a war against poverty every day and for them it really is life or death.
Judith Crotty, Dandenong North
Naming rights
Following the suggestions made by your correspondent (Letters, 14/3), I think it's inappropriate to name submarines after fictitious land animals. It is better to use birds associated with the sea. Albatross will show how Australians will view the burden around their neck for years to come, Silver Gull, whose ordure will cover the statues of the relevant PMs to show our disdain and Pelican, to represent something that we like but will consume a lot.
Adrian Tabor, Point Lonsdale
Numb to suffering
Thank you Craig Foster ("From beautiful game to ugly shame", 14/3) for so eloquently pointing out the toxic politics around people seeking refuge. The language of division and mistrust that started with the Tampa (and is yet to be abandoned by the Labor government) has been so effective that we have indeed become numb to human suffering. What will it take for us to find our way back, to see that people seeking asylum are indeed people just like us.
Maryanne Barclay, Frankston South
Dark legacy
Craig Foster rightly alludes to the sinister nature of the "stop the boats" legacy Australia has now bequeathed to the UK. The process of Othering, whereby groups are dehumanised and excluded by conservative elites, is a toxic construct.
The fact that Tony Abbott, Alexander Downer and Lynton Crosby are playing the roles of advisers to the UK on a policy which, in its Australian incarnation, was described by the International Criminal Court's prosecutor as "cruel, inhuman or degrading treatment", is surely unconscionable.
Jon McMillan, Mount Eliza
Painful reference
Craig Foster endorses Gary Lineker's claim that terms being used by UK government ministers are "not dissimilar" to those of Nazi Germany. This is a completely inappropriate and offensive analogy. Comparisons to Nazi Germany should only be made in the case of brutal armed aggression and genocide. Otherwise, it has the effect of downplaying the Holocaust causing great hurt to Holocaust survivors and those who lost relatives in that horror, as British reaction to Lineker's comments has demonstrated.
Robbie Gore, Brighton East
Double standards
While the Academy Awards may have been a triumph of diversity, it hardly smashed the barriers of sexism. It is notable that the best actress winner was someone who had previously won a nation's top beauty contest whereas the best actor award went to a guy in a fat suit. What message does this send to young women who aspire to a career in acting?
Roger Farrer, Hampton
Superficial criticism
Thanks to Wendy Tuohy for a perceptive and, I hope, persuasive article ("'Boobs too big': Trolls keep women off TV", 14/3). One aspect of the sexist pile-on that is all too often ignored is the number of sexist comments made of women by women, even women considered feminists. Example can be found in the number of women who commented on Julia Gillard's jackets and Michelle Obama's clothing. Surely there were more serious and pertinent comments to be made.
Juliet Flesch, Kew
Why we stay
I can tell your correspondent ("Ask the teachers, 'why?'" Letters, 14/3) what my exit interview would reveal, after teaching for 37 years: I stayed because the personal human rewards far outweighed the poor pay, absolutely unmanageable workload, lack of support, appalling and dangerous physical conditions and totally unreasonable and unrealistic expectations from management.
Frank Flynn, Cape Paterson
Flood review
Princetown coastal communities also "Plea for action on coast flood maps" (The Age, 14/3) and have brought to the government's attention the high risk of a resort proposed on a sand bar of the Gellibrand River floodplain. The data used to assess this resort's flood risk is also outdated.
The 18-room residential "eco"-lodge, with an estimated 278-vehicle car park is a far greater "intensification" of the site than the article's "two-lot subdivisions". The community believes there is an unacceptable risk from the effects of rising seas, storm surge and extreme rainfall events. The development at least requires an open and inclusive Coastal Hazard Vulnerability Assessment and an Environmental Effects Statement with up-to-date flood data.
Marion Manifold, secretary, Port Campbell Community Group
And another thing
Credit:Illustration: Matt Golding
Submarines
With both major political parties backing Australia's new submarine deal and our strengthened alliance with America, where exactly did the Australian people have a say on the subject?
Peter Roche, Carlton
Amazing how the federal government can't afford to raise Medicare rebates or Jobseeker but can afford to spend $368 billion on submarines.
Fabio Scalia, St Kilda
While the boys pretend-play with their shiny new toys, the climate emergency deepens.
Greg Curtin, Blackburn South
Politics
And the winner is (drum roll) … Anthony Albanese: Mr "Everything Everywhere All at Once"!
Myra Fisher, Brighton East
Talk about bloody expensive canoes.
Philip West, Jan Juc
Would you buy a secondhand sub from this man?
Kevan Porter, Alphington
China
Perhaps we should chance a pre-emptive strike on China since we clearly won't have our nuclear submarines in hand when they invade in three years' time.
Michael Petit, Brunswick
Xi Jinping is erecting the great steel wall of China. Who on earth does he think would dare attack China?
John Walsh, Watsonia
I guess President Xi's "great wall of steel" will be made from Australian iron ore.
Sue Peterken, Berwick
Furthermore
Your correspondent (Letters, 14/3) ascribes some sort of special status to the Pope in relation to a statement he made on assisted dying. Just a reminder; he is a mere mammal, like you and me.
Monty Arnhold, Port Melbourne
Surprise! After a shock loss on yet another wicket tailor-made for their spinners, India served up a dead wicket for the final Test, to ensure their series victory.
Geoff Feren, St Kilda East
Patrick Elligett sends an exclusive newsletter to subscribers each week. Sign up to receive his Note from the Editor.
Most Viewed in National
From our partners
Source: Read Full Article