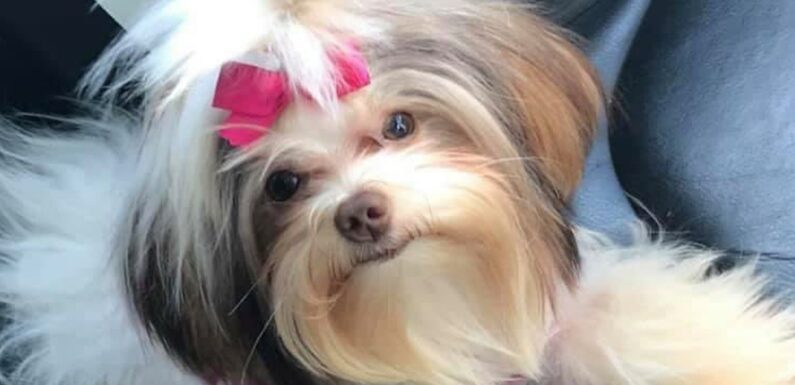 A DOG lover was left horrified after his adorable long-haired pooch came back from the groomers looking like Sid from Ice Age.
The owner took to social media slamming the beauticians for the rough cut, which has left others in stitches.
The man posted a before and after picture of the dog on his Twitter account.
In the first image, the puppy looked like a classic well-kept house pet.
Its hair was luscious and it had beautiful pink accessories to accentuate its defining features.
The photo that followed from the trip to the groomer was terrifying.
READ MORE ON DOGS
I dropped off my dog to be groomed – I was horrified when he came back
I took my fluffy doodle to groomers – but he came back looking like Pennywise
The miniature hound looked like an alien with most of its coat shaved down to the bone.
Its cropped pony tail was the only vestige of its former beauty.
Accompanied with the pictures, the furious owner wrote on his Twitter: "Count your f***ing days PetSmart."
The tweet has more than 500,000 likes and 90,000 retweets.
Most read in The Sun
BBC sitcom AXED after just one season
Shamed star Gary Glitter sent back to jail just a month after release
Teacher 'murdered partner then wrote "chilling" confession about alter ego'
'Deeply in love' couple, 19 & 20, found dead cradling each other after vanishing
Most viewers found it hilarious and commented on its similarity to an Ice Age character.
"That's your dog man lmao," a Twitter user said.
"Imagine dropping off your furbaby for a groom only to later pick up Sid from Ice Age," one said.
"Lord, forgive me for laughing so hard I started wheezing," a second said.
"Me going out Friday night versus me waking up Saturday morning," a third said.
"I kept sliding back and forth on these pictures and laughed every time," another said.
However, some of the online audience hit back and defended the groomer's work.
"The only reason why a groomer would shave them that short would be because you didn't brush them," a woman said.
"Customers like you are why a lot of private shops are just straight up not accepting doodles anymore," one said.
Dog groomer woes have trended online, sparking heated debates.
Another animal lover was left horrified after her beloved dog was given an awful haircut that made it look like a raw chicken.
The pet owner joked that her Goldendoodle, named Scout, came back from the groomer looking like "a new dog".
His bouncy curls had been cut back almost to the skin, and he looked like he had been given a canine buzzcut.
Scout's owner fumed: "Groomer said I communicated incorrectly about his haircut even though I chose the same cut as last time.
"I did bring photos to the groomer to avoid confusion, but it still led to this result.
"It's not a big deal, the hair will grow back.
Read More on The Sun
Dumped Love Islanders mobbed by fans as they land in UK after missing final
I took my fluffy doodle to groomers – but he came back looking like Pennywise
"So I think I will be finding a new groomer unfortunately."
One white hound also lost its coat in a haircut that made its appearance look very peculiar.

Source: Read Full Article