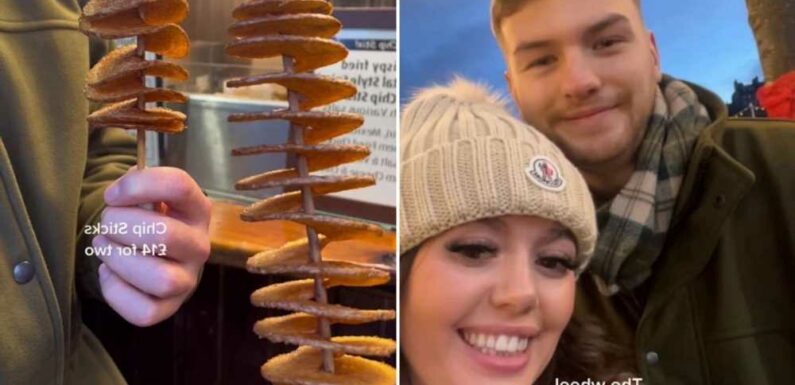 A COUPLE have slammed an overpriced Christmas market, where they spent £14 on just two potato snacks and were "packed in like sardines".
Abbie Wilson and her boyfriend Olly were stunned by the prices at a market in Edinburgh, Scotland, which saw them shell out over £60 for just a few items.
Posting about the experience on TikTok, Abbie revealed that the couple had paid £14 for two 'chip sticks', round-cut fried potato on a stick, while a portion of currywurst and chips cost £8.
Meanwhile, a ride on the big wheel clocked in at a whopping £22.50 for the pair of them.
Even hot drinks were expensive, with one tea and one coffee costing the young couple $6.
Abbie captioned the clip: "All while being packed in like sardines."
READ MORE UK NEWS
Stephen Bear made £40k from OnlyFans after 'posting sextape of Georgia Harrison'
We hate Amazon warehouse's lights on all night – it's like being in BENIDORM
Commenters were quick to blast the market for its extortionate prices.
One tagged a friend and wrote: "Scared for our bank accounts."
Another said: "Guess we better start saving."
A third simply said: "Robbery."
Most read in The Sun
Celine Dion diagnosed with incurable stiff person syndrome at 54
Mum's 'heart sinks' as she finds daughter's heartbreaking Christmas requests
Holly Willoughby falls backwards down the stairs in dramatic on-air accident
I could have saved my speech but I made one huge mistake, says Chris Kamara
However, Abbie did reveal in response to a comment that there was, at least, no entry fee for the market.
It comes after other Christmas markets across the country were accused of disproportionate price hikes.
Festive market-goers in Newcastle were left with empty wallets as a meal ended up costing more than a flight to Marbella, Spain.
The Sun Online found two-pint steins of Belgian wheat beer Hoegaarden on sale for £14, with a hotdog hitting £6 and a pot of cheesy pasta with chorizo and parmesan at £9.
Just those three items clock in together at a whopping £29, while Wizz Air offers flights in January to Marbella at £26.
Meanwhile, one customer at Manchester's market was left stunned when she was charged £13 for two mugs of hot chocolate.
Like Abbie, Becca Blackburn posted about her experience on TikTok, saying simply: "My bank account cried."
What Abbie and Olly paid at the Christmas market
Chip sticks – £14
One tea and one coffee – £6
Big wheel ride for two – £22.50
Currywurst and chips – £8
Dutch pancake for two – £15
Total – £65.50

Source: Read Full Article