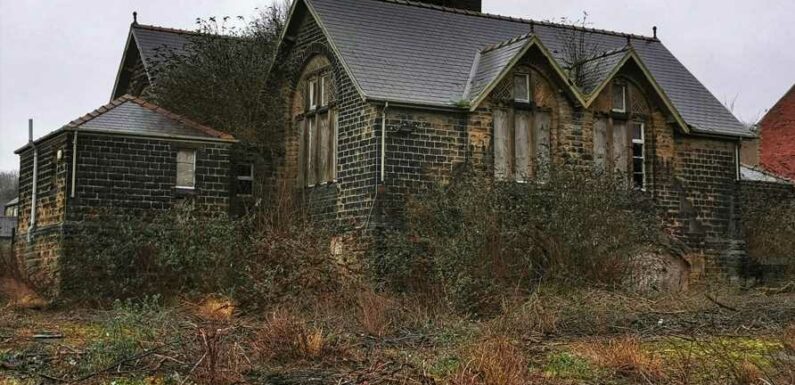 A CREEPY abandoned school was left to rot after being deserted for nearly two decades – but the clues of its past are still there.
The old Grenoside Junior and Infant School, Sheffield, was built in the Victorian-era and made up of two, 2-storey buildings.
But since 2006, the once bustling-school has stood dormant and decaying after the school moved across the road.
The self-professed urban explorer behind the popular Lost Places & Forgotten Faces page on Facebook has now shared a rare glimpse inside the abandoned school.
And clues to what it once was are hidden away among the peeling paint and other signs of decay.
The dereliction is clear from the outside with boarded up entrances, broken windows and debris scattered on the ground.
Read More in News
Urgent warning with floods & rain today as thousands left with power
Prince Harry blasts Paul Burrell for 'milking' Diana's death for money
While once-colourful doors, cupboards and tables are visible in pictures inside the crumbling former school.
An old yellow Lego block can be spotted in the ruins while a dusty newspaper left behind is dated November 25, 2004.
Run-down classrooms and corridors which were once filled with children's chatter are now eerily silent and covered in rubble.
The old blackboards can be seen, along with now-rusty hooks where young pupils once hung their coats and bags.
Most read in The Sun
Meg 'sobbed on floor' after tense exchange with Kate over 'baggy' dress
How much of Harry's garbage can we actually believe?
Geordie Shore castmate AXED for second time in huge series shake-up
Love Island signs Michelle Keegan lookalike Olivia Hawkins
Other photos also show the exposed rafters, a bricked-up doorway and dilapidated school toilets.
While kids' graffiti and drawings adorn the walls in more than one classroom.
The owner of the page wrote: "Another historic Sheffield building which sadly doesn't get much love on the exploring scene.
"Allow me to revive its existence for a short time and maybe it will encourage the locals to get something done with these two grand buildings.
"Inside, they're very wet, soggy, damp and dangerous. Pigeons and weather damage have almost completely destroyed the interior, not to mention kids are regularly getting inside and causing further damage.
"I'd love to see something done with these two buildings as they are quite stunning from the outside. Let's see what happens."
The school was built in 1884 and was attended by Britain's first person in space, Helen Sharman.
Back in 2021, the former school was due to go up for auction with a guide price of £600,000, according to The Star.
The new school across the road is called Grenoside Community Primary School.
Read More on The Sun
UK's cheapest supermarket for 2022 revealed – you can save £30 each trip
Diver's chilling scream for help as world's fastest shark attacks in shock vid
It comes after another abandoned school that was once full of learning now lies derelict.
The eerie former school building is now in a state of ruin with empty classrooms and peeling walls.

Source: Read Full Article