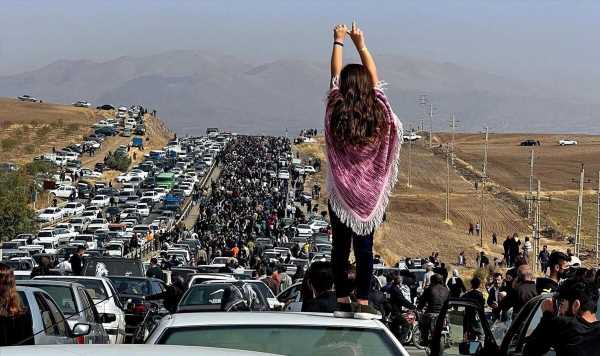 Iran: Mourners defy police and gather at Mahsa Amini's grave
We use your sign-up to provide content in ways you've consented to and to improve our understanding of you. This may include adverts from us and 3rd parties based on our understanding. You can unsubscribe at any time. More info
Iranian mourners have gathered at the grave of a young woman who was killed in police custody, despite the efforts of security forces to hold them back. The mass gathering, appearing hundreds of men and women, comes as activists call for further demonstrations to mark 40 days since the death of 22-year-old Mahsa Amini, who was arrested by the Islamic Republic's so-called "morality police" for failing to wear her headscarf correctly. Her death sparked the biggest wave of protests in the country in years – with commenters telling Express.co.uk that this most recent outburst was "different" both due to men joining the fight for women's rights, and due to the use of social media in motivating protests. The mourners, gathering in Ms Amini's hometown of Saqqez, shouted "woman, life, freedom" and "death to the dictator" – two chants that have been heard across Iran since her death – as incredible videos shared online show huge numbers attending her cemetery in defiance of the government's orders.
The Kurdish woman was detained during a trip to the capital, Tehran, and fell into a coma after collapsing at a detention centre, before dying three days later.
Police claim she was not mistreated and died of a heart attack, but an autopsy found strong evidence of beating around her head, and that she had no prior health conditions that could have led to her abrupt death.
Activists have claimed that security services had warned Ms Amini's family against holding the ceremony at the graveyard, allegedly telling them "they should worry for their son's life".
It is not yet known if Ms Amini's family were present at the cemetery. Today marks 40 days since Ms Amini's death, and the end of the traditional mourning period in Iran.
The first protests began after the young woman's funeral in Saqqez, during which women ripped off their headscarves in solidarity. This symbolic gesture has been picked up across the world, with an Iranian actress stripping nearly-naked in a protest video and other female celebrities cutting their hair on video to show their support.
Iranian women have also set their headscarves on fire or cut their hair in public. The protests currently sweeping Iran now represent one of the most serious challenges to the rule of the Islamic Republic since the 1979 revolution.
However, Iran's security forces have responded with brutality.
READ MORE: 'It's a revolution' Iran regime rocked by sixth week of mass marches [REVEAL]
Norway-based Iran Human Rights says at least 234 protesters, including 29 children, have been killed by security forces in a violent crackdown on what Iran's leaders have portrayed as "riots" fomented by foreign enemies.
Iran's Human Rights Activists News Agency, meanwhile, recently placed the number of dead at 222. Today saw riot police and members of the paramilitary organisation Basij Resistance Force repeatedly deployed in Saqqez and across other parts of Kurdistan, setting up roadblocks to stymie efforts to gather protestors.
However, videos shared online show residents bypassing these attempts to stop them from reaching the cemetery.
Reuters quoted a witness as saying: "They tried to stop us from entering the cemetery…but I managed to get in".
DON'T MISS: We are fighting the mullahs for soul of Iran, says BEHROUZ POUYAN [COMMENT]
Musk primed to hand Iran protesters internet via Starlink [INSIGHT]
Firebrand Iranian cleric demands 'no mercy' for protesters [ANALYSIS]
Human rights group Hengaw tweeted: "The cities of Sanandaj, Saqqez, Divandarreh, Marivan and Kamyaran are on widespread strike".
They added that there is a heavy security presence in nearby city Sanandaj. Kurdistan Governor Esmail Zarei Koosha claimed the situation in Saqqez was calm today, denying that roads had been blocked.
State news agency Irna quoted him as saying: "The enemy and its media… are trying to use the 40-day anniversary of Mahsa Amini's death as a pretext to cause new tensions, but fortunately, the situation in the province is completely stable".
This mirrors previous attempts by the Iranian government to belittle the protests as deliberate interference by the West, or by terrorist groups.
Source: Read Full Article