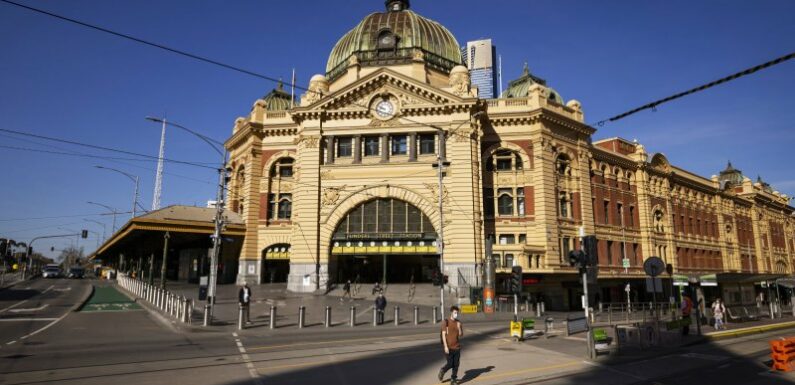 Melbourne's lengthy COVID-19 lockdowns may not have been as devastating to the mental health of its residents as first thought.
The city went into six lockdowns across 260 days in 2020 and 2021, giving it the dubious honour of being the most locked-down city in the world.
Melbourne during lockdown in 2021.Credit: Getty Images
A new University of Melbourne study has found that if the state were to face another pandemic or crisis, lockdowns remain a viable option to keep people safe and – by and large – well.
Lead researcher Ella Moeck said more than 400 people provided over 14,000 responses to researchers about how they were feeling and what they were doing to manage their feelings, both in and out of lockdown.
"It's important to note that those in the sample group had a high level of 'pandemic privilege'," Moeck said.
"Most of our participants continued working or studying and few had children or caregiving responsibilities."
The study found lockdowns did take an emotional toll, but that toll was relatively mild.
On days in lockdown, participants' levels of negative emotions were, on average, 4 per cent higher than on days out of lockdown.
Those feelings included tiredness, dullness, anxiety and irritation.
People also reported feeling slightly lower levels of excitement and enthusiasm in lockdown, with a 2.5 per cent reduction in those positive feelings.
But surprisingly, people felt similar levels of calm and relaxation on days they were in lockdown compared with days when there were no restrictions.
However, they did have difficulty maintaining positive feelings when in lockdown, researchers found.
When study participants had an experience that made them feel more positive, like going on a walk with a friend, they would quickly return to a mildly negative emotional state.
Overall, the research found during the second year of the pandemic, lockdown left people feeling slightly depressed but not overly anxious.
"Our research had a relatively large sample size, but due to the pandemic privilege, it may underestimate the emotional toll of lockdown for some people," Moeck said.
"Other research has shown that caregivers had a particularly tough time during lockdowns, with an increased risk of burnout.
"In 2021, the initial shock about COVID-19 and related restrictions may have subsided, leaving behind a moderately melancholic residue."
AAP
The Morning Edition newsletter is our guide to the day's most important and interesting stories, analysis and insights. Sign up here.
Most Viewed in National
From our partners
Source: Read Full Article